Randall Wright, MD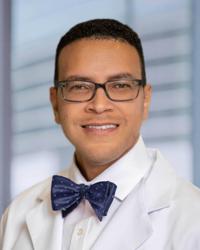 As a child, Dr. Randy Wright pondered the nature of man's logic and the source of human intellect. Dr. Randy originally intended to pursue an engineering degree in artificial intelligence from Xavier University. However, his education path was altered after a series of collaborative Internships at NASA's Kennedy Space Center. This experience illuminated the need to interface technology with life sciences and was further emboldened when his grandfather suffered a fatal stroke.
Dr. Randy subsequently attended Emory University of Medicine for medical training, then finalized his training with a Neurology Residency at Baylor college of Medicine where he would eventually become the Chief Resident of the Department of Neurology.
Moved to bridge the gap between advanced medicine and everyday life, he formed the first ever stroke support group in his county. Additionally, Dr. Randy served as Medical Director at Conroe Hospital working to advise Washington DC affiliates of the American Heart Association and members of Congress with regard to health policies affecting the nation.
After serving as the organizer and chairman of the Child Health Obesity Forum at Houston Community College, Dr. Randy was inspired to create a new program for inner city children that engages them on a regular basis to increase their physical activity and improve their eating habits. Dr. Randy's ability to affect positive change has since led him to create numerous other programs – both on-location around the country and available online – designed to promote long-term holistic health.
In 2011, Dr. Wright was the recipient of the first Hospital of America Humanitarian Award given by Conroe Hospital to honor his community volunteer efforts and public advocacy to the life-saving messaging of a healthy lifestyle, which is directly reflected in his first book, The Wright Choice: Your Family Prescription for Healthy Eating, Modern Fitness & Saving Money. Bringing highly technical and forward-thinking medical research into an accessible form for the masses, The Wright Choice is the modern family's one-stop shop for achieving overall health in a busy, fast-paced world.
Dr. Randy's second book, which details his pivotal six-pillars of health framework and the simple, bite-sized steps to holistic wellness, will soon be released .