J. Justin Young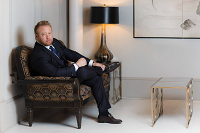 "I have a deep belief in the need for affordable EKG screenings for youth that would otherwise never know of a critical heart condition until it was too late. I have experienced the need for this type of service first hand as my brother, a healthy active athlete in high school suddenly went into cardiac arrest after a basketball game and was diagnosed with severe Hypertrophic Cardiomyopathy. I am proud to support the mission of SafeBeat as I have witnessed first hand the fear and devastation that a lack of detection and knowledge can cause."
I ask that you will please continue to embrace and support this important initiative in the years to come. Each gift we receive is greatly appreciated and is truly considered a "life-saving" gift.
The SafeBeat Initiative is a 501c3 non-profit organization.
A COPY OF THE OFFICIAL REGISTRATION AND FINANCIAL INFORMATION MAY BE OBTAINED FROM THE DIVISION OF CONSUMER SERVICES BY CALLING TOLL-FREE WITHIN THE STATE 1-800-HELP-FLA (435-7352) OR AT www.FloridaConsumerHelp.com . REGISTRATION DOES NOT IMPLY ENDORSEMENT, APPROVAL, OR RECOMMENDATION BY THE STATE." FLORIDA REGISTRATION CH31645
ALL GIFTS ARE USED SOLELY TO SUPPORT THE MISSION OF THE SAFEBEAT INITIATIVE. REASONABLE EXPENSES, INCLUDING OVERHEAD, MAY BE DEDUCTED. SAFEBEAT USES DONOR INFORMATION SOLELY FOR THE PURPOSES OF FUNDRAISING IN SUPPORT OF THE SAFEBEAT INITIATIVE AND ITS MISSION.