St. Catherine Hospital to Launch Genetic Screening of Footballers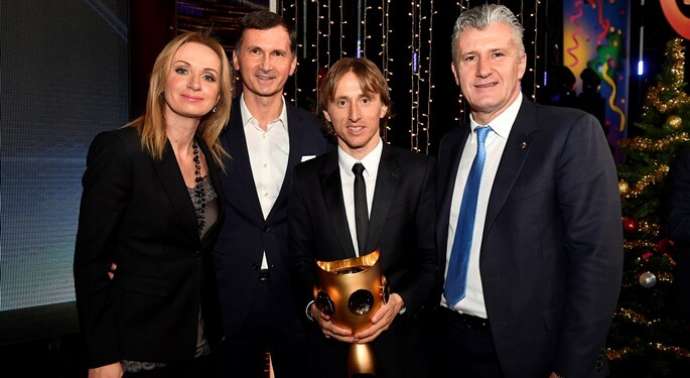 The St. Catherine Hospital, the official hospital of the Croatian national football team, and the Croatian Football Federation have begun, for the first time in Europe, a project of systematic screening of risk groups of football players to determine frequency of the most common genetic mutations that can lead to sudden cardiac death of athletes, announced the Croatian Football Federation on December 28, 2018.
The sudden cardiac death is a tragic event which occasionally happens at sports venue which opens up a series of questions among both the general public and professionals, such as "How can this happen to seemingly healthy and successful athletes" and "How to prevent such sudden events?"
The fact is that extremely intense physical activity can temporarily increase the risk of sudden cardiac death in predisposed athletes. Medical literature suggests that due to increased physical activity, athletes have a 2.8 times higher risk of sudden cardiac death compared to the general population which does not take part in sports activities. Particularly significant is the fact that genetically-based illnesses can cause such a dramatic event. Because of this, the medical professionals, in addition to introducing thorough clinical exams of athletes, have recently started recommending the introduction of targeted genetic testing, primarily because they can point to an existing genetic predisposition on time.
With the Cardio Screen "multi-gene panel testing" during the pilot project, 77 genes and related mutations that can lead to sudden cardiac death of athletes will be analysed simultaneously. These conditions include, among others, various disorders of the heart's electrical activity, including inherited disorders of the ionic heart canals (e.g., prolonged QT interval syndrome) or, on the other hand, structural changes in the heart, such as cardiomyopathy (most often hypertrophic cardiomyopathy), as well as many other conditions. When it comes to cardiomyopathies, sudden cardiac death unfortunately often occurs before any previous symptoms appear, so any diagnostic data that can reduce the frequency of such incidents is highly important.
The Croatian Society for Sports Medicine of the Croatian Medical Association, in connection with the systematic exams of athletes and in line with the views of the American Heart Association, the European Society of Cardiology and the International Olympic Committee, has issued guidelines for the scope of athletes' examinations and have emphasised that "it is of particular concern that most athletes with undetected cardiac issues have no symptoms, and the only way to prevent sudden cardiac death is primary prevention involving an electrocardiogram. If there is any suspicion about heart disease, further examinations should be performed, including heart ultrasound, ergometry, 24h Holter monitoring, heart MRI etc." It goes on to say that "today, genetic testing of deceased athletes is becoming more common so that we can get more information about these disorders in order to prevent sudden deaths in the future better."
The goal of the St. Catherine Hospital and the Croatian Football Federation's project is to use the genetic screening of athletes belonging to risk groups (athletes with a concerning personal or family medical history, athletes with specific findings after a clinical examination, athletes with previous episodes of weakness or excessive fatigue, athletes with unexplained loss of consciousness and chest pains, etc.) to find athletes with specific genotypes that contain typical mutations responsible for the emergence of these unexpected and tragic events. On the other hand, according to the guidelines of the Croatian Society of Human Genetics of the Croatian Medical Association, all persons who have been determined to be persons with higher risk will be provided with information as part of their genetic counselling process, in identifying the risk and after further examinations. This will provide the basis for optimal treatment and, if necessary, exclusion from the sports of under risk athletes all with the aim of reducing the incidence of sudden cardiac deaths.
"It is my pleasure to cooperate with our official hospital, the St. Catherine Hospital, the European centre of excellence, and to carry out for the first time in Europe a systematic genetic screening of football players. With this, we demonstrate that we can be leaders in a number of processes, like introducing new diagnostic tests, all with the aim of providing our athletes with the best possible health care," said Davor Šuker, the president of the Croatian Football Federation.
"The sudden cardiac death is the leading cause of death in athletes, and every new diagnostic step is significant in preventing such unexpected and tragic events that leave a deep mark in every society. A large number of cardiovascular diseases that can lead to sudden cardiac death, such as hypertrophic cardiomyopathy or various heart electrical activity disorders, have a genetic basis. This naturally suggests the need for timely genetic screenings, especially with risky groups of athletes, which will lead, together with standard clinical treatments according to the guidelines of the European Society of Cardiology, to optimization of treatment and providing recommendations related to further sports activities," said Dragan Primorac, the president of the St. Catherine Hospital's management council.
---
Story Credit: https://www.total-croatia-news.com/lifestyle/33232-st-catherine-s-hospital
---
Since you're here, we have a small favor to ask. Requests from schools and districts for our screening services are growing, which means that the need for funds to cover the cost of those services is also growing. We want to make our services available to those who request it and beyond, so you can see why we need your help. Safebeat heart screenings take a lot of time, money, and hard work to produce but we do it because we understand the value of a child's life, PRICELESS!
If everyone who reads this likes it and helps fund it, our future would be more secure. For as little as $1, you can support Safebeat and it only takes a minute. Make a contribution. -The SafeBeat Team