Yes, Athletes Can Have Heart Disease. No, That Doesn't Mean You Should Stop Exercising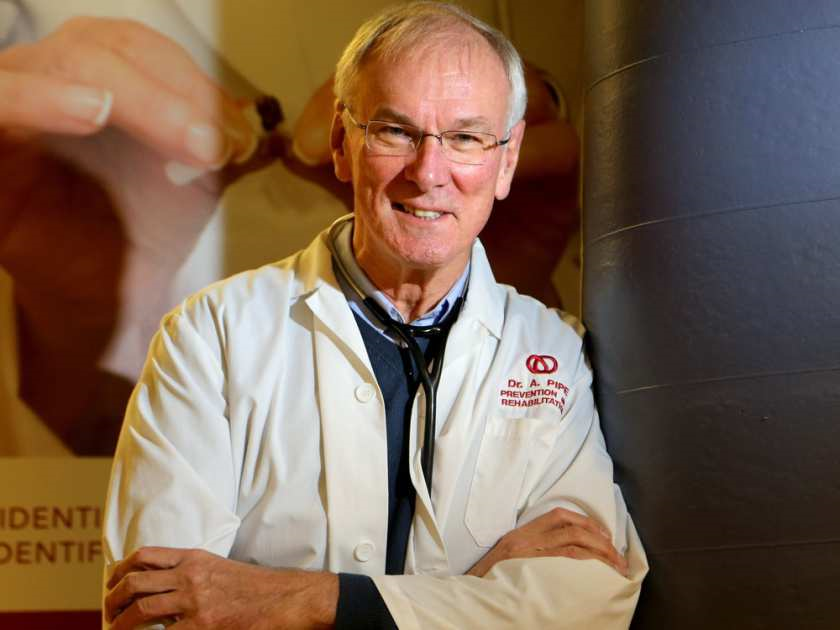 People who are extremely fit also get heart disease, says leading Ottawa heart doctor Andrew Pipe. But that does not make it less important to stay in shape to remain healthy.
"Cases of sudden death that occur at athletic events, particularly among those who are seemingly fit, provoke a number of very understandable questions (as well as) dismay and shock," he noted Wednesday.
Pipe made the comments after the death of well-loved Ottawa radiologist, Dr. Cheemun Lum. The 49-year-old star in the blossoming field of interventional neuroradiology was an avid skier and outdoorsman. He died from cardiac arrest last weekend while skiing the 160-km Canadian Ski Marathon.
Lum was skiing behind his wife on the first day of the two-day marathon when he collapsed, said friends. A doctor and nurse who were skiing close to him performed CPR and paramedics continued when they arrived, but were unable to save Lum.
His sudden death has left colleagues and friends in shock. Dozens of people, including former colleagues, patients and families of patients, expressed condolences in the comments section of an Citizen story about his death.
"I owe my life to Dr. Lum," said one reader.
Colleagues have told the Citizen that numerous people are alive thanks to the highly skilled intervention performed by Lum, often in the middle of the night, to remove a blot clot and save their lives after a stroke.
His death has left some questioning how someone so fit could be felled by cardiac arrest.
Pipe did not talk about Lum's case specifically, but he noted there have been other high profile cases of athletes and people who are very fit but have suffered from severe heart disease or cardiac arrest while involved in a sports event. That can sometimes create "cynicism" about exercise. That view, said Pipe, is unwarranted given the rare nature of these events and the benefits of regular exercise.
"These events, particularly among individuals who are seemingly fit, are very, very rare. Physical activity, particularly of an aerobic kind, confers very substantial protection. Tragically and exceptionally there will be times when people have cardiac events in the course of exercise."
Pipe, who is chief of rehabilitation and prevention at the University of Ottawa Heart Institute, has worked with Olympic and other elite athletes. Among his patients, he said, have been elite athletes who suffered from cardiac arrest.
"I have seen patients with no family history (of heart disease), with a pristine lifestyle, who are endurance athletes at a very high level and all of a sudden they have a sudden, dramatic cardiac arrest," he said. One such patient was saved by a defibrillator.
"The bottom line is that these are rare, but obviously they raise a lot of questions."
When people are over 35, he said, cardiac arrest is "almost universally" caused by coronary artery disease — the accumulation of plaque in the arteries that can impede the flow of blood and oxygen and can cause heart attacks.
"Being physically fit does not equate to having coronary arteries that are free of disease," he said.
Pipe said no matter how fit a person is, they should be aware of their family history of heart disease, particularly if anyone has had a severe heart attack or cardiac arrest before the age of about 55.
Sometimes underlying heart disease can go undetected in people who are very fit because, due to training, their hearts don't have to work as hard and they are able to get by, until a cardiac event takes place.
In addition to learning about your family history, Pipe said there are other factors that could play a role in a sudden heart attack in someone with coronary artery disease — including dehydration and exhaustion.
Some younger athletes die while involved in sports, he said, but those are typically the result of physical abnormalities in their heart structure or problems with the electrical mechanisms.
Runner Jim Fixx, who spurred the running craze in the United States with best-selling books, died while running at age 52. The death of the man who preached the gospel that active people live longer raised many questions about the value of exercise at the time.
Pipe said Fixx, who had been a heavy smoker before turning to running, could have prevented his early death by paying attention to symptoms he was having before the fatal heart attack. "If you have had 20 years of smoking and now exercise, one still has to be aware of their risk factors." Those include past health history and family history.
"You can be a yoga-practising vegetarian marathon-running monk, and if you have inherited a certain metabolic predisposition to have very high levels of cholesterol you are very likely to have significant premature coronary artery disease."
---
Story Credit: http://ottawacitizen.com/news/local-news/yes-athletes-can-have-heart-disease-no-that-doesnt-mean-you-should-stop-exercising