Spurs' LaMarcus Aldridge Cleared To Return After Heart Health Scare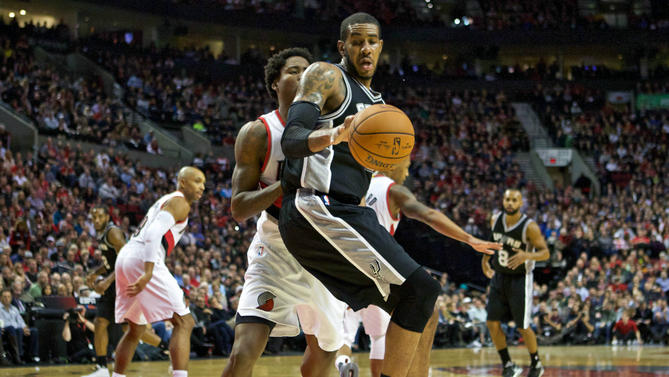 There's good news for the Spurs and even better news for LaMarcus Aldridge. The Spurs star forward had been ruled out indefinitely following a test that showed a minor case of arrhythmia over the weekend. The diagnosis cast concern over his long-term health, and availability in the short and long-term. The Spurs said more testing would be needed, and thankfully, on Wednesday, good news came down.
From the Spurs:
The San Antonio Spurs today announced that forward LaMarcus Aldridge has been cleared to resume all basketball-related activities. After Aldridge had an occurrence of a minor heart arrhythmia in Oklahoma City on March 9, the Spurs medical staff led a process that included multiple tests and examinations as well as consultation with numerous experts in the field.
"We are thankful that LaMarcus will be able to rejoin the team," said Spurs General Manager RC Buford. "All of us have been impressed with the professionalism and grace he has shown in dealing with this difficult situation."
Aldridge is available to play in tonight's Spurs-Blazers game with no restrictions.
This obviously gives the Spurs a big boost as well as being great news for Aldridge and his family, with heart concerns a major health risk in basketball. Aldridge is the team's second-best player and gives them a post-up weapon they'll need in the playoffs. With the Spurs just a half-game behind the Warriors for the No. 1 seed in the West, having Aldridge available will be big for their chances at securing homecourt throughout the playoffs.
Aldridge has had several incidents regarding concern over his heart, but with how cautious medical staffs are with these issues, Aldridge can feel confident in resuming full activities. Any major problems could have been devastating for the Spurs, but instead, San Antonio gets its big man back with a full month and a half to finish the season.
---
Story Credit: http://www.cbssports.com/nba/news/spurs-lamarcus-aldridge-cleared-to-return-to-full-activities-after-heart-health-scare/