Saving Tom: One Young Man's Incredible Survival from a Cardiac Arrest on a Perth Beach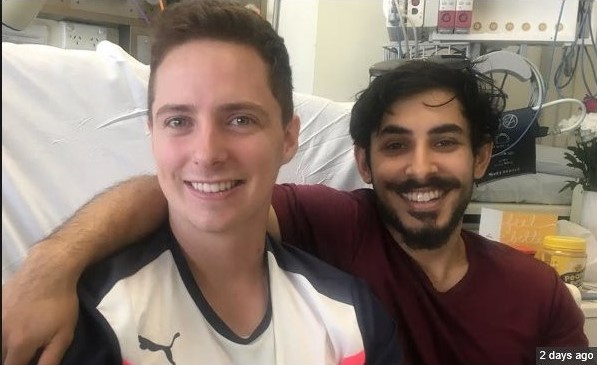 When Thomas Jenkins lay on the sand and told a mate he was about to faint, his calm demeanour gave no warning of the life-threatening struggle he was about to face.
"We'd just done a short sprint and Tom said, 'I'm going to pass out, monitor me'," Parris Trahanas recalled of the Sunday morning at Cottesloe beach last month.
"He lay down, had a little fit, almost like a shiver, and was not responsive after that."
The 23-year-old was very fit but had a heart condition that had caused previous fainting episodes.
Friends since high school, Parris knew that and because Thomas did not seem worried, he did not think the worst.
But when Thomas showed no signs of waking, Parris, 24, realised something was seriously wrong.
"I was holding his head and trying to listen to his breathing, which was just getting slower and slower and weaker and weaker," he recalled. "After about 30 seconds I was worried so I thought it was best to call an ambulance rather than take any chances."
The St John Ambulance operator urged Parris to yell for help, and as a nearby beachgoer ran to alert lifesavers Thomas went into cardiac arrest.
Only about 10 per cent of West Australians who have a sudden cardiac arrest outside hospital survive, according to a St John Ambulance report.
But if ever there was a day for Thomas to have one, this was it.
Where he collapsed — and who was on the beach that February 11 morning — made all the difference to his fate.
"We know how incredibly lucky we are to still have Tom," parents Greg and Melody Jenkins said this week, after Thomas left hospital.
"To be with a mate who had done a senior first-aid course, at a popular beach on a Sunday where there were several lifesavers and doctors and then for an ambulance to be close by," they said.
"His survival and recovery avoiding brain damage came down to Parris not hesitating and the quality of the CPR he was given quickly. Doctors told us the CPR was as good as it can get — that's how lucky he was."
Parris had done advanced first-aid training through St John Ambulance but had never needed to use those skills to save a life.
"I was most worried when I first realised it was a real emergency — Tom is not waking up — and I was about to call the ambulance," he said. "After that, the training took over."
James Dracup, a North Cottesloe Surf Life Saving Club member, was not on patrol that morning but was jogging on the beach when he noticed Parris doing CPR.
His first thought was "that's a strange place to do first-aid training" — a quiet stretch of the otherwise busy beach between Cottesloe and North Cottesloe surf clubs — before he realised what was happening and ran to help.
When North Cottesloe lifesavers were alerted, Nick O'Halloran said captain Tom Carmody raced down the ramp and along the sand more than 200m to the stricken 23-year-old.
Nick grabbed a defibrillator, oxygen and brought other club members — including a doctor and a first-aid trainer who were not on patrol but were at the beach.
The group gave Thomas oxygen and used the defibrillator to give him an electric shock to try to restart his heart.
Psychiatrist Sally Osborne was at the beach with her children when she noticed the commotion and ran to see how she could help.
Cottesloe SLSC lifesavers were also notified and joined the rescue effort. Two shocks from the defibrillator failed to restore Thomas' heart rhythm.
Watched by a growing crowd of worried bystanders, the CPR efforts continued.
The ambulance arrived in eight minutes and paramedics again tried starting Thomas' heart. The second electric shock from their defibrillator provided the first glimmer of hope. This time, they detected a pulse.
With Thomas still connected to oxygen, the lifesavers and paramedics carried him up the narrow path to Marine Parade and an ambulance.
Thomas made it to Sir Charles Gairdner Hospital alive but not in the clear.
"He was in an induced coma for five days," Mr Jenkins said.
"We were told not to get our hopes up because a lot of people don't come out of ICU."
Survival was one thing but there was also a fear Thomas might have brain damage.
After some sleepless nights, the family were told Thomas, an electrical engineer, should make a full recovery.
A cardioverter defibrillator was implanted in his chest but he is having tests because specialists do not believe the cardiac arrest was caused by his known heart condition.
After treatment in Sir Charles Gairdner and Fiona Stanley hospitals, the family celebrated a milestone when Thomas went home on Wednesday.
The next day he and his family returned to the beach to meet some of the people who helped save him.
Thomas cannot remember that traumatic day but knows he owes his life to his friend and those strangers.
"Parris, the first responders and the paramedics all did a fantastic job," Thomas said.
"Considering what happened, I'm OK — and I'm looking forward to getting back to work as an electrical engineer and volunteering with organisations including HeartKids."
His father was emotional as he thanked some of the volunteers, saying: "You are really important to us."
The Jenkins also thanked the paramedics and medical staff at both hospitals.
Thomas and his family say he is a living example of the importance of learning CPR and providing timely help.
Those involved in the rescue said it was a huge relief to know he was recovering.
People who receive CPR from a bystander are more than twice as likely to live than those forced to wait for emergency medical help.
"It just makes you feel much more in control of a situation," Parris said. " Potentially (to) give someone much better treatment and save their life, or save their quality of life. I would have hated to have felt like I could have done more. I'm satisfied I did all that I could."
St John Ambulance and North Cottesloe Surf Life Saving Club run CPR and first-aid courses.
---
Story Credit: https://thewest.com.au/news/wa/saving-tom-one-young-mans-incredible-survival-from-a-cardiac-arrest-on-a-perth-beach-ng-b88772060z