Montoursville's Dinges Overcomes Brush With Death, Off To PIAAs In Javelin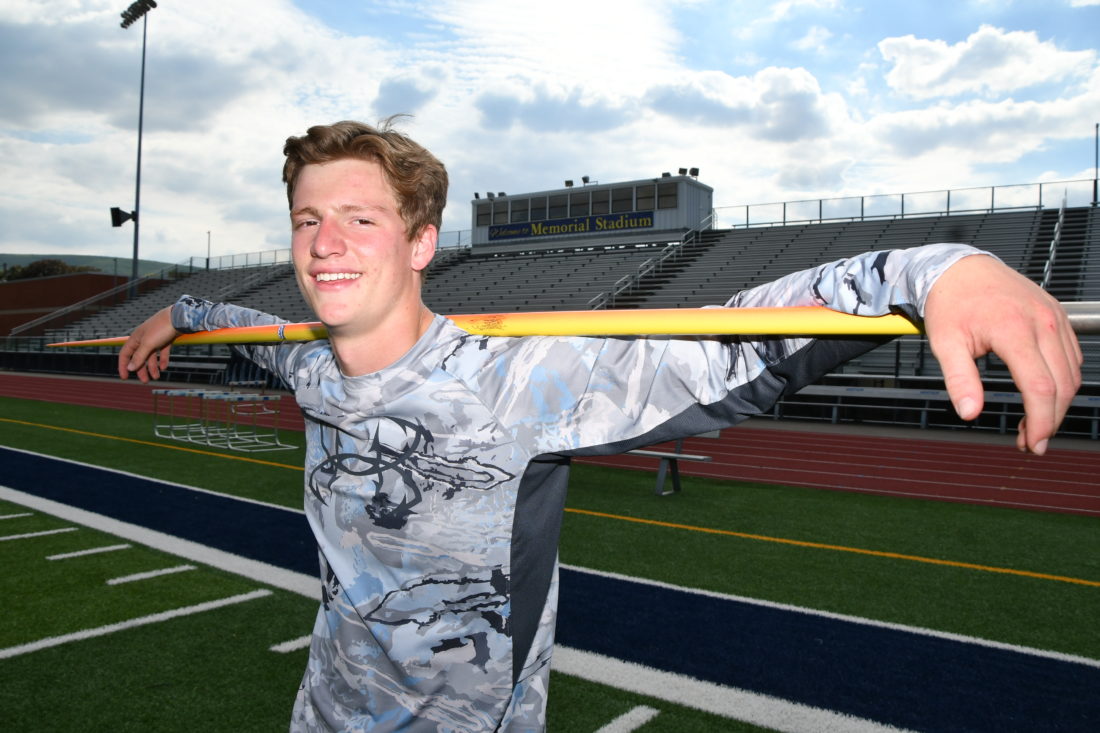 Josh Dinges doesn't remember the day he died. What he knows is from second-hand accounts.
His last memory before collapsing and a week-long void in his recall is his team winning a game of speedball in gym class at Montoursville High School. Dinges was a freshman then in the late winter of 2015 coming off a strong football season helping the Warriors win a District 4 championship. He was the poster child of health and athleticism. He was good-natured and jovial and his coaches already had big plans for his future on the football field.
But he died that Friday morning in late February, going into cardiac arrest from an undiagnosed case of hypertrophic cardiomyopathy (HCM). Quick reactions from physical education teachers Katiera Nettles and Stan Burke, chest compressions from the school nurse — who was there as a substitute that day — and use of an automated external defibrillator by EMTs brought Dinges back to life.
A little more than two years ago, Dinges' story nearly ended as an athlete to the core who had coaches salivating over his potential. Today, he'll realize some of that potential as he competes at the PIAA Track and Field Championships in Shippensburg in the Class AA javelin throw. He's seeded fourth and a favorite to stand on the podium as one of the best eight in the state.
His participation today is borderline miraculous. He was told 93 percent of the people who suffer cardiac arrest from HCM die. Another 6 percent suffer some from of brain damage. Dinges is part of that 1 percent who come out the other side with just some restrictions on his physical activity and a great story to tell. He's part of an even smaller percentage who return to athletics at all.
Sure, it's not football like Dinges would like to be playing. But it's an opportunity to compete and, more importantly to the junior, to beat other throwers. It's the only thing doctors will allow him to do athletically, and Dinges, as he's always done, has found a way to be the best javelin thrower he can be.
Nobody is surprised by that. He was always the best player on the football field growing up, a running back and a hard-hitting safety. He was the player looked at to take the big shot in the basketball game.
"He could join a bowling team and give him a year and he'd win a state championship," Montours­ville football coach J.C. Keefer said. "Whatever he's allowed to do, he'll be doggone good at it."
A CHILLING RECOVERY
Chris Dinges was in an appointment at the law practice she shares with her husband, Mike, when a paralegal told her the principal was calling. Her initial thought was Josh was in trouble and she wasn't happy about it.
What she heard was stunning. She was asked if Josh had any kind of underlying medical condition the school was unaware of. Then she was told her oldest son was in cardiac arrest and she needed get to the school as soon as possible.
Mike showed up to the school as the ambulance was leaving for the Williamsport Regional Medical Center with Josh inside. Deep down, Mike hoped it wasn't his son in there. He got out of his car where he saw a friend of his from the police department. That friend told Mike he saw Josh and "He was gone, but the EMS brought him back."
Susquehanna Regional EMS' Scott Hanner and Amy Newvine — two names Chris couldn't forget even if she wanted to — had used an AED to revive Josh before he was taken to the hospital. Mike arrived in the emergency room to find his son packed in ice as the doctors tried to cool his body temperature. He saw the tubes sticking out from his son as the doctors worked. Then he saw Rev. John Manno, a priest from the family's church, administering a prayer.
"I thought he was giving him last rites," Mike said. "That's when I lost it."
Josh was helicoptered to the Janet Weis Children's Hospital at Geisinger Medical Center in Danville. Chris drove ahead to meet the helicopter. And by hanging back with Josh, Mike got his first glimmer of hope things would work out.
One of the flight doctors aboard the helicopter told him Josh was going to be OK because this same thing had happened to a friend of his. It was the first idea the family had that Josh would survive. But Josh was far from in the clear.
As he came out of his sedation at the hospital, doctors didn't like the way his body was responding. They used therapeutic hypothermia in which, over the course of several days, the body temperature of the cardiac arrest victim is lowered to around 91 degrees. By doing this, it reduces the needs for energy by the brain and can potentially reduce damage to the brain caused by the lack of oxygen sustained during the cardiac arrest.
Simultaneously, Josh's body was sedated to prevent pain and also prevent shivering as the body temperature is lowered. Mike and Chris sat bedside with their son as this days-long process played. They watched their son turn blue from the lowered body temperature. There were times when it appeared Josh would be coming out of his sedation and his body would begin to shake like it would on a frigid January day. Quickly, doctors would rush in and inject more medication to sedate Josh.
Mike and Chris lived at the hospital for the week, sleeping in the waiting room when they couldn't be bedside. It took a week before Josh's temperature was lowered to the level doctors wanted it and then raised again to safe levels.
"It was a week that felt like a year," Chris said.
"You question a lot of things during that time," Mike said. "Is this something I should have known? Is there something I should have picked up on? Did I miss something I should have known? I was doing a lot of blaming myself."
But nobody could have seen it coming. HCM often goes unseen until something catastrophic happens, like what happened with Josh. According to the American Heart Association, HCM is "a common cause of sudden cardiac arrest in young people, including young athletes."
HCM is a thickening of the walls of the heart. It narrows the opening for which blood is sent from the heart to the body. And when heart rate is elevated, there's less time for the heart to fill with blood. This can lead to events like the cardiac arrest Josh suffered. HCM is the largest cause of sudden cardiac death among young athletes.
One question Mike and Chris continued to ask was how this could affect Josh? He was in a great shape. He was strong and fast. Plain and simple, he was built like an athlete.
"He's a vision of perfect health," Chris said. "You're thinking, 'What the hell is going on here?'"
"It was a tad disturbing to see him there, to be honest," Keefer said. "Seeing this ox that we've seen in the weight room doing all these things, and he's here packed in ice. It was numbing to me. Heartbreaking."
Josh finally woke up on March 4, his father's birthday. Doctors never told either Mike or Chris that Josh was going to be OK. They were convinced he would have some kind of brain damage.
It's still unclear how long Josh's heart stopped beating before he was revived. Estimates differ, but his parents figure it to be a couple minutes. As the medications he was one began wearing off, Josh was hallucinating at times, thinking a football jersey his team brought to him was an actual person.
There were times when Chris could see her son through the drug-induced loopiness. He'd go from telling jokes like Josh enjoyed doing, to speaking nonsense which made people in the room laugh at its absurdity.
Doctors were still unsure as to what level of, if any, brain damage had occurred. So while Chris loved hearing her son talk and joke again, she couldn't help but wonder what part of it was the medication and what part was any potential damage.
"If you look at his Geisinger paperwork to this day, they thought he had brain damage to some degree," Chris said. "We kept telling the doctors he was goofy to begin with."
THROWING A STICK
Josh didn't know it as he came out of his medically-induced sedation, but his athletic career was over. The player who had been brought up to the varsity team as a freshman and averaged more than 7 yards per carry for a district champion would never play football again.
Basketball was out of the question, too.
In fact, the family was given a chart of all the things he could no longer do. The day the doctors told Josh he could no longer play sports, Keefer happened to be in the hospital room visiting, as he did on multiple occasions. As soon as the doctors were done, Keefer went into coach mode.
A master motivator who has led Montoursville to a pair of District 4 championships, Keefer assured Josh this news had no bearing on his status with the team.
"The doctors don't realize what it meant to that kid by telling him he can't play anymore," Keefer said. "So I said some things about how important he'll be to us as coaches and he's still going to be a leader of our team."
Burke, who had a big hand in making sure Dinges survived at all on that Friday in the gym, proposed the idea of throwing the javelin. At first, Josh was skeptical. He admits he didn't even know what a javelin was.
The doctors approved the idea, but only after about a month of rest. Josh finally joined the track team the day after the school's first meet of the 2015 season. His first competition, he threw the javelin 109 feet. And there were a handful of painful occasions as he learned how to throw the javelin he hit himself in the back of the head with it.
This wasn't what he had in mind at all. Josh was an athlete used to being one of the best at whatever he did. He tried to learn as much as he could by just watching other throwers. Teammate Robbie Barnes was coming off a season in which he qualified for the state meet in the javelin and Josh picked up what he could there.
At other invitationals, he remembers watching Warrior Run's Jake Rohm, a state medalist in the javelin, and tried to copy Rohm's every move. Josh would watch YouTube videos to try and figure out how to throw properly.
There were days before meets where he'd throw more times than he can count, just trying to find anything which worked for him. It worked enough for him to finish 13th at the District 4 meet that year less than three months removed from the day he collapsed in the gym.
"I went from knocking people's heads off to throwing a stick," Josh said. "All I was trying to do was muscle it out there, which is pretty much the worst thing you can do. At the end of that first season I couldn't move my arm because I didn't pick up on the concept of form at all."
A year later as a sophomore he started to figure some things out. He finished second Bald Eagle Invitational at Lock Haven. He got into the 180s in a win against Lewisburg. His best throw of then season was one of the top 10 throws in the state last season. He entered the district meet seeded second knowing a top-2 finish would send him to states.
In the driving rain of a terrible day to throw, Josh finished third. He was seven feet behind Barnes for the final state qualifying spot. It still eats at him a year later because the only thing that mattered to him was winning.
"I like to think to myself that I'm not this obsessed with how far some stick goes through the air, but I am," Josh said. "It means a lot more to me than I try to let myself think."
Enter Eli Skinner, the Jersey Shore graduate who was a PIAA qualifier and threw the javelin at Penn State. He was coming off a season coaching the javelin at Mifflin County when he was hired as a Guidance Counselor in the Montoursville School District.
It didn't take long for people to begin telling him about Josh, a raw talent with so much potential. Skinner was intrigued, and what he found out this spring working with Josh was he has barely scratched the surface.
Josh holds the third-best throw in Class AA in the state this year. And the scary thing is Skinner said Josh has yet to really put a great throw together. Instead he's living off natural ability, being an athlete on the runway and adjusting after every throw to whatever Skinner said he needs to improve.
"Anytime he's thrown a decent state qualifying kind of throw, we break down all those throws, and he hasn't hit one yet where I said, 'Wow, that's perfect, great technique,'" Skinner said. "But when he threw 197 I wasn't surprised at all. I think he has an even higher ceiling."
A NEW ROLE
Football is still Josh's first love. He's joined Keefer's coaching staff, attending all the Sunday meetings to go over gameplans and watch film. Always a smart player on the field, Josh has transferred that ability to teaching the game on the field. And during the course of a school day, he can continue to talk with the players, making sure they understand the concepts the coaches are trying to implement.
It's a far cry from the days where Keefer was considering him the heir apparent to two-time all-state running back Keith Batkowski and the hammer of the defense as a safety. And it's not uncommon for Keefer to have the conversation with another coach about the 'what ifs' of Josh's career.
Each year Keefer deals with kids he's told are going to be his next stud player. Some pan out, most don't. But as a freshman, he sensed something different in Josh. So during one of his first practices, he lined up Josh against senior Wyatt Entz who was on his way to an all-state caliber season just to see what he was made of.
"It was the first time I ever did anything with the high school football team and (Entz) put me flat on my ass, and nobody ever put me flat on my ass," Josh said. "Keefer stepped over me and looked down at me and screamed in my face, 'Welcome to the big leagues, fella.' He asked me if I wanted to be with us or over with the junior high team. At that point, I was questioning it."
"I don't do that with most freshmen I bring up. I wouldn't put them against one of our better seniors," Keefer said. "But I knew what he had and I wanted to challenge him. And from that instant on, he feared nothing. He just needed a little something to bring it out of him. We looked at each other and said this kid is going to be special."
That fearlessness has transferred into his only athletic outlet now. Josh isn't afraid of anybody holding a javelin in their hand, because he has one, too, and he's convinced he can throw it farther. That's what he lives for when that Montoursville jersey is draped over his back, surpassing as many marks as he can on his way to winning.
A near-death experience hasn't changed Josh at all. He's still a fiery competitor, but there's also an ease with which he competes. Skinner has to check in with him multiple times before a competition to make sure he's ready, not because he's afraid Josh is slacking, but because nothing seems to bother him.
The moment this morning at Shippensburg, Skinner is convinced, isn't going to overwhelm Josh. In fact, it may bring the best out of his disciple. Josh hasn't been challenged all year, with the exception of the District 4 meet where it took the best throw of the season for Danville's Jared Mowery to get within 5 feet of Josh.
Neither of them like to particularly discuss the possibility of winning today. But they both understand its within the realm of possibility. Skinner has been checking throws from around the state all season when he realized the capabilities of his student.
"I'm excited to see how I function around better throwers," Josh said. "But my goal for myself is to go down there and have fun and not let the outcome, for the good or for the bad, have any effect on my attitude. Yeah, it'd be nice to win, but I don't want to let it get to my head if I won. But I also don't want to let it get to my head if I take 12th or 13th. I want to be myself whether I do good or not."
ICING ON THE CAKE
Josh Dinges doesn't remember the day he died. At this point, it doesn't matter much to him anymore.
It's all just a story to him because of the blank space in his memory. Truth be told, he's more concerned about the next time he can get out to fish for some bass or hunt for a turkey than he is about the internal defibrillator which has been implanted in his chest.
When the opportunity comes up this morning, he'll throw the javelin as far as he can and he'll continue to grab the attention of college coaches. But it's not going to change who he is.
At this point, it's a wonder if anything could change that.
"We can look at all of this and say we're blessed, and that's how I look at it," Chris said. "He's alive. He's well. He's fine, and he has a great perspective on it. All the other success is just icing."
---
Story Credit: http://www.sungazette.com/sports/local-sports/2017/05/montoursvilles-dinges-overcomes-brush-with-death-off-to-piaas-in-javelin/