Few Answers In The Death Of A Bronx Football Player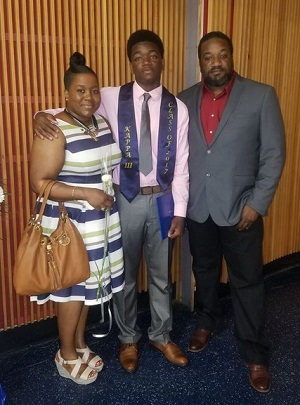 Dominick Bess was an incoming freshman on an academic scholarship at Mount Saint Michael Academy in the Bronx.
An avid athlete, Dominick was at home on the basketball court or in the water, or just running among herds of cows and goats on the Caribbean island of Montserrat, where he spent part of his childhood.
When he enrolled at the Mount, as the Catholic school is known, Dominick decided he wanted to play for the storied football program, and on Monday, he had his first preseason workout with the junior varsity team.
But soon after the start of his second day of workouts, on Tuesday, Dominick, 14, collapsed while running sprints. Coaches performed CPR to try to save him, but was pronounced dead a short time later at Montefiore Medical Center.
The cause of his death is still under investigation, but it has shaken the school and devastated his family.
"It was his last lap, his last breath, his last life," Deslyn Bess, Dominick's aunt, said in an interview a day after Dominick's death.
Some of his relatives questioned whether coaches had pushed Dominick too hard and whether it was too hot to be practicing, and one parent said that other families were discussing the same question.
At the time Dominick collapsed, around 9:30 a.m., it was 79 degrees and the relative humidity was 73 percent, according to the National Weather Service.
The Weather Service had issued a heat advisory for later in the day, from noon to 6 p.m., with an increase in the temperature and humidity, making it feel like 100 degrees.
Timothy Brumell, 17, was practicing with the varsity team when he said he saw a commotion across the field.
"I first thought somebody had passed out. We didn't really know what was going on," Mr. Brumell, an incoming senior and running back, said. "It wasn't really hot in the morning. Once we finished practicing it started getting hotter."
Although most of the conversation on football injuries nationwide has centered on concussion-related injuries, Dominick's case highlights other risks that young players face, especially during rigorous preseason training over the hot summer months.
About 75 percent of fatalities of young competitive athletes are related to heart conditions, Dr. Jonathan Drezner, director at the University of Washington Medicine Center for Sports Cardiology, said.
In about 80 percent of the cases where young players had a cardiac arrest, the athletes had not shown any warning signs in previous physical examinations, Dr. Drezner said.
"This time of year, with high temperatures, always brings some tragedies with a flux of young athletes getting ready for the regular season," said Dr. Drezner, who has been practicing sports medicine for 17 years. "Cases like these are reminders that the national and local discussion should be about emergency preparedness and awareness of these issues."
In 2016, nine football players — from middle school through college — died in the U.S. from noncontact factors, such as a heat stroke and sudden cardiac arrest, according to a report published by the National Center for Catastrophic Sport Injury Research.
In Dominick's case, the medical examiner said an autopsy was conducted but determining the cause of death would require more study.
Dominick was wearing shorts and a T-shirt, but no football pads when he collapsed.
His aunt said that another player told the Bess family that during a running drill, Dominick told coaches he was exhausted but was told to run one more lap. He collapsed soon after, the player told the family.
Mr. Bess had no pre-existing health conditions, family members said.
"The pain that we are facing, another person shouldn't experience this because of heat and negligence," Ms. Bess, 45, said, sitting on a folding chair outside her nephew's home in the Bronx, where mourners had left flowers and lit candles by the entrance on Wednesday afternoon.
In a written statement on Thursday, Peter Corritori Jr., the school's president, said that Mr. Bess was participating in a noncontact football practice and that CPR-certified staff did everything they could to revive him.
"What I can tell you is that as always, our practice complied with all state guidelines, and we carefully monitor the real field temperature to ensure it remains below the safety threshold," Mr. Corritori wrote.
The statement did not say what that threshold was.
The death occurred two weeks after a 16-year-old high school junior in Long Island died during a preseason football practice when a 400-pound log he and other players were carrying as part of a conditioning exercise struck him on the head.
Mount Saint Michael is an all-boys Catholic school for grades sixth through 12th located in the Wakefield neighborhood of the Bronx. The school has won four varsity football city championships in the Catholic High School League, most recently in 1996 and 1997.
A mother whose son is on the football team said players practicing with Dominick told her son how Dominick was taxed by the workouts.
"It was his second day. He was a freshman and never played football there before," said the mother, recounting what her son told her. "He was overworked and he was tired and he asked for water and everybody heard him."
The mother, who spoke on the condition of anonymity because she did not want to jeopardize her son's standing at the school, said she was supportive of the academy and had never had issues with the team's training regimen. But she said that the school "did their best to downplay" the incident.
Born in the Bronx in 2002, Dominick returned to the borough last year after spending stretches of his childhood in Montserrat, his mother's homeland, and in Maryland, where his father owns a construction business.
The family moved Dominick and his brother, T'Andre, to Montserrat for five years to immerse the siblings in Caribbean culture, his aunt said. Dominick would devour plates of home-cooked curry and potato salad, and adored his father's fresh baked bread.
He had an endearing smile and a bigger-than-life presence among his younger cousins, whom he would barbecue for, his aunt said.
Dominick drew his passion for sports from his father, Dorrick Bess, who played cricket and, and held the national shot put record in his native Guyana, his aunt said.
Dominick's mother, Georgette Bess, is a paralegal in New York who excelled in school and instilled academic discipline in her son.
His grandmother, Louise Da-Silva, did, too. "I would say, 'Don't leave a book around if you don't want him to read it,'" she said.
Dominick graduated from Kappa III Middle School in the Bronx this year and his academic excellence earned him a merit scholarship to attend Mount Saint Michael.
More than 800 students are enrolled in Mount Saint Michael, founded in 1926 as a boarding and day school.
Though the school hasn't won a citywide football title in about two decades, football has been part of the school's fabric for generations. Two Mount alums are enshrined in the Pro Football Hall of Fame — Art Donovan, a 1943 alumni who played for the Baltimore Colts, and Bill Polian, a 1960 graduate who led the Buffalo Bills to four straight Super Bowls as general manager.
On Wednesday, though, the football program was in mourning. Practice was voluntary, grief counseling was available and a prayer service was held at the school's chapel.
This week, a family friend launched a Go Fund Me campaign on Wednesday to raise funds for Dominick's funeral costs and other expenses.
"Dominick was doing what he loved. We just feel the school should have been more cautious," Ms. Bess, his aunt, said. "We're not trying to blame anybody because the will of the Lord is done."
---
Story Credit: https://www.nytimes.com/2017/08/25/nyregion/few-answers-in-the-death-of-a-bronx-football-player.html