Defibrillators Proving To Be Invaluable Assets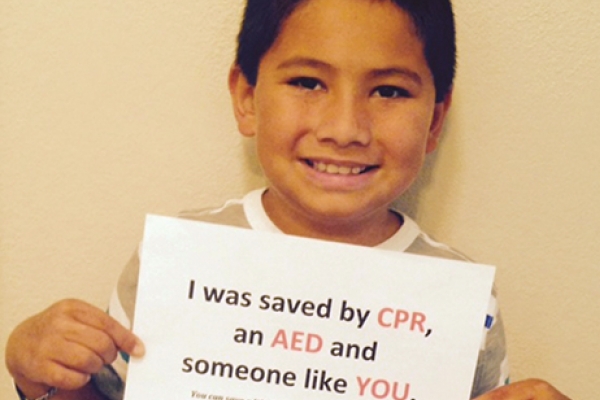 Federal government rules every commercial airplane be equipped with an AED
Cardiac means heart and arrest means to stop. Any time you see that term "arrest" paired up with a body system it will refer to the system ceasing its function.
By far, the most common cause of cardiac arrest, especially sudden cardiac arrest, is an arrhythmia. A cardiac arrhythmia is a problem in the heart's electrical communication system and the system is responsible for making the heart beat regularly at the right rate.
Of all the causes of cardiac arrest, this is the one most likely to cause the heart to stop. Asystole is the medical term for the cardiac arrhythmia most people know best – the flat line on an electrocardiogram. Ventricular fibrillation is the arrhythmia most often responsible for sudden cardiac arrest and is one of the most treatable, if acted fast.
And acting fast is the one thing that saved Vinnie Schenone's life several years ago at Evergreen Elementary School. While Vinnie was doing a little lap at the school, he dropped suddenly and only because two teachers knew CPR were they able to keep him alive until the paramedics showed up.
This leads us up to why weren't there any defibrillators in the schools?  This is where Joanne Chapman from Coastal Valleys EMS Agency, and Gloria Schenone stepped in. Gloria happens to be Vinnie's grandmother.  It has taken nearly two years to get her questions answered as to why defibrillators weren't in every school in the county or for that matter in the Rohnert Park-Cotati School District.
Convincing a school board should not be difficult. The hazard is easy to identify and the statistics on Sudden Cardiac Arrest are easy to find.
The legal liability is always brought up, but all 50 states provide AED Good Samaritan protection for lay people and legal immunity for all rescuers. Schools are protected not only by state laws but also by the federal Cardiac Arrest Survival Act, which pre-empts state laws, providing additional protection for users and acquirers of AEDs. According to the US Department of Health and Human Services, there have been no reports of AEDs harming users or bystanders.
The federal government already mandated every commercial airplane to have an AED on board. A SCA event is 30 times more likely to occur in a school than on a plane. Many states require schools to implement AED programs and several encourage or provide funding for school AED programs.
AB 1719 recently passed and states, commencing with the 2018-2019 school year, must give instructions in performing compression –only, CPR is required to graduate high school.
Chapman is involved with Save Lives Sonoma (SLS), which is a non-profit 501c3 coalition of dedicated key personnel from local ambulance companies, fire departments, local hospitals, American Heart Association, physician groups, school districts, Coastal Valleys EMS Agency and local sudden cardiac arrest survivors. SLS's mission is to increase cardiac arrest survivability in Sonoma County by training 100 percent of Sonoma County residents in hands-only CPR and to increase awareness of the importance of bystander CPR and AEDs.
Two goals of SLS are to train every 7th grader in hands-only CPR annually as well as equip all schools with AEDs and ensure they have a compliant AED program. There have been two 7th graders in Sonoma County who have saved a parent suffering from sudden cardiac arrest in their home by recognizing the emergency, performing high-quality chest compressions and activating the 911 system. Both parents have fully recovered.
Thousands of Sonoma County students and community members have been trained in hands-only CPR over the last three years and more than 200 AEDs have been placed in local schools and youth group organizations such as Little League Baseball, the Rohnert Park Public Safety Department, community centers, senior centers and the library.
Senate Bill 1773 allows each county to establish a Maddy Emergency Medical Series (EMS) fund upon the adoption of a resolution by the board of supervisors. Sonoma County had established this fund many years ago. The money in this fund comes from additional penalties assessed by each county on fines, penalties and forfeitures imposed from criminal offenses and parking penalties. A large portion of the funds are used to reimburse physicians, surgeons and hospitals for patients who do not make payment for emergency medical services. A much smaller portion of the fund known as the "Ritchie's Fund" is to be used to improve access to and coordination with pediatric trauma and emergency services in the county. Over the years the money has been used to reimburse all area hospitals for pediatric lifesaving equipment and training.
Sudden cardiac arrest (SCA), which occurs when the blood flow to the portion of the heart is blocked, kills nearly a thousand people per day in the United States.  Less than 10 percent of victims who suffer a cardiac arrest outside of a hospital setting will survive. The average response time for a 911 call is from 6 to 10 minutes. Each minute that defibrillation is delayed a person's chance of survival is reduced by about 10 percent. Chances of survival doubles or triples when a bystander begins CPR immediately.
Very few occur in young people, but those affected are typically teen athletes. According to the Center for Disease Control, one student athlete in the United States falls victim to SCA every three to four 4 days, with 7,000 U.S. children annually. Most often this happens at schools because most kids spend the majority of their time there.  Youths are subject to the same scary statistics as their elders. Without immediate intervention only 10 percent will survive.
If the "Chain of Survival" is implemented, survival rates can reach to nearly 70 percent by recognizing the emergency and decide to act, call 911, start CPR and provide continuous chest compressions, use the nearest AED and continue providing help until the paramedics arrive. Recent changes to the EMS Regulations (Title 22) after SB 658 passed for Public Access AED requirements has made it easier to have an AED.
There shall be a written internal emergency response or plan/policy which will describe the procedures to be followed in the event of an emergency that may involve the use of an AED. An onsite coordinator must assure the AED is maintained in a state of readiness by checking the device and expiration of pads and batteries at a minimum of every 90 days and after each use and the maintain the records of these periodic checks. The EMS Agency of the AED placement must notify and report any use to the EMS Agency. For every five AED units that are acquired, there must be one person who is CPR/AED certified. All volunteer responders must be notified of the location and be in-serviced annually and quick reference cards must be available with each AED.
Schenone's next goal is for every school to have an advanced form of cardiac screening where a trained person will go out to the schools and do actual testing such as a EKG. They may only find one or two children with some form of cardiac problems, but that is one or two that can be prevented from having a severe cardiac arrest.  It has been reported the AEDs now can be found at any local school. However, the cradle for the AEDs has not been installed. Hopefully very soon if not immediately this will be done.
The Petaluma School District is now in the process of giving the advanced training for teen athletes. Carolyn Teaff from the Sonoma Life Support, Carolyn.Teaff@amr.net or (707) 536-0421 teaches the hands-only CPR training. Hopefully every school district in the United States will do this in the very near future. For further information, contact Chapman by calling (707) 565-6506 or email her at joanne.chapman@sonoma-county.org.
---
Story Credit: http://www.thecommunityvoice.com/article/Defibrillators-proving-to-be-invaluable-assets