Cardiac Arrest Survivors Reunite With Responders At Countywide Event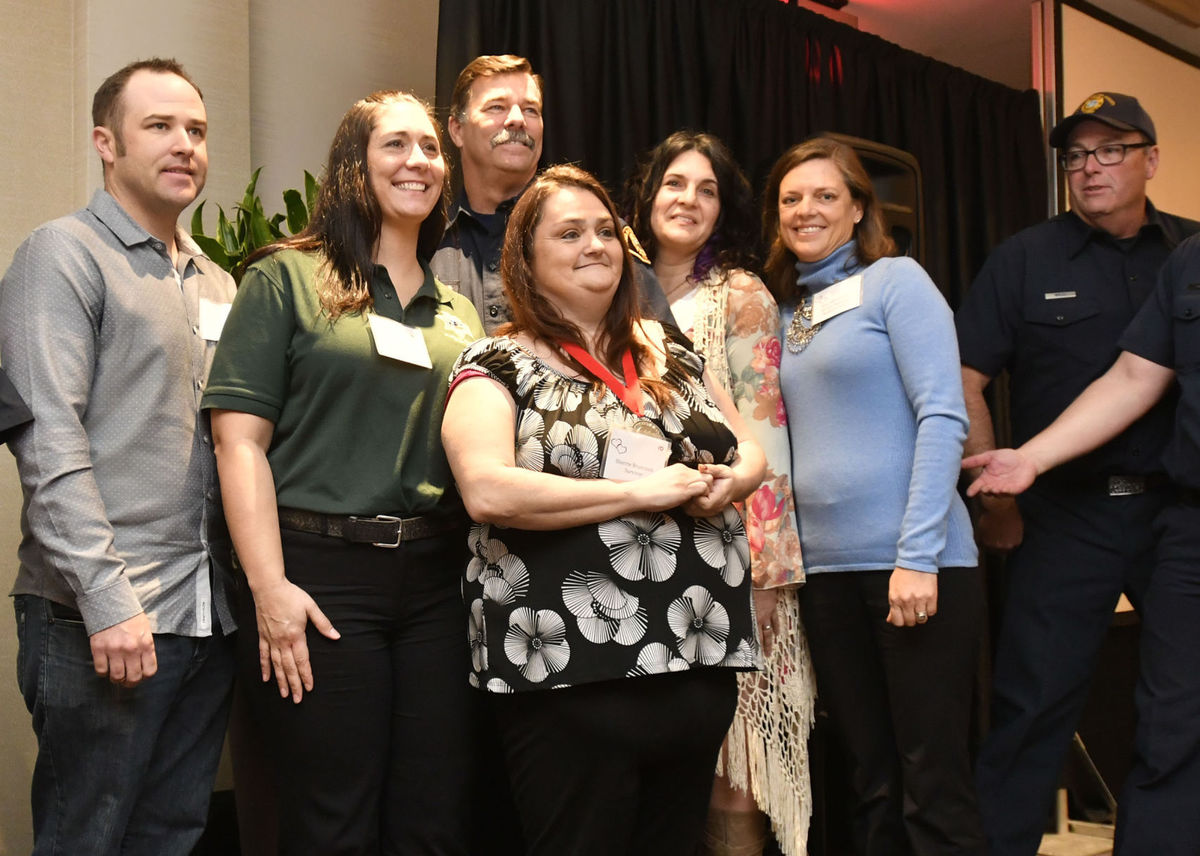 It was the day after Mother's Day 2016 that Sherrie Brummett went through the scariest experience of her life.
The Santa Maria resident said everything was seemingly normal up until a brief conversation with her adult daughter, Stacia.
"I got up and went to the bathroom and came back and laid down on my bed and my daughter told me, 'I can't sleep, mom. My head hurts,'" Brummett said. "I said, 'I'm sorry baby,' and she said that five seconds later I was gurgling, so she ran over. At first she thought I was playing, but she said instinct just told her to open my mouth, and I was turning blue."
Stacia quickly called 911 and Brummett said everything from there was a blur.
"I felt nothing and I knew nothing," she said. "I could hear my daughter screaming, 'Mommy please don't die,' but I couldn't do anything. I couldn't wake up."
Brummett ended up surviving the frightening ordeal, and on Monday, she got a chance to meet and talk to many of the people who helped give her story such a happy ending.
Brummett was one of five survivors who took part in Santa Barbara County's first-ever Cardiac Arrest Survivor Celebration on Monday morning at the Santa Ynez Valley Marriott in Buellton. Along with the survivors and their families were about 200 local professionals, including dispatchers, first responders, hospital staff and doctors, as well as local good Samaritans who offered aid to those in need.
"Today is a celebration of life; it's a celebration of teamwork and training, and today we acknowledge the success of human strength and survival," said John Eaglesham, the county's director of Emergency Medical Services. "Today is an example of never giving up."
Each of the five survivors was introduced at the reception, as well as members of the team that helped that survivor receive the care that he or she needed. For many of the survivors, it was the first time meeting their rescuers.
Santa Ynez resident Gino Filippin, who suffered a cardiac arrest at his home last August, paid a visit to the Santa Barbara County Sheriff's Office substation in Solvang in September to thank two deputies who helped save his life.
On Monday, Filippin said he was on board immediately when he was invited to take part in the countywide celebration.
"It sounded like a great opportunity to say thank you," he said. "When something like this happens to you, so many people pitch in to help."
Among the other survivors at Monday's event were Denise Auclair, Thomas Montgomery and Richard Sturtevant, a retired firefighter of 34 years who was aided by a crew from the very station from which he retired.
It was noted during Monday's ceremony that from 2011 to 2016, the survival rate for cardiac arrest in Santa Barbara County had more than doubled, from 25 percent to 52 percent.
Dr. Angelo Salvucci, an EMS medical director, credited that uptick in survival with an overall change in how the various county agencies responded to cardiac issues. Before undergoing the changes, which included the county joining the Cardiac Arrest Registry to Enhance Survival (CARES), Salvucci said that county officials took a look inward.
"What we learned is we were about as good as everyone else; that we were middle of the pack," he said. "There were a lot of people worse, there were a few people better, and we could have sat back and recognized that we were pretty good but not great. For most of the people in this room, that didn't feel right, to be pretty good but not great."
Brummett, who spent nine days in the hospital before returning home following her cardiac arrest, said one word defined her feelings on Monday: grateful.
"Every fireman I saw and every paramedic I met (today), I was asking my daughter, 'Was that one of them?'" she said. "If they didn't do what they did, I wouldn't be here. I wouldn't get to spend another day with my daughter. I truly owe my life to these people. They saved me."
---
Story Credit: http://lompocrecord.com/news/local/cardiac-arrest-survivors-reunite-with-responders-at-countywide-event/article_e001f0fe-3bdd-5a49-8167-93799fd6241c.html