A Heart, Once Stopped, Now Beats with A Passion for Helping Others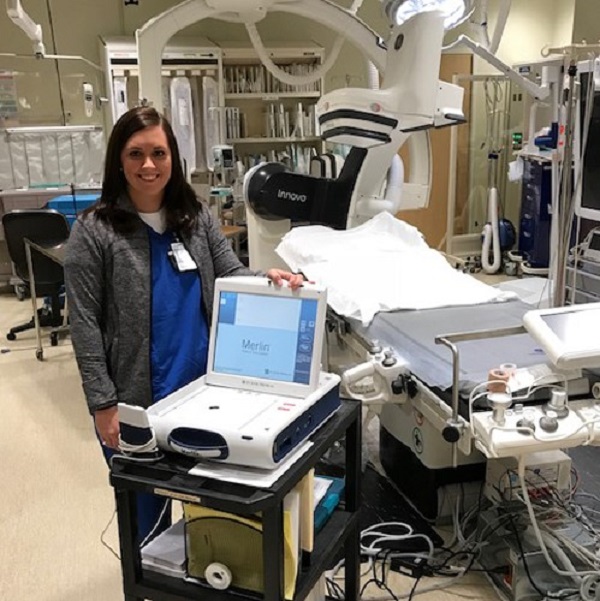 On February 3, 2003, Abbott colleague Ashley Shepherd – then a 15-year-old high-school student – was prepared to take to the court for basketball practice. What she wasn't prepared for was the sudden event that would alter the course of her life – both personally and professionally. This is her Abbott story.
It was just another ordinary school day, or so she thought.
Classes had finished and Ashley was headed to basketball practice. Her team was preparing to play in a tournament for the state playoffs.
Little did she know her life was about to change in a big way.
"Around four o'clock, after taking a water break, I slumped back against the gym wall," said Ashley. "I was on the court lifeless, limp, blue in the face, and unresponsive."
Ashley had gone into cardiac arrest and her heart stopped functioning properly as a result of ventricular fibrillation, a life-threatening condition in which the heart beats rapidly and erratically.
Thanks to prompt cardio-pulmonary resuscitation (CPR) and use of a nearby defibrillator by her coach, Ashley's heart was shocked back into normal rhythm. She was taken to the hospital, where she was placed in the intensive-care unit.
To help prevent this type of event from happening again, Ashley received Abbott's Ellipse Implantable Cardioverter Defibrillator (ICD), then a St. Jude Medical (SJM) device. Implanted in her chest, the device delivers a shock to the heart when it senses a dangerously fast heart rhythm.
"After five days in the hospital, I just wanted to go home and get my life back to normal as best as I could," she said. "I soon realized, though, that my life would not be normal – no more basketball, no more softball, no more competitive sports of any kind."
Ashley was eventually diagnosed with arrhythmogenic right ventricular cardiomyopathy (ARVC).
ARVC is a genetic, progressive condition in which the muscle on the right side of the heart is replaced by fat and scar tissue, resulting in susceptibility to spontaneous abnormal heart rhythms that may lead to cardiac arrest. ARVC is the leading cause of sudden death among young athletes, but can affect people of all ages and activity levels.
For an avid athlete like Ashley, the news was disheartening.
"Running, dribbling, scrimmaging… those were things I had always done," she said. "Sports had been part of my life since I was five years old."
But rather than focusing on what she could no longer do, Ashley used the situation to fuel her passion for the medical field – and for helping others.
While attending college, Ashley had the opportunity to shadow a sales representative in cardiac rhythm management for legacy SJM.
"I fell in love with everything about the job," she said. "I enjoyed the patient interaction that came with it. And I felt I had a story to share that could help others understand how to cope with having an ICD and how to move forward with a positive outlook on life."
Four years later, Ashley's dream came true when she was hired by the company as a clinical specialist. Now, eight years later, she's a proud member of our Abbott family.
"I'm grateful to be working in the medical-device industry for a company like Abbott," said Ashley, who is based in Huntsville, Alabama, USA. "I love my job and I love the people I work with."
In her role, Ashley is present in electrophysiology labs and operating rooms to assist physicians implanting our pacemakers and defibrillators in patients by providing support for testing and programming of the devices. In addition, she assists at follow-up visits where the devices are checked at hospitals and clinics, and educates their staffs on our cardiac rhythm-management products.
The road for Ashley hasn't been easy, but, to her, it's all part of a greater purpose.
"I see myself in the patients I help treat and care for," she said. "I know the challenges they go through, and I want them to know they're not alone in their struggles. I want to be an example to others and show them that the one thing that changed my world 15 years ago, is now the one thing I'm most passionate about. Life with heart disease is not the end of the road; it can be a new beginning."