Heal with Exercise: Start the Young on Physical Activity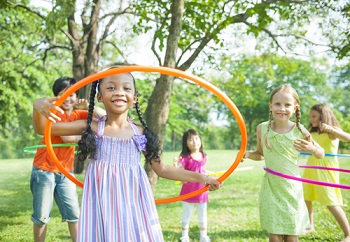 Children need exercise for good overall health.
1. Why is physical activity important for children and adolescents?
Globally, the number of overweight or obese infants and young children (aged 0 to 5 years old) has increased from 32 million in 1990 to 41 million in 2016. The World Health Organisation (WHO) reported in 2016 that 25 per cent of children below 5 are either overweight or obese in Asia.
Here, a study done by the Nutritional Society of Malaysia in 2013 showed that the prevalence among schoolchildren is at 28 per cent.
However, the overall overweight and obesity prevalence among those below 18 years old is 11.9 per cent, based on the National Health and Morbidity Survey in 2015. In this study, the prevalence of obesity is high among ages 5 to 9 and 10 to 14 years old, with a prevalence of 14.8 per cent and 14.4 per cent respectively.
Obese and overweight children may develop many chronic diseases in adulthood. Some of them may develop the disease during their childhood. Some of the common diseases that may develop later are heart disease, diabetes, osteoarthritis, some cancers (endometrial, breast and colon) and other disabilities.
WHO reported in 2014 that 85.8 per cent of children aged 11-17 years old in this country are insufficiently active. Overall, the physical activity level for schoolchildren is low, with a score of 2.29. Only 42.7 per cent of schoolchildren are physically active. That was the finding from the National Health and Morbidity Survey in 2012. Children spend most of their time watching TV and other screen activities. Some of them spend more than four hours glued to the screen. Only 8.9 per cent of schoolchildren engage in physical education in school.
It is important for children and adolescents to be physically active. Being physically active during childhood and adolescence may prevent overweight and obesity, and prevent the occurrence of chronic diseases during childhood and in adulthood.
Being physically active during childhood and adolescence will assist them to develop healthy musculoskeletal tissues and joints, develop a healthy cardiovascular system and improve neuromuscular function.
They may also have better cognitive function and academic performance in school. Limiting screen time is another important factor in increasing physical activity levels.
2. What is the recommended level of physical activity for children and adolescents?
In 2010, WHO published a physical activity recommendation which stated that children should be encouraged to be physically active, as early as 5 years old. Children and teenagers aged 5-17 should accumulate at least 60 minutes of moderate to high intensity physical activity every day.
This is more than double the recommendation for an adult. Any amount of physical activity of more than 60 minutes will provide additional health benefits to them. Their daily physical activity should be mostly aerobic. A combination of moderate and vigorous-intensity activities should be incorporated, which include muscle strengthening, at least three times per week.
Malaysia also shares the same recommendation in Garis Panduan Aktiviti Fizikal Malaysia by the Ministry of Health Malaysia this year. Children and adolescents can accumulate a few sessions of physical activity in one day to a total of 60 minutes per day. The minimum duration is 10 minutes per session. For children with physical disabilities or chronic medical problems, they should discuss with their doctors for clearance.
The type of recommended physical activity should improve cardiorespiratory fitness, muscular fitness and increase bone health. Aerobic activities such as brisk walking, jogging, running, cycling, skateboarding, swimming, football, futsal and martial arts will improve cardiorespiratory fitness.
Exercises like push-ups and squats and any muscle strengthening routines will increase muscle strength. Jumping, gymnastics and basketball will help to increase bone health.
3. How do we promote physical activity among children and adolescents?
Physical activity should be encouraged to a younger age group. Parents play an important role, especially at home. Parents should limit screen time to less than two hours per day. This includes limiting TV, video games and playing with the smartphone. It is not a good idea to introduce smartphones to young children too early. Parents should guide and provide equipment for them to play.
It is also good if parents play together with their children and be role models for them. Ensure that the activity is fun to attract their attention and interest.
In school, ensure all children take part during physical education. Additionally, all children should be encouraged to take part in sports activities regularly. Ensure physical activity is incorporated into their daily routine and curriculum in a formal childcare setting or school.
Monitoring their performance, fitness and body composition regularly can ensure children stay physically healthy.
---
Story Credit: https://www.nst.com.my/lifestyle/heal/2017/12/316096/heal-exercise-start-young-physical-activity