Sudden Death of Croatan Two-Sport Athlete a Devastating Shock to All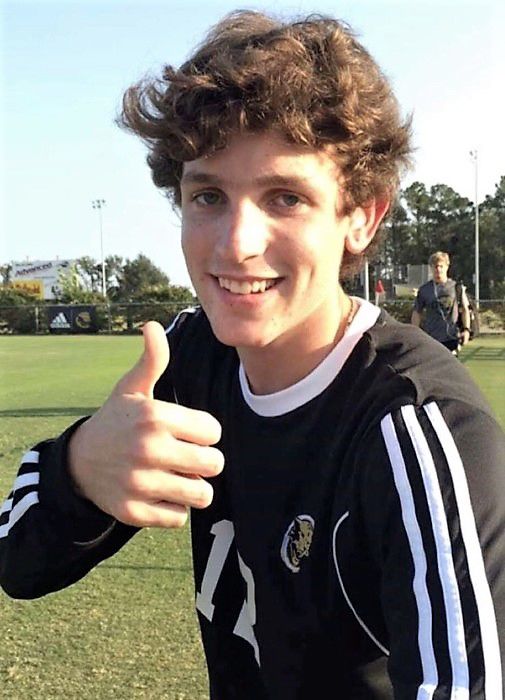 Croatan sports lost one of its own last week with the passing of junior Hayden Crow.
The 17-year-old died at home unexpectedly on Saturday, March 28, survived by his mother Lynnette Crow, father Rodney Crow and brothers Tyler Crow and Jordan Cordero.
Crow was a two-sport varsity athlete, playing soccer in the fall and basketball in the winter. His impact was felt on and off the pitch and court, a presence boys basketball coach Jeff Hawkins said was contagious.
"He had a great smile, and he was always smiling," Hawkins said. "It was infectious. It was hard to be in a bad mood around Hayden Crow. He could make you laugh, and he was just one of those positive influences, a great kid."
Like everyone else, the father of three was caught off guard by Crow's sudden passing.
"It's just very sad," Hawkins said. "It's shocking. It's not something you ever see coming. It's one of those things that's not supposed to happen. I can't imagine the pain of losing a child. In this time we're living in, it's even more difficult because people can't grieve like they want to."
Crow's family was able to hold a small dockside memorial service, while fellow student-athletes and classmates adorned the Croatan school sign with mementos and tributes to Crow.
"You wish you could do more, but there's so little you can actually do in this crazy time," Hawkins said. "You have to trust that God knows what he's doing. He sees things that we don't see. He knows things that we don't know. He's still very much in control."
On the basketball court, Crow averaged 2.8 points, 1.1 rebounds, 1.0 assists and 0.8 steals per game for a team that posted the most wins, nine, for the program since the 2012-2013 season.
On the soccer pitch, the junior ranked third in scoring for a squad that finished 14-6-2 overall, 12-2 in the 1A/2A Coastal 8 Conference and advanced to the second round of the 2A state playoffs. Crow scored 11 goals and added three assists.
"He was an intelligent player," Croatan soccer coach Paul Slater said. "He worked really well with Travis Garner-McGraw who can be unpredictable at times. Hayden just had an eye for stuff like that, and he just went with the flow. His ability to adapt was pretty special."
Like Hawkins, Slater noted Crow's agreeable personality.
"He was extremely well-liked by all the players," Slater said. "No one ever had anything negative to say about him. He was never negative or mad or anything like that. He was a generally happy guy. Everyone is just kind of shocked."
Also a father of three, Slater had an added connection with Crow as his English teacher.
"There's not a word more appropriate than devastating," Slater said. "As a father, it's your worst nightmare. As a teacher, it's rough. We're not in class, so I didn't have to come in the next day and teach with his desk empty. I think his physical absence will be felt even more in the fall when we come back to boys soccer before school starts."
Per an obituary posted by Jones Funeral Home, Lynnette Crow is encouraging those who seek to send flowers to donate to a fund that would donate hearing aids to needy children. Checks can be sent to Marine Federal Credit Union, 4180 Western Blvd., Jacksonville, NC 28546. They should be made out to Lynnette Crow, with Hayden in the memo line.
---
Story Credit: https://www.carolinacoastonline.com/news_times/sports/article_2cf4c7bc-78c3-11ea-9845-5f8026dd249f.html
---
Please help us prevent these types of deaths from occurring. For as little as $1 per week, you can support preventative heart screenings and save a life! It only takes a minute to donate. Help us save a child's life today. Thank you. -The SafeBeat Team