Miss Teen Universe Dies After Suffering a Heart Attack while on a Skiing Holiday One Day Before Her 20th Birthday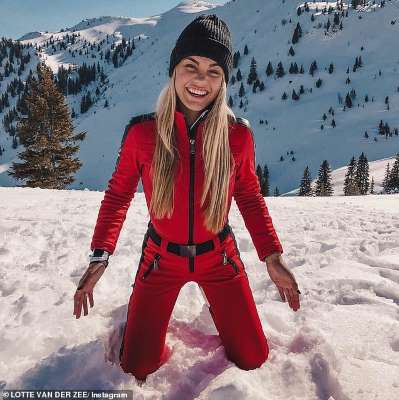 A former Miss Teen Universe has died after suffering a heart attack the day before her 20th birthday.
Dutch model Lotte van der Zee suddenly fell ill while on a family skiing trip in Westendorf, Austria, to celebrate her big day.
The beauty queen from Enschede, east Netherlands, who won the global pageant in 2017, died on Wednesday after two weeks in a coma.
Her parents have opened up about their grief in a heartbreaking post on the model's Instagram, sharing the final picture they took of their daughter.
The photograph sees the stunning model posing in the snow, in a red ski-suit and a black beanie, smiling for the camera.
'Our pearl, our everything passed away on Wednesday evening March 6th at 22:47. It is incredibly surreal that our dearly beloved Lotte is not around us anymore.
'Our hearts are truly broken. We would like to thank you all again for all the support and heartwarming messages.'
Miss van der Zee, who had embarked on a promising international career in modelling since winning Miss Teen Universe, had complained of feeling unwell when she woke up the day before her birthday.
Speaking to a local newspaper, her parents described how the young model had been out with friends the night before, but returned 'cheerfully and without health complaints'.
However, when she did not emerge for breakfast, they went to check on her and found her unwell in her bed.
Bert and Eugeniek van der Zee wrote on their daughter's Instagram that 'the feeling swiftly escalated in sudden cardiac arrest' that afternoon.
After being resuscitated by her mother, Miss Van der Zee was rushed to a nearby hospital where she was put in a medically induced coma and transferred to a specialist hospital in Munich, Germany.
Speaking to local media Mrs Van der Zee said they had made the decision to 'let her go' on Wednesday after she suffered organ failure.
It is not yet known what caused her to have a heart attack, but the family said tests would be carried out.
---
Story Credit: https://www.msn.com/en-us/lifestyle/newsfeature/miss-teen-universe-dies-after-suffering-a-heart-attack-while-on-a-skiing-holiday-one-day-before-her-20th-birthday/ar-BBUxM7J?ocid=spartandhp#image=1
---
Since you're here, we have a small favor to ask. Requests from schools and districts for our screening services are growing, which means that the need for funds to cover the cost of those services is also growing. We want to make our services available to those who request it and beyond, so you can see why we need your help. SafeBeat heart screenings take a lot of time, money, and hard work to produce but we do it because we understand the value of a child's life, PRICELESS!
If everyone who reads this likes it and helps fund it, our future would be more secure. For as little as $1, you can support SafeBeat and it only takes a minute. Make a contribution. -The SafeBeat Team