Connor J. McGurran Identified As Minnesota Soldier Who Died At Fort Jackson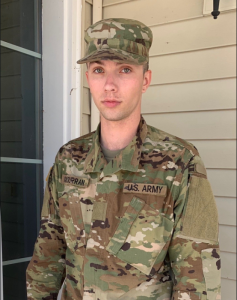 A 19-year-old Minnesota soldier who died Wednesday at a South Carolina Army base has been identified as Pvt. Connor J. McGurran.
The Minnesota Army National Guard says the 19-year-old was found unresponsive following a training exercise on Wednesday morning at Fort Jackson.
According to a press release, McGurran was immediately transported to Providence Hospital after being found unresponsive. Live-saving measures there proved unsuccessful.
McGurran was born in Owatonna. He reported to army basic combat training in October, following training with the Arden Hills recruit program.
A spokesperson wrote that he was "on track to become a Bradly fighting vehicle system maintainer."
Investigators are now working to find out how he died.
Sen. John Jasinski (R-Faribault) released this statement Thursday afternoon after learning of McGurran's death:
"I am filled with sorrow today. It is always a horrible feeling losing a brother or sister of the armed forces. As we wait for more information about what happened, I hope Pvt. McGurran's family knows that all of Minnesota is grieving with them."
---
Story Credit: https://minnesota.cbslocal.com/2020/01/09/connor-j-mcgurran-identified-as-minnesota-soldier-who-died-wednesday/
---
Please help us prevent these types of deaths from occurring. For as little as $1 per week, you can support preventative heart screenings and save a life! It only takes a minute to donate. Help us save a child's life today. Thank you. -The SafeBeat Team