John Glenn HS Retires Jersey of Stellar Student, Athlete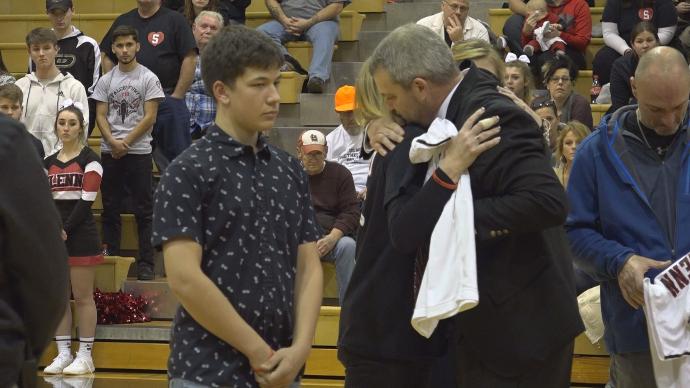 It's been a tough few months for the John Glenn community after they unexpectedly lost rising senior star athlete Zac Mago this summer.
On Tuesday, the community came together for their first home basketball game of the season without him.
"I notice that he's always with us," senior Nick Frankiewicz said. "Every time we step on the floor, I know that he's with us in a certain part of us, leading the team in his own way."
Zac Mago could be felt and seen all around, even on his teammates' shoes.
"This team has really gelled together," coach Travis Hannah said. "Obviously, because of the circumstances, they've had to. They've had to be very tough."
Everyone rallied around the family when his jersey was retired before the game. It was very emotional when his jersey was given to his parents.
"We have had people with us every step of the way, and have been blessed by our community and all the communities that surround us," said Zac's mother, Teresa Mago. "It's definitely made this journey easier, and it's definitely not an easy journey."
"The love that they show for us and for Zac just goes to show you the love they had for him and how special he really was, and it just warms our hearts as a community and family," said Zac's father, Robert Mago.
Zac's sister Jillian Mago said his spirit lives through all of the other kids' smiles in the school.
There wasn't a dry eye on the court. Even Bremen was supporting Zac with their warmup shirts that had his last name and the number 5 on the back of them.
"You're competitive and you know the situation, so you always want to help out," Bremen head coach Jerry Smith said. "To me, that's what makes America great, as you're ready to help out anytime and anywhere and do what's best for the country."
Smith said he wishes he could have 12 students just like Zac on his team, because he was such an incredible teammate and player.
"He played the game the right way," Smith said. "He always worked hard like they said in the presentation, but you could see it being on the other sideline. He works hard, he loved the game and he gave it his all."
But Zac's memory lives in these floorboards, and his number is never to be forgotten.
"I don't think there's one particular thing you have to do on a daily basis," Hannah said. "I think it's just the understanding that we have and the love that we have for him, he's here every day."
"He's always with us, there's not a day that goes by that I don't think about him," Frankiewicz said. "I think about him every day, so times like this always get a little harder. We love him, and he was the greatest leader and friend we could have ever had."
The Mago family has started a nonprofit to help people get heart testing, because Zac died from sudden cardiac arrest in his sleep.
His mom said if she can help one other family by preventing another tragedy like this, she will have done her job.
---
Story Credit: https://www.wndu.com/content/news/John-Glenn-HS-retires-jersey-of-stellar-student-athlete-501946351.html
---
Since you're here, we have a small favor to ask. Requests from schools and districts for our screening services are growing, which means that the need for funds to cover the cost of those services is also growing. We want to make our services available to those who request it and beyond, so you can see why we need your help. Safebeat heart screenings take a lot of time, money, and hard work to produce but we do it because we understand the value of a child's life, PRICELESS!
If everyone who reads this likes it and helps fund it, our future would be more secure. For as little as $1, you can support Safebeat and it only takes a minute. Make a contribution. -The SafeBeat Team