Hurricane Community Grieves Sudden Death of Middle School Student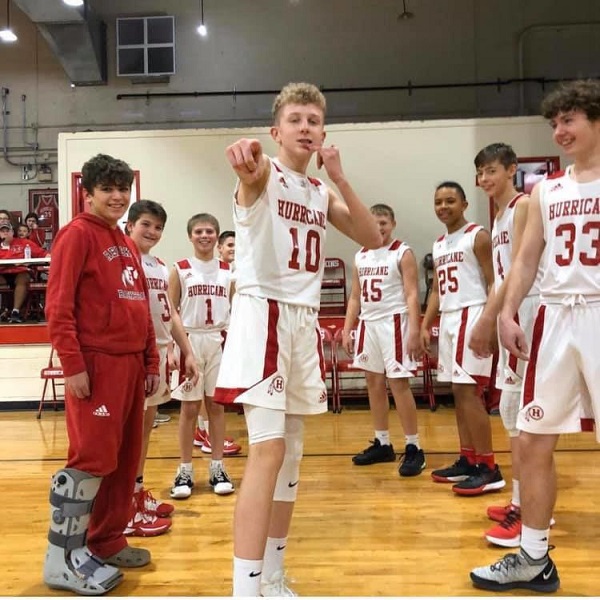 The Hurricane community is grieving the loss of an eighth-grade student who died Monday night after suffering an unexpected cardiac occurrence, according to a release issued by Hurricane Middle School on its Facebook page.
"It is with the most profound sorrow that we are reporting the passing of one of our Hurricane Middle eighth-grade students, Will Washburn," the post said.
Washburn was an athlete, WEB leader, beloved friend and important member of the Hurricane community, the school's post said.
"Our hearts our broken, and our family is missing a little brother," reads a post on the Hurricane High School Basketball Facebook page. "He had an infectious smile and a love for the game that was just as infectious.
"Our thoughts and prayers are with the Washburn family, his teammates and the people whose lives he touched. He was a special kid, a great person, and the world was a better place with him in it. We will miss you, Will."
A memorial box will be located in the Hurricane Middle gated area for students or loved ones to place a card, letter or note to support the Washburn family.
The school is asking that those interested in sending condolences do not leave stuffed animals, flowers or other items at this time.
The box will be available from 8 a.m. to 8 p.m. Wednesday and Thursday and from 8 a.m. to 3 p.m. Friday.
The post also asked parents to reach out to their school's counselor or administrative staff if they have concerns about their child's reaction to the loss as the Putnam County Schools and HMS Crisis Team is on standby.
"We want to thank you all for being a part of our school family," the post continued. "Times of crisis are heart-wrenching. Let us continue to support one another in this time of sudden, incomprehensible grief, especially for the Washburn family."
The HMS Facebook page will update the community in regards to a memorial as the information becomes available.
---
Story Credit:https://www.herald-dispatch.com/news/hurricane-community-grieves-sudden-death-of-middle-school-student/article_46926593-02a1-5566-99e3-e47aa45e6e06.html
---
Please help us prevent these types of deaths from occurring. For as little as $1 per week, you can support preventative heart screenings and save a life! It only takes a minute to donate. Help us save a child's life today. Thank you. -The SafeBeat Team