Family Shocked After 11-Year-Old Collapses, Dies Playing Basketball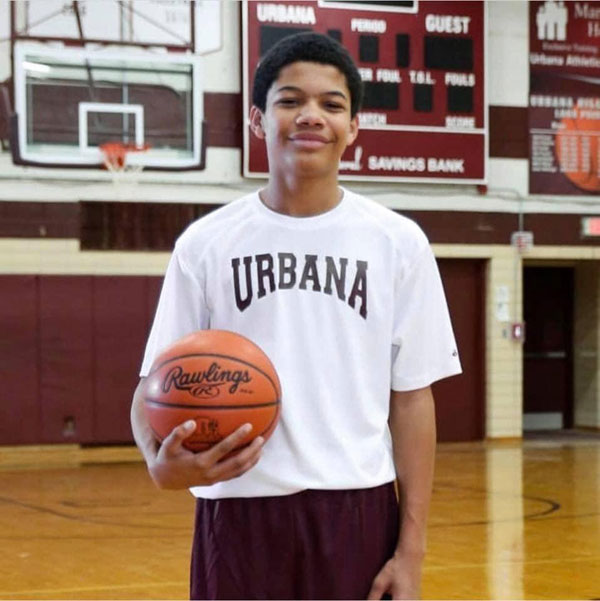 Family members are grieving after an 11-year-old boy collapsed and died while playing basketball.
It happened just one day before his 12th birthday at the Champaign County YMCA on Saturday.
Family members say the child, Troy Byrd, had no underlying medical condition and they're shocked by his sudden death.
"Uncle Ty loves you and I'll see you again," Troy's uncle Ty Montrose said through tears.
Montrose said Troy, a 6th grader at Urbana Jr High School, was shooting hoops at the YMCA when he collapsed.
"He played in a game earlier that day. After the game he went to the Y with a couple of his older cousins that play on the high school team," Montrose said. "He shot the ball around a couple times and he went to sit down on the gym floor and that's when he fell over."
The very next day, Sunday, would have been Troy's 12th birthday.
The Champaign County Coroner, Dr. Joshua Richards told the Urbana Citizen, Troy likely suffered a sudden cardiac arrest but the exact cause of his death is pending an autopsy.
Troy was taken to Mercy Health - Urbana Hospital where he was pronounced dead.
The family says Troy had no underlying medical condition that they knew of, but he did have medical problems when he was younger.
"He had like little seizures," Montrose said, adding: "The hardest thing I'll ever have to do is bury my nephew."
Troy played baseball and basketball at Urbana Jr High, and also played basketball as part of the AAU.
One of his AAU coaches, Matt Vactor said he was shocked when he got the call that Troy had died.
"He had just played a game with my son on their school team at Urbana and it was just a blur," Vactor said. "Is this real life? What's really happening?"
He said he had just filmed Troy playing, not realizing it would be one of his last.
"It was surreal, I view some of their games with my camera, with my phone, and something was just like, 'Turn it on'," Vactor said. "Just watching him out there playing and running around and just energy. I didn't know it was going to be the last time I filmed him on the court. Nobody knew. It's just hard."
He added: "He'll be missed."
Champaign Family YMCA CEO Paul Waldsmith said in a statement Sunday, "Yesterday afternoon, Saturday, January 26, an 11-year old boy suffered a medical condition while playing basketball in the Y's gym. Troy Byrd received immediate attention by Y staff, who called 911, and provided first aid and CPR until the first responders arrived. He was transported to Mercy/Urbana Hospital; the hospital informed us that he had passed away last night.
"We are saddened at this loss because Troy was a part of our Y family. We extend our heartfelt condolences to his family," Waldsmith added. "I am proud of the YMCA staff on duty who performed all emergency procedures quickly and efficiently. The staff are trained to respond to situations like this, and they did exactly what was required. We are grateful for the immediate and professional care provided by the emergency responders."
Troy's funeral is planned for this Friday.
---
Story Credit: https://www.wdtn.com/news/local-news/11-year-old-collapses-dies-playing-basketball/1732374232
---
Since you're here, we have a small favor to ask. Requests from schools and districts for our screening services are growing, which means that the need for funds to cover the cost of those services is also growing. We want to make our services available to those who request it and beyond, so you can see why we need your help. Safebeat heart screenings take a lot of time, money, and hard work to produce but we do it because we understand the value of a child's life, PRICELESS!
If everyone who reads this likes it and helps fund it, our future would be more secure. For as little as $1, you can support Safebeat and it only takes a minute. Make a contribution. -The SafeBeat Team