Ashley Ridge High School Student Dies Hours After Football Practice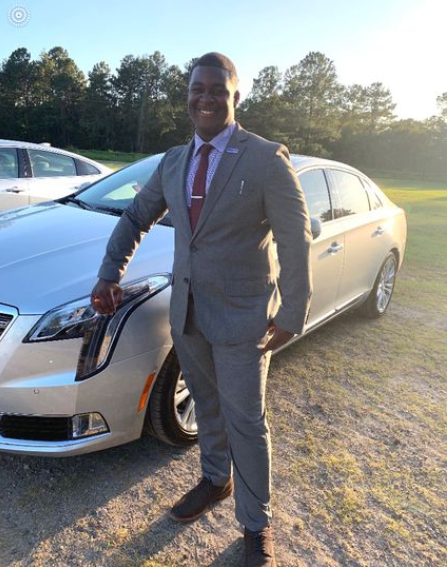 The Dorchester County Coroner's Office has identified a 16-year-old who died after attending football practice.
Amari President was found unresponsive in the shower Tuesday evening after returning home from practice at Ashley Ridge High School.
The coroner's office says President was transported by Dorchester County EMS to Trident Medical Center where he was pronounced dead at 10:22 p.m.
In a statement released Wednesday afternoon, Dorchester District Two said they are "deeply saddened by the loss of one of students at Ashley Ridge High School on Tuesday. We offer our prayers and support to this young man's family as well as to the students and staff at Ashley Ridge High School. School counselors will offer counseling and support to all of our students and staff."
Ashley Ridge head coach Shane Fidler said in a message this is a "very sad day for us".
Before Fidler, Kenny Walker had been the head coach for the Swamp Foxes before stepping down earlier this year. In a statement, Walker said "I have a heavy heart today. Amari was involved so much with his school and football program. He played JV football and helped out on Friday nights setting up equipment/ videoing- you name it he was always there to help. I could always count on him. He was all in for his school and team. When I was having a bad day all I had to do was talk with Amari and the day got better. My thoughts and prayers go out to the President family and Ashley Ridge High School."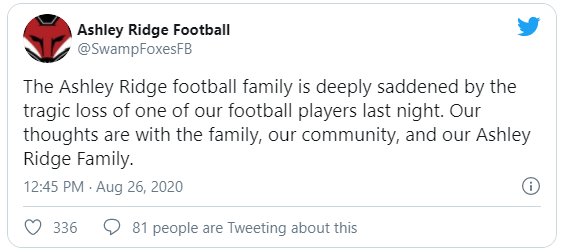 The body is scheduled for autopsy at the Medical University of South Carolina at 9 a.m. Friday.
President was active in politics as well having served as a volunteer for Joe Biden's campaign in South Carolina as well as Marlon Kimpson's senate campaign. Kimpson released a statement over social media saying "It is with heavy heart that we mourn the passing of Amari President. Amari is the young man pictured below with the Joe Biden tee shirt on. I know of no other volunteer for Joe Biden's South Carolina or my Senate campaign more committed than Amari. He exhibited maturity and political instinct well beyond his years. As his names signifies, he was truly on his way to be President one day. I spoke with this grandmother this morning and expressed my deep condolences. Rest In Peace Mr. President, we love you."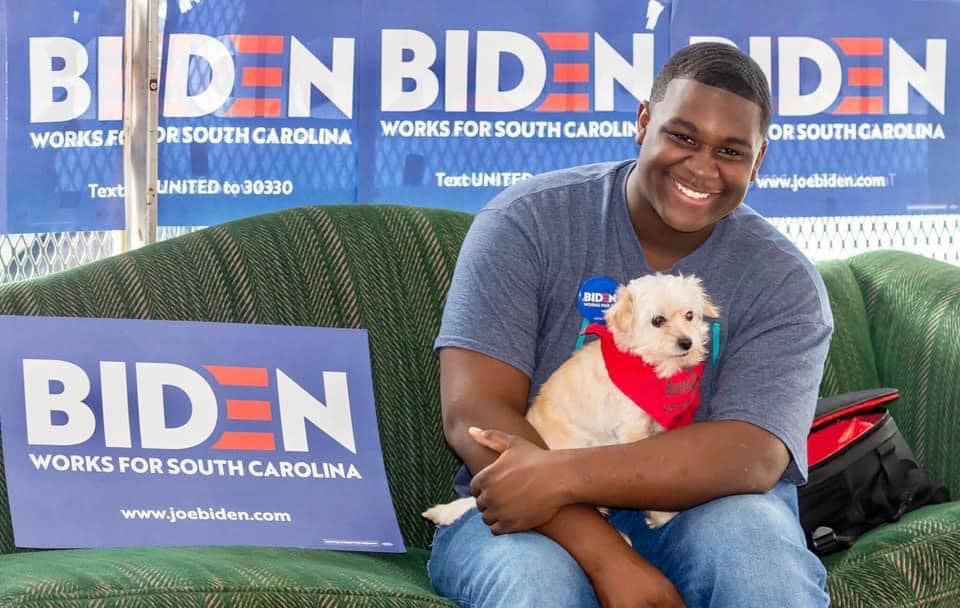 Coaches and teams from around the Lowcountry have been sending Ashley Ridge and the President family their support over social media for most of Wednesday. Eric Bendig of Philip Simmons, Joe Bessinger of Stall and football teams from Stratford, Wando and many more have sent posts remembering President.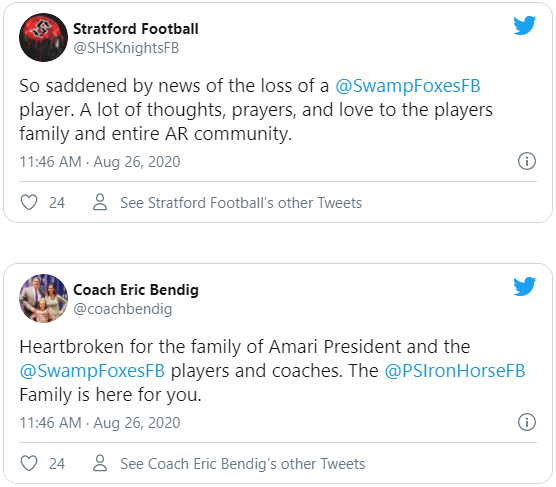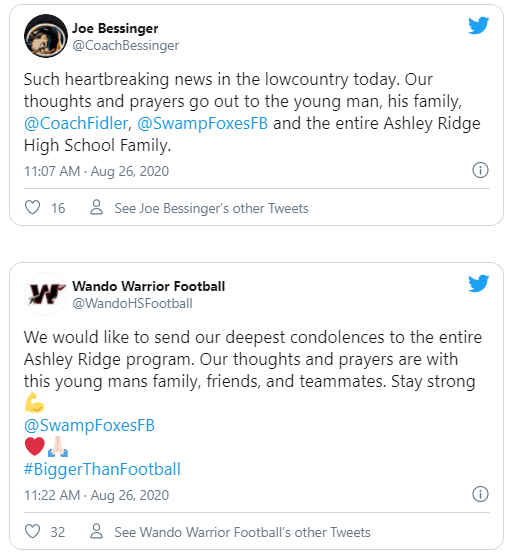 The Dorchester County Coroner's Office is investigating.
---
Story Credit: https://www.live5news.com/2020/08/26/ashley-ridge-high-football-player-pronounced-dead-after-practice/
---
Click here to SUBSCRIBE to our newsletters.
Please help us prevent these types of deaths from occurring. For as little as $1 per week, you can support preventative heart screenings and save a life! It only takes a minute to donate. Help us save a child's life today. Thank you. -The SafeBeat Team