Heritage HS Athletic Trainer says Track Athlete Suffering Cardiac Arrest was Cleared to Run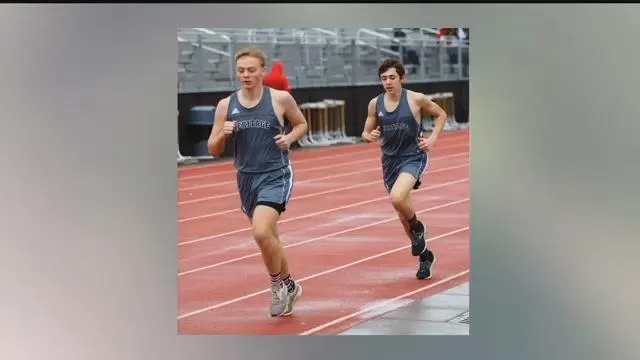 The Heritage High School track athlete whose heart stopped during a meet is still recovering.
Doctors say Hunter McCrary suffered sudden cardiac arrest.
Heritage athletic trainer Monica Carney says she was at a soccer game when she got a call about McCrary. Carney is employed by Center for Sports Medicine, a partnering medical center for Heritage.
The 16-year-old was crossing the finish line at a track meet in Calhoun when his heart stopped beating and collapsed.
"I knew that there wasn't really anything I could do to help because I wasn't there, and then my next thought was I hope he had the resources that he needed while he was there and thankfully he did," Carney said.
To play a sport in middle and high school, students must have a doctor sign a pre-participation physical form. The Georgia High School Association requires it. It outlines the student's medical history, allergies and physical state.
Hamilton County schools require the same thing and use an identical form as a standard by the Tennessee Secondary School Athletic Association.
But Carney says Hunter's physical did not show anything medically wrong with him.
"Most of the time when you do a physical it's not going to identify anything. It's not anything in depth. It's just a general, is this person fit to be able to perform sports," she explained. "In a situation like this, there were no red flags. He was cleared for activity."
Carney said this is one of the reasons why she wishes physicals were more extensive.
"Usually by the time the kid is old enough to play sports, if something is wrong, it has had the opportunity to kind of present itself," she added. "But in certain situations, especially what we have been seeing more recently, I think it would be a good idea."
Caring for up to 400 Heritage High School student-athletes can be tough, but Carney says their health is important.
"If you don't think something is right, just say something about it. It may be nothing, and if it's nothing, then I'll tell you that it's nothing, but if it's something, then it's worth looking into," she said.
When Hunter's heart stopped, an AED defibrillator was used to shock his heart and saved his life. Heritage High School's athletic director said there are three of them throughout the high school. He told Channel 3 they are buying another one for Carney to carry at sporting events.
Center For Sports Medicine officials said students should be seeing their primary doctors for well checks annually. The pre-participation physicals are done in addition to those, typically every spring.
Center for Sports Medicine charges students $25 for physicals. Officials tell Channel 3 the money funds the school's athletic department.
Erlanger charges middle school students $15 and high school students $30. However, the hospital provides these physicals at no cost to the student-athlete as per Erlanger's agreement with contracted schools. These physicals must, however, be done during our set physical dates.
---
Story Credit: https://www.wrcbtv.com/story/40174948/heritage-hs-athletic-trainer-says-track-athlete-suffering-cardiac-arrest-was-cleared-to-run
---
Since you're here, we have a small favor to ask. Requests from schools and districts for our screening services are growing, which means that the need for funds to cover the cost of those services is also growing. We want to make our services available to those who request it and beyond, so you can see why we need your help. SafeBeat heart screenings take a lot of time, money, and hard work to produce but we do it because we understand the value of a child's life, PRICELESS!
If everyone who reads this likes it and helps fund it, our future would be more secure. For as little as $1, you can support SafeBeat and it only takes a minute. Make a contribution. -The SafeBeat Team