Stafford Man Survives Rare Heart Condition, After Help From A Father And Son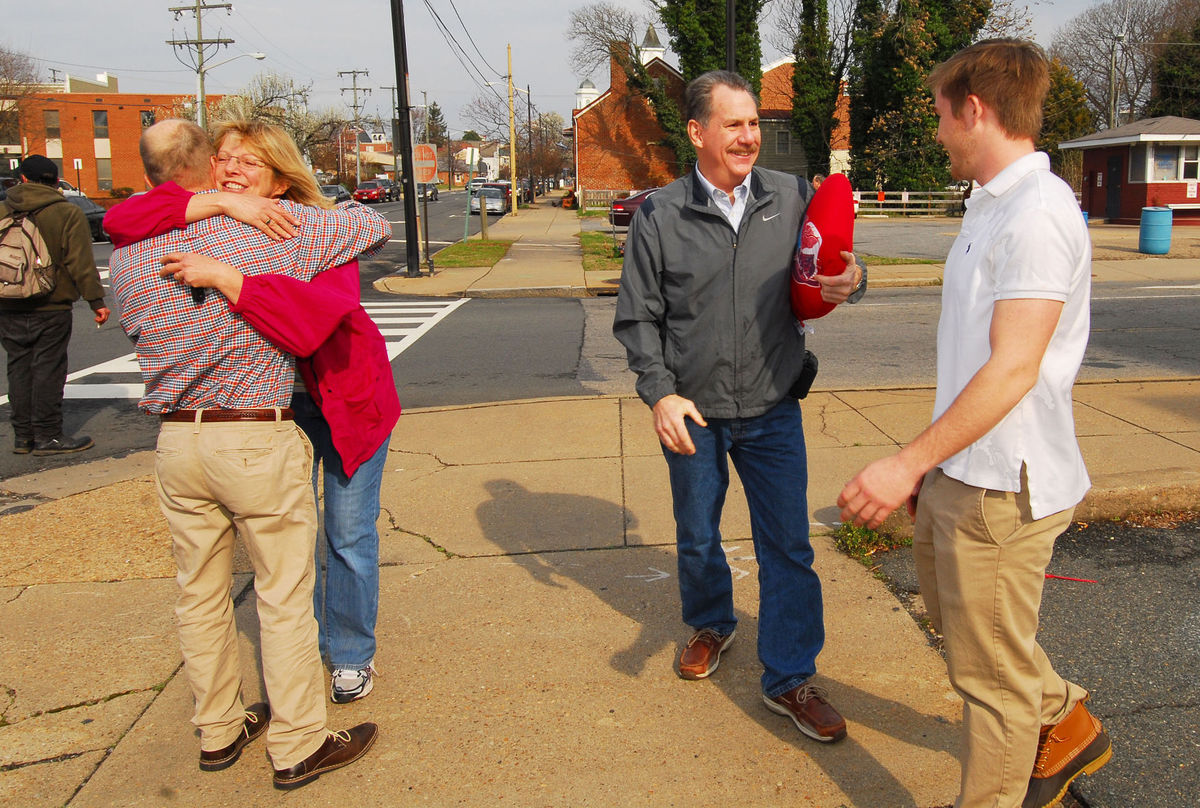 It seemed like the odds were against Dave Wilder that morning in late January, when his heart stopped beating as suddenly as if someone had flipped off a switch.
But one of the doctors who treated him said the 62-year-old, who served 28 years in the Coast Guard and currently works as a contractor, had two things in his favor.
Even though the vital artery that supplies blood to the left side of his heart was totally blocked, Wilder was the rare person with that condition to survive a cardiac arrest. Minutes after he passed out, he got the help he needed—first from a father and son who saw him, face down in a parking lot, then from trained professionals.
"He's a very tough guy, and he's a very lucky guy," said Dr. Alex Na, a cardiac surgeon who later performed triple-bypass surgery on Wilder at Mary Washington Hospital. "A lot of times, when people have a blockage like that, and they have an arrest, they can't be brought back.
"There have been a very small number of patients who survive" what Wilder did, Na said. "He's in a class all his own."
Phillip Atkins and his son, William, just happened to be driving near the Amtrak train station in Fredericksburg on Jan. 23. They live in Stafford County, and the elder Atkins is a contractor who owns several properties downtown. His son, a student at Germanna Community College, works with him between classes.
The father is always looking around, wondering if this building is for sale or noticing when that one needs work.
"He's very observant," William Atkins said.
His keen eye served Wilder well that rainy morning.
Wilder, who lives near the Brooke area of Stafford, usually takes the VRE train near his home to Coast Guard headquarters in Anacostia.
On this particular day, he had brought his daughter's dog back to Fredericksburg and was heading toward the downtown station. He doesn't remember much after he parked his car in a far-away lot and started walking.
Meanwhile, Phillip Atkins was at the stoplight at Charles Street and Lafayette Boulevard. To his left, he saw a crumpled body in the parking lot behind the Irish Brigade.
"Take a look at that guy," he told his son, and the two wondered if the man had passed out from drinking.
Something told the elder Atkins that wasn't the case, and he ran the red light and drove behind the pub.
"I grabbed him by the shoulder," the father recalled, "and said, 'Buddy, are you OK?' "
'ONE LAST GASP'
Wilder wasn't. His face was bloodied from the fall—which also chipped a front tooth—and he was still breathing, although he wasn't conscious.
The Atkinses recounted these details to Wilder and his wife, Denise, when they recently met at the place where it all happened.
"After I rolled you over, you took one last gasp and were out," Phillip Atkins said.
Denise Wilder did her own small gasp then and reached for her husband's hand.
"You are a lucky man," Phillip Atkins said to Wilder.
"Because of you two," Wilder added.
The elder Atkins didn't want to be recognized, but stressed instead the importance of trained first responders, as well as those who are certified in CPR.
"We just happened to be in the right spot at the right time, and thank God, you're alive," he said.
"Because you did something," Denise Wilder said.
"We did what we hope anyone would do for us," Phillip Atkins said.
NO MOUTH-TO-MOUTH
He started chest compressions while his son called 911. Phillip Atkins learned CPR when he was a 17-year-old lifeguard, but that was 40 years ago. His son had just started a CPR class at Germanna and encouraged him to pump Wilder's chest to the tune of "Staying Alive."
He didn't do mouth-to-mouth because of the blood on Wilder's face.
Instructors recognize that people may not want to perform CPR on strangers because of that contact, said Lori Knowles, deputy chief of Stafford Fire and Rescue. That's why current classes encourage chest compressions alone.
"You're pushing the lungs up and down, so you're still getting air in and out in an oxygen exchange," said Na, the cardiac surgeon.
When rescuers arrived, they used an automatic external defibrillator, or AED, to shock Wilder's heart back into a regular rhythm. They took him to Mary Washington, where he would be hospitalized for almost four weeks.
TOTAL BLOCKAGE
Wilder suffered a laundry list of problems, which is ironic considering his lifestyle. He eats right, works out regularly and has almost perfect blood pressure.
"He does everything you're supposed to do," his wife said. "He's the last person we'd think this would happen to."
But Wilder also has small arteries on the left side of his heart, which Na said contributed to the biggest problem: His left main coronary artery was totally blocked. He was basically living off blood coming from the right artery, as his heart formed "collaterals," or small vessels to carry the blood, Na said.
Shortly before 9 a.m. on Jan. 23, the heart couldn't deal with the blockage anymore and shut down. Wilder suffered an aneurysm on the left artery—and had a small stroke—as his heart went into ventricular fibrillation, or V-Fib, the most serious disruption of cardiac rhythm.
A person experiencing V-Fib "will pass out and die if circulation is not restored quickly, usually within just a few minutes," according to the website Aurora.
'A HUGE DIFFERENCE'
The Atkinses could tell Wilder hadn't been on the ground long. His phone hadn't gone to screen saver, and his clothes were barely wet from the rain.
Their quick action kept blood flowing to all the vital organs, Na said. When he performed bypass surgery two weeks later—doctors waited to be sure the stroke was contained—all his functions were good. Wilder hadn't suffered any damage to his kidneys, liver or brain from a disruption of blood.
"They made a huge difference," Na said.
Wilder had his surgery on Feb. 8 and was released Feb. 17, after some complications from an infection. He's walking at least a mile a day, taking all sorts of preventive medications and is wearing a vest that's actually an external defibrillator, just in case his heart flutters again.
He'll be out of work for several months and unable to do the projects around the house that he loves, like finishing the basement.
As he and his wife hear more details about what happened, they're awed by the timing of it all. Denise Wilder was in Louisville with her ailing mother when her husband had his cardiac arrest.
Had he passed out at home, or when he dropped his daughter's dog off in Fredericksburg, his wife or child would have found his dead body.
If it had been a normal work day, and he collapsed at the Brooke train station, which is more isolated than the one downtown, he might not have been seen immediately.
Denise Wilder believes it's a miracle he was put in the path of Phillip and William Atkins.
"We can't help but think how blessed we are that it happened where it did," she said.
---
Story Credit: http://www.fredericksburg.com/news/healthy_living/stafford-man-survives-rare-heart-condition-after-help-from-a/article_080dab68-d12e-530e-b1d8-d48df038cb30.html