St. Louis Honors Life Saving Heroes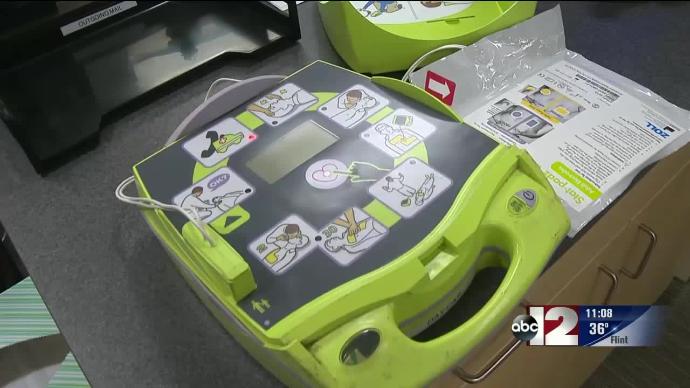 ST. LOUIS, Mich. (WJRT) - (1/3/17) - Hugs, handshakes and a lot of smiles as the city of St. Louis honors the people responsible for saving 16-year-old Maverick's life.
"I knew there was a lot of people that helped me and I just can't thank any one of them enough," Maverick said.
He went into cardiac arrest in the middle of basketball practice last December
His coach immediately started performing CPR. Minutes later, his teammate's dad - the assistant fire chief - raced back to the gym to help. And then, two St. Louis Police Officers arrived with the AED.
"Honestly I just reacted - graduated from CMU I had to take a semester long CPR course, first aid and honestly believe that was what allowed me just to react," said Maverick's Coach Dan Nealy.
'When you get there and you see a child, you know, I have a child of my own and it just hits close to home," Officer Matt VanHall said.
"It was surreal, I couldn't believe it was happening," Officer Sarah Chamberlain added.
Officer Chamberlain knows Maverick well, having been his substitute teacher a few times.
"The students are my kids, you know, you develop a bond with them teaching and working with 'em and working with them on the road, so it's kind of hard to see," she said.
After four and a half minutes and one shock from the AED, their team effort had Maverick breathing again.
"Most people take - not all - but take every day for granted and now it's, after you realize what's happened and everything that's been done, it's crazy," Maverick said.
"Thank you from the bottom of our heart, you know, thank you for being there for him," Maverick's Dad Brice Giles said. "To see him still with us here today, you just, you just can't put a price on what that worth is." "I think of them as Maverick's earthly guardian angels," his Mom, Carla Giles, added.
Maverick tells us he's back to normal. There are certain activities he can't participate in right now, but he is doing well.
And Maverick's parents and the police department say this example should be enough to show how important it is to know CPR and to have access to an AED.
---
Story Credit: http://www.abc12.com/content/news/Life-saving-honors-for-4-St-Louis-heroes--409609705.html