'I Was Dead For Nine Minutes, But She Brought Me Back' OAP Thanks Nurse Who Saved His Life After Cardiac Arrest
Jim Houston returned to the Queen Elizabeth University Hospital in Glasgow with a bouquet of flowers and a gift card for Sharon Marshall.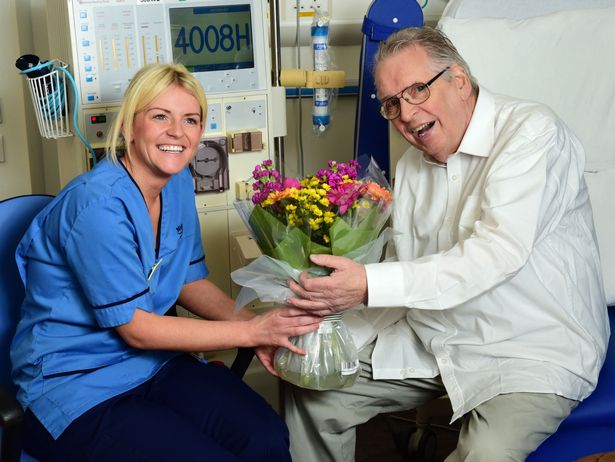 A GRATEFUL patient has said thanks to the nurse who battled for nine minutes to bring him back from the dead after a cardiac arrest.
Jim Houston returned to the Queen Elizabeth University Hospital in Glasgow with a bouquet of flowers and a gift card for Sharon Marshall.
Sharon was working on a ward when Jim's heart stopped pumping and she and a colleague stepped in to carry out CPR on him.
Jim, 78, told her: "I will forever be thankful to you. You never gave up."
The pensioner from Milngavie, near Glasgow, took ill on Boxing Day and went to the Queen ­Elizabeth after three days of nausea and diarrhoea.
A kidney dialysis patient, he was taken to renal ward 4D, where staff nurse Sharon was on duty. She said: "He was chatting away and then said he felt sick.
"I turned to get him a sick bowl and when I turned back, he wasn't breathing.
"I initiated CPR. While my colleague maintained his airway, I carried out chest compressions."
They carried on on for nine minutes before she felt a pulse and "Jim came back".
He was transferred to intensive care and then moved to a renal ward for acutely ill patients, where Sharon paid regular visits to check up on how he was doing.
Sharon said: "I came looking for him to see how he was doing and asked if he remembered me.
"I told him I was the nurse in charge of his care. He never had a clue about what happened so we spoke about it."
Jim said: "That was a very emotional time for both of us and the tears flowed. I was the biggest baby."
Sharon added: "I was as bad as you."
Retired driver Jim was discharged on January 28 but wanted to return to say thanks.
He said: "I was so grateful to Sharon. The NHS gets a bad name just now so it is nice to give a wee bit back to say how good our NHS was in my case.
"I got to experience it at the coal face that day.
"As you get older you tend to think that you might not get the same attention, that people wouldn't bother as much with you because you are old. I would never have thought someone would have been hanging about for nine minutes to save my life."
Sharon, mum to Holly, seven, has been a nurse for just a year.
She and the colleague who helped her that night were "elated" when they successfully brought Jim back from the dead.
She said: "It was my colleague's birthday after midnight that night so we were drinking ­sparkling water and toasting Jim as well as her birthday."
She added: "Jim will always have a special place in my heart."
Dr Chris Deighan, chief of medicine at NHS Greater Glasgow and Clyde north sector said: "When someone has a cardiac arrest, the faster they are resuscitated the better and the more likely they are to make a full recovery in the longer term.
"James's excellent progress is down to the quick thinking and skills of the nurses involved in this emergency situation and they should be proud of their actions.
"Unfortunately, CPR does not always have such a positive outcome.
"I am delighted that James continues to make such a good recovery and that he took the time to come back and thank us for his care."
---
Story Credit: http://www.dailyrecord.co.uk/news/scottish-news/i-dead-nine-minutes-brought-9960536