Giving Thanks for Life: Shawnee Woman Grateful to REACT Medics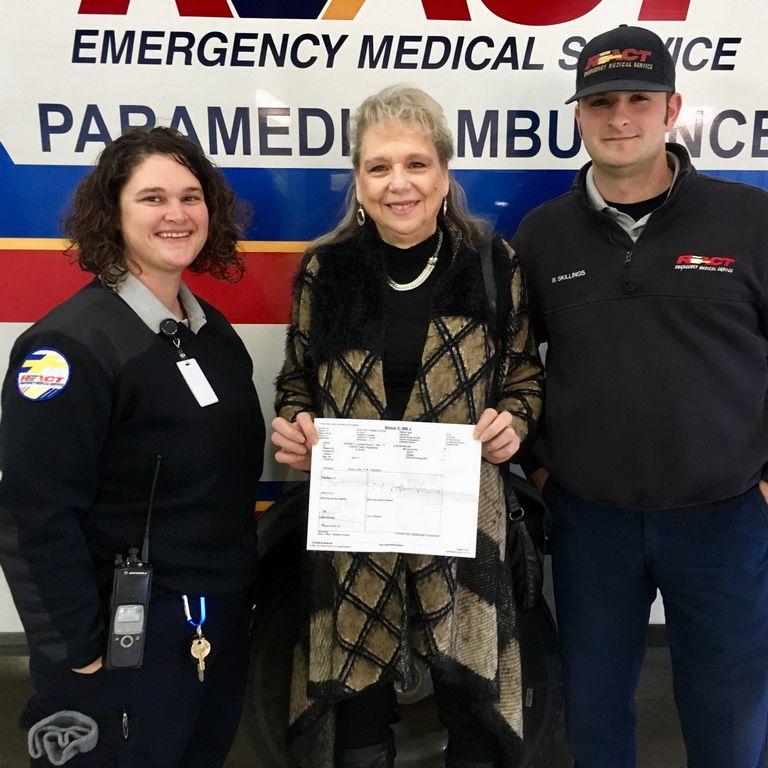 As many are giving thanks today, Shawnee resident LouAnn Everett is grateful to REACT EMS paramedics, who gave her something she is really thankful for — a second chance at life.
"They were my angels," she said.
On Nov. 6, Everett, 65, started having chest pains at her home. As a nurse for 15 years, she knew it was heart attack and dialed 911.
REACT EMS Paramedic Lacie Smith and EMT Brady Skillings responded to the call and showed up at her home within two minutes.
While she was having pains, she walked to the gurney and even fretted about getting her German Shepherd, Lady, inside the house before they left, she said.
Little did she know, her heart would stop a short time later.
Smith said after seeing Everett's scan on the monitors, she appeared to be having a heart attack.
Because getting to a emergency cardiac center with a cath lab is crucial, Smith said she was taken directly to SSM — St. Anthony in Oklahoma City. On the way, the crew would bring her back from a sudden cardiac arrest thanks to the Lucas 2 device, a mechanical chest compression device that helps lifesaving teams give consistent chest compressions to sudden cardiac arrest patients.
Everett said she flat-lined, with the crew stopping the ambulance along I-40 to hook up that Lucas device.
Smith said she was in the back with their patient while Skillings was driving. In the Midwest City area, they had to pull over on Interstate 40 when Everett's heart stopped.
Everett went into cardiac arrest and Smith used the paddles on her twice until they could get the Lucas device on and give her medications.
"Luckily we got her heart back, her pulse back," Smith said, adding it was about a 4 to 5 minute ordeal. "She came around and starting talking to me...we had a brief celebration."
Luckily for Everett, she came back quickly.
"She did great — she was very fortunate," Smith said, adding they were both happy for the outcome.
Once at the hospital, Everett had an emergency stint put in and is still recovering at home. And while she is walking slower and is still tired from the experience, she is thankful for being here this Thanksgiving and for the paramedics who saved her life.
"I'm thankful too," Smith said.
Everett said the paramedics were awesome that day.
"We have a great ambulance service — it's something to be proud of," Everett said.
As a way to say thanks, Everett visited her angels at REACT EMS ahead of the holiday and took them gift cards and enjoyed a tour of the station and equipment that was used to save her life.
---
Story Credit: https://www.news-star.com/news/20181122/giving-thanks-for-life-shawnee-woman-grateful-to-react-medics
---
Since you're here, we have a small favor to ask. Requests from schools and districts for our screening services are growing, which means that the need for funds to cover the cost of those services is also growing. We want to make our services available to those who request it and beyond, so you can see why we need your help. Safebeat heart screenings take a lot of time, money, and hard work to produce but we do it because we understand the value of a child's life, PRICELESS!
If everyone who reads this likes it and helps fund it, our future would be more secure. For as little as $1, you can support Safebeat and it only takes a minute. Make a contribution. -The SafeBeat Team