Coach Saves Player Who Collapses at Practice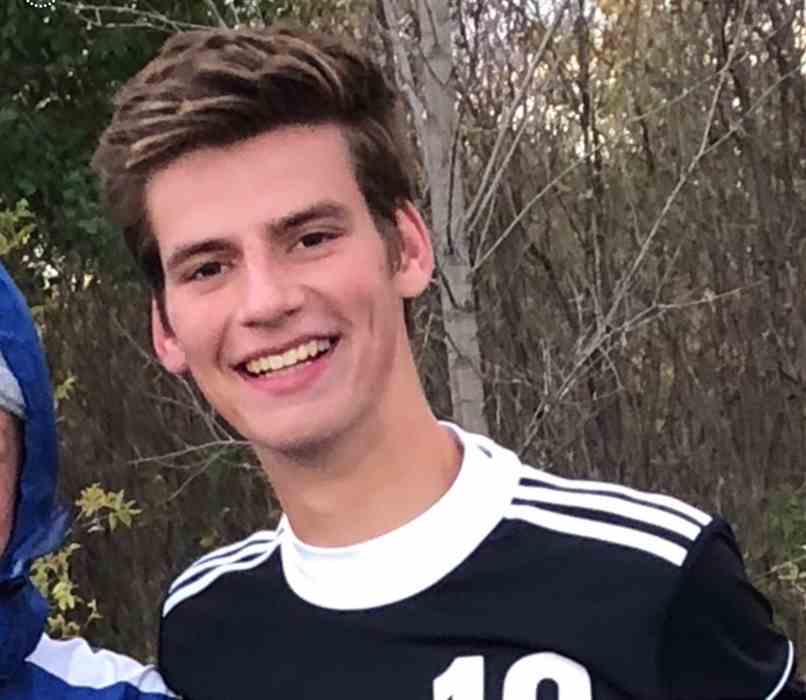 While shooting free throws at basketball practice Thursday, Luke Anhalt collapsed on the court.
The varsity coach for Fruitport Calvary Christian High School, Jeff Zehr, began CPR and AED procedures that saved the Spring Lake teen's life. Zehr is also a chiropractic physician.
Luke was then rushed to Mercy Health in Muskegon, where the Fruitport Calvary Christian senior was stabilized before being moved to Spectrum Health Helen DeVos Children's Hospital in Grand Rapids.
The school held an assembly for prayer and reflection Friday morning, and canceled the Eagles' Friday game with Fruitport High School.
School officials said an ambulance arrived at Calvary Christian Schools within five minutes of a 911 call after Luke suffered a cardiac arrest.
The boy's father, Dr. Jeff Anhalt, said Friday afternoon that Luke was recovering steadily throughout the day, was taken off ventilation and could carry on a conversation.
The cause of the incident had not yet been determined, but doctors had ruled out a few possibilities. Anhalt, an orthopedic practitioner, explained that hypertrophic cardiomyopathies, a common cause of cardiac arrest in athletes, was taken off the table.
It took two defibrillator treatments administered by Zehr at the school to keep him going, according to Calvary Christian Principal Tom Kapanka. Fruitport Township Public Safety Director Brian Michelli, who gives CPR training at the school, assisted Zehr with chest compressions before an ambulance arrived.
Jeff Anhalt and Zehr have both coached Luke and Zehr's son, Zach, for several years in basketball and soccer, Jeff Anhalt said. The two teen athletes are also good friends.
The Spring Lake family said they are grateful that immediate steps were taken.
"Everything worked the way it's supposed to," the elder Anhalt said. "Without that, the outcome is different. He's probably not living."
The school is equipped with two AED kits, according to Kapanka, including one in the gymnasium where the basketball practice was going on at the time of Luke's collapse. The school's AED units are voice-guided during the procedure, but Kapanka said he is grateful a doctor was able to take action.
"It takes a minute to determine whether what you're watching in front of you needs a machine," Kapanka said. "It takes a calm person with enough knowledge."
The team and parents joined together in the waiting room at Mercy Hospital on Thursday, holding a series of prayers that continued the following school day.
"I haven't done one normal thing today," Kapanka said Friday afternoon, as Luke's absence was felt by the tight-knit school community.
While Luke's status was uncertain Thursday night, Kapanka said he appeared in good spirits during a video chat Friday morning. The principal headed to the hospital Friday evening to deliver cards and posters signed with words of encouragement from Luke's classmates.
In the immediate wake of the incident, Kapanka said he is thinking about the value of AEDs in schools. Although common in schools, he said, they are not required by Michigan law.
"We walk past those machines every day like they're a picture on the wall," he said. "Then, all of a sudden, you think, 'Wow. Thank God we had that.'"
Kapanka said he is concerned that the response time to similar incidents on the soccer field or at away games might be delayed without AEDs nearby. In 2017, the state implemented CPR as a graduation requirement, which Kapanka said is a step in the right direction.
Thursday was not a particularly hard practice, the principal noted, and the cardiac arrest was not caused by overexertion.
Jeff Anhalt said his son is class president and has captained various soccer and basketball teams, including this year's Calvary Christian varsity teams. He's been recruited to play soccer at Spring Arbor University, where he plans to study medicine.
"He's that kind of kid," Anhalt said. "He does everything."
Kapanka noted that Luke leads the school's Praise and Worship choir and gave a performance of "I Will Follow" the morning of the incident, a song about faith in times of hardship.
---
Story Credit: https://www.grandhaventribune.com/Health-Care/2018/12/15/AED-saves-Calvary-hoops-player-s-life.html
---
Since you're here, we have a small favor to ask. Requests from schools and districts for our screening services are growing, which means that the need for funds to cover the cost of those services is also growing. We want to make our services available to those who request it and beyond, so you can see why we need your help. Safebeat heart screenings take a lot of time, money, and hard work to produce but we do it because we understand the value of a child's life, PRICELESS!
If everyone who reads this likes it and helps fund it, our future would be more secure. For as little as $1, you can support Safebeat and it only takes a minute. Make a contribution. -The SafeBeat Team