Cardiac Arrest Survivor Thanks First Responders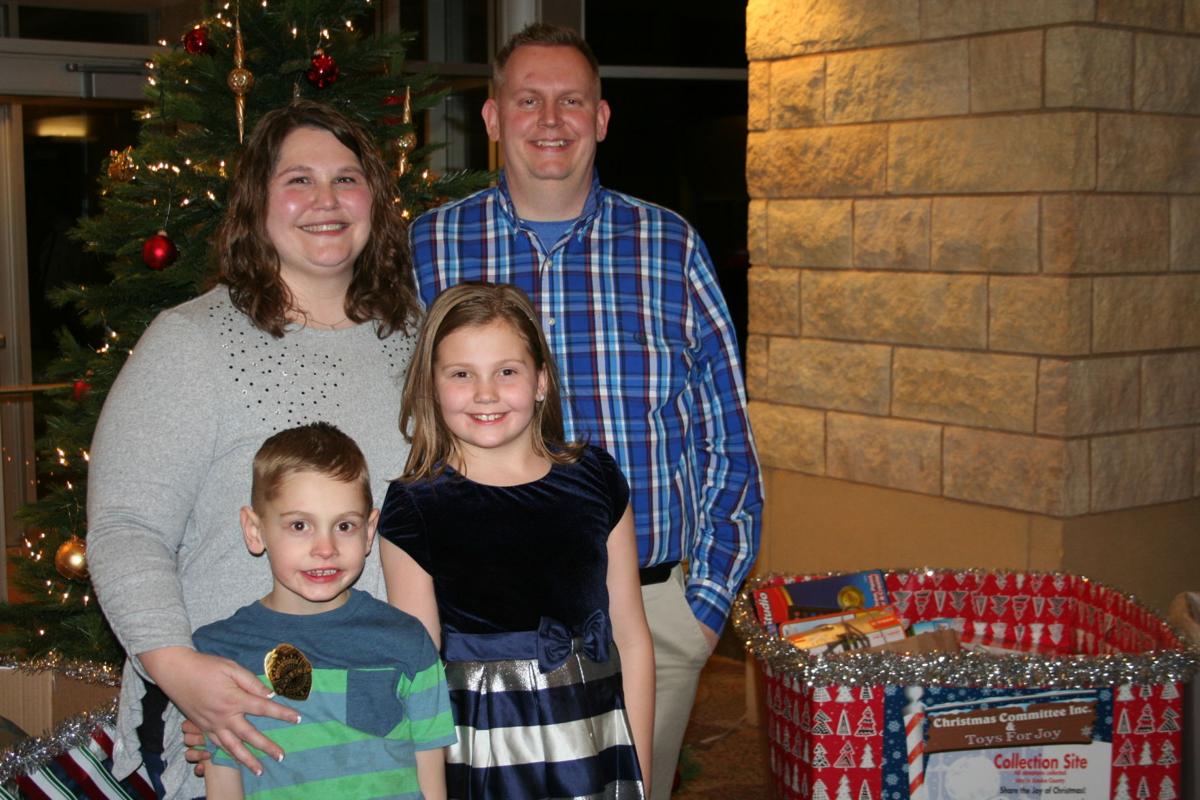 Eric Lingbeek suffered sudden cardiac arrest Aug. 28 just a few days after his 40th birthday – and survived.
The Coon Rapids resident, along with his wife Jessica, daughter Andrea, 9, and son Evan, 7, were at the Coon Rapids City Council meeting Dec. 4 to thank the first responders who helped save his life.
They were Sherry Stevens, Kris Stewart and Becky Richardson, Anoka County Central Communications; Crystal Gaughan, Jenny Spaeth, Nathan Layne and Jonathan Flynn, Allina Transportation; Tyler Brown and Ariel Huddleson, Coon Rapids Police; and Justin Hite, Steve Szaflarski, Darin Jahnke, Mike Smith and Matt Wells, Coon Rapids firefighters.
Coon Rapids Fire Chief John Piper, who called the save a "true team effort," presented an Allina Health certificate as well as a "lifesaver" pin and challenge coin from the Coon Rapids Heart Safe Community program to each of the first responders.
Lingbeek, who has been taking medication for cardiomyopathy – diseases of the heart muscle – for the past two years, was home with his family the evening of Aug. 28 when about 8 p.m., he collapsed from sudden cardiac arrest while sitting on the couch, according to Jessica Lingbeek in an interview.
She immediately called 911 and Officer Brown arrived within three minutes followed a minute later by Coon Rapids firefighters and then Allina paramedics, Jessica Lingbeek said.
They performed compression CPR and used an AED to try and restart Lingbeek's heart, she said.
According to Hite, battalion chief at Fire Station 1, a Lucas device, which is carried in all Coon Rapids fire rescue vehicles and Allina ambulances, was hooked up to Lingbeek to perform the chest compressions which, in essence, work for the heart.
The Lucas machine not only produced a strong pulse, but an EKG also showed that Lingbeek's body was responding with its own pulse, although he was not conscious when he was transported to Mercy Hospital, Hite said.
In the hospital emergency room Lingbeek responded completely and his heartbeat was restored, he said.
According to Lingbeek, he spent 11 days at Mercy before returning home and has since been recovering through medication and cardiac rehabilitation.
"His heart is getting stronger," Jessica Lingbeek said.
Lingbeek returned to his job, a web developer at Ecolab in St. Paul, Nov. 14.
According to Piper, 15 people were involved in the effort to save Lingbeek's life prior to him being taken to Mercy Hospital.
"I'm excited to tell you that Eric has made a full recovery," Piper said, introducing the Lingbeek family at the council meeting.
Jessica Lingbeek thanked the first responders at the ceremony. "You are all amazing," she said. "You are certainly my heroes."
They did not know her husband's religion or his politics, Jessica said. "None of that mattered," she said. "Eric needed help and as a result of your actions, he is here to raise his kids and be a husband to me."
Lingbeek, who has no memory of the incident, thanked the first responders "very much."
"I feel blessed to be able to continue to be a dad and a husband," Lingbeek said.
Andrea and Evan Lingbeek also went to the podium to thank the first responders. "I want to thank you for helping my dad," Evan said.
While the children were at home when their father went into sudden cardiac arrest, they did not see it happen, but they knew what was going on, Jessica Lingbeek said.
"They have handled it really quite well," she said.
Dr. Andrew Stevens, associate medical director for Allina Emergency Medical Services, said the team approach to saving Lingbeek's life was vital in the time before he arrived at Mercy and during his time at the hospital.
Training takes place every day in hopes "there is a nice outcome like this," he said.
According to Stevens, the survival rate for sudden cardiac arrest cases nationally is only 8 percent, but in Coon Rapids it is 15 percent because of the work of the Coon Rapids Heart Safe Community program.
Also present at the ceremony was Coon Rapids Police Officer Bryan Platz, who has spearheaded the Coon Rapids Heart Safe campaign to train people in hands-on CPR and AED use as well as place AEDs in public buildings and businesses in the city.
In a posting on the Coon Rapids Heart Safe Community Facebook page following the ceremony, Platz wrote, "Another meet the rescuer ceremony means another life saved by CPR and AED. That's a family saved, these two beautiful children were saved a father and a beautiful wife saved a husband. Christmas will be extra special this year."
---
Story Credit: https://www.hometownsource.com/abc_newspapers/free/cardiac-arrest-survivor-thanks-first-responders/article_2b597c42-0207-11e9-827f-1b64a3e0c7bb.html#tncms-source=article-nav-next
---
Since you're here, we have a small favor to ask. Requests from schools and districts for our screening services are growing, which means that the need for funds to cover the cost of those services is also growing. We want to make our services available to those who request it and beyond, so you can see why we need your help. Safebeat heart screenings take a lot of time, money, and hard work to produce but we do it because we understand the value of a child's life, PRICELESS!
If everyone who reads this likes it and helps fund it, our future would be more secure. For as little as $1, you can support Safebeat and it only takes a minute. Make a contribution. -The SafeBeat Team