Personal Trainer Meadham Wins Australian Heart Hero Award After Saving Client's Life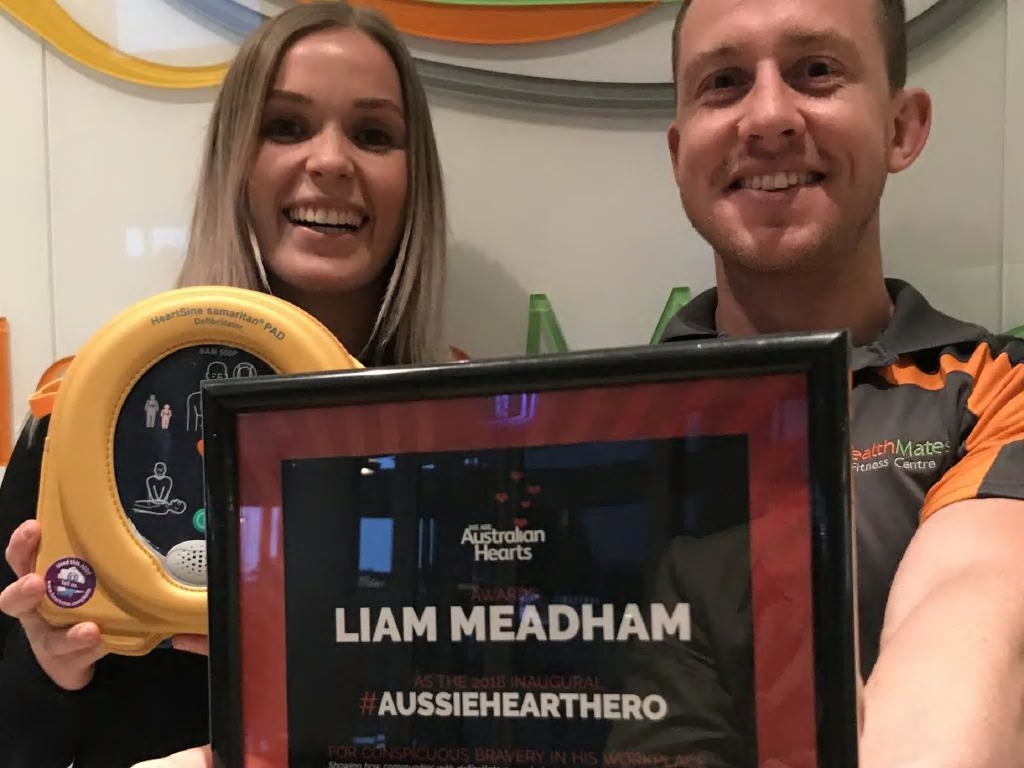 PADSTOW personal trainer Liam Meadham's life saving work on one of his clients who suffered a cardiac arrest has won him the Aussie Heart Hero competition.
The Australian Hearts also presented Mr Meadham — who works at Health Mates Fitness, Revesby — with an Automatic External Defibrillator (AED) for his community.
Two years ago, when one of his clients, Elie Najjar, felt ill after a training session, Mr Meadham asked him to sit and rest.
However, within minutes, Mr. Najjar went into cardiac arrest.
Mr. Meadham began performing CPR, then applied a defib and continued to give CPR until the paramedics arrived.
Elie was rushed hospital, underwent cardiac surgery, and made a full recovery with no brain damage.
In honor of his actions, Mr. Najjar and his wife named their first child, Liam.
Former Australian Ironman surf lifesaving champion and campaign spokesman Guy Leech said Mr. Meadham was a deserved winner of a defib for his community.
"Liam is an absolute Aussie Heart Hero and is a deserved winner of a defib for his community," Mr. Leech said.
"In many of the 30,000 deaths that occur each year, access to a defib could have been the difference between life and death.
"Thankfully, Liam had access to a defib and ended up saving a life.
"Australian Hearts is on a mission to ensure 90 per cent of Australians are within three minutes of a defib and we are starting by recognizing Australians who have used one to save a life, just like Liam."
The association said with around 30,000 people dying from sudden cardiac arrest death every year, Mr. Meadham's story highlights the benefits of having easy access to defibs.
As well as calling for governments to roll out more public AEDs, Australian Hearts is campaigning for AEDs to be rolled out in the workplace.
---
Story Credit: https://www.dailytelegraph.com.au/newslocal/the-express/personal-trainer-meadham-wins-australian-heart-hero-award-after-saving-clients-life/news-story/c6066b91dcfc495bd4fbb9a9f124dbb5
---
Since you're here, we have a small favor to ask. Requests from schools and districts for our screening services are growing, which means that the need for funds to cover the cost of those services is also growing. We want to make our services available to those who request it and beyond, so you can see why we need your help. Safebeat heart screenings take a lot of time, money, and hard work to produce but we do it because we understand the value of a child's life, PRICELESS!
If everyone who reads this likes it and helps fund it, our future would be more secure. For as little as $1, you can support Safebeat and it only takes a minute. Make a contribution. -The SafeBeat Team