Pakistani Taxi Driver In Coma In Dubai Hospital After Cardiac Arrest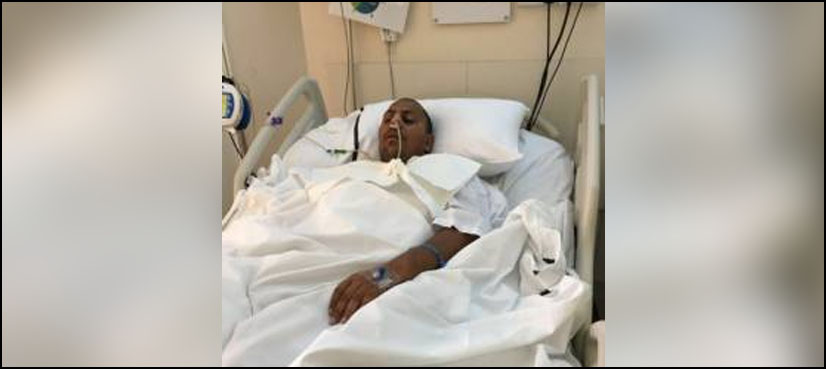 DUBAI: A Pakistani taxi driver has been in an unconscious state in a hospital in Dubai for over a month after suffering a sudden cardiac arrest in April.
The 33-year-old Mohammad Ilyas has no family and only an uncle who holds a blue collar job in Dubai. He is now facing accumulated hospital bills and there is telling when he could revive from his comatose state.
Ilyas hails from Azad Kashmir. His father passed away some years ago and he is the sole bread winner for his mother and four younger siblings. He lived in Dubai for seven years before moving back Pakistan last year, and returning to Dubai as a driver for a private company eight months ago.
He was with a friend when he suffered a major heart attack that caused brain damage and he lapsed into a coma.
Ilyas's medical report presented by the Pakistan Association Dubai, shows that he had no past medical history and had never had chest pains or such other symptoms in the past. Doctors inserted tubes so Ilyas could be fed and also put him on ventilator support after repeated attempts to revive him.
Rizwan Fancy, from the Pakistan Association Dubai (PAD), is working to make arrangements to get support to transfer Ilyas back to Pakistan where his widowed mother resides.
He said that they are trying to transfer him to a hospital in Islamabad, which will cost approximately cost Dh23,000. The patient will need to be transferred on a stretcher with a nurse and a dependent, as well as the necessary equipment like oxygen supply
He confirmed that pending hospital bills in Dubai have also exceeded Dh70,000. He said that Ilyas' father has passed away and his mother cannot afford to travel to UAE or pay off his medical bills.
He said that transferring Ilyas to Pakistan for treatment is their priority. He said that desperate help is needed amd urged the community to come forward and help him.
---
Story Credit: https://arynews.tv/en/pakistani-taxi-driver-coma-dubai-hospital-cardiac-arrest/