New Minister for Sport Pledges to Push for Systematic Screening to Help Save Young Lives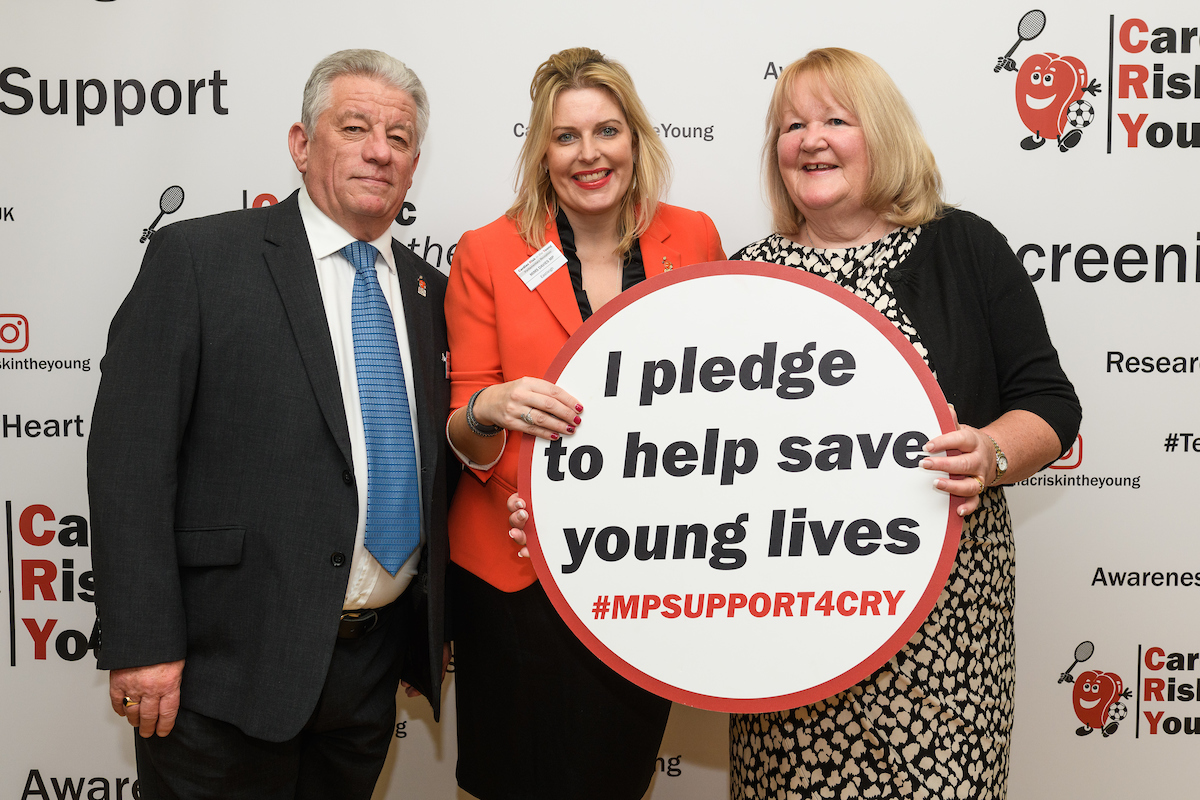 Mims Davies MP has again shown her heartfelt support for a leading cardiac charity and its ongoing vision to prevent sudden deaths in young people.
Speaking at the annual Parliamentary Reception for Cardiac Risk in the Young (CRY), which was hosted by long-standing supporter, Kevan Jones MP (Chair of its APPG), Mims Davies MP said: "I absolutely salute you [CRY families] and promise that it's my mission to make changes in my new role.
We've heard tonight that screening has been proven to work and I think when the next review of the National Screening Committee comes together, I will be absolutely pushing for the urgent need for systematic screening."
Citing the FA who have run successful programme in this area, the new Sports Minister said "there are some great initiatives but let's join this up, let's not have a situation that too many of us have been in and I will use every sinew I have in this role to support family and friends and the youngsters who lose their loved ones and their friends (I know that has been a focus for CRY) to try and make changes and see that we don't end up with so many families who could be in such a better place."
During the event, new stats were revealed, showing for the first time that 82% of UK adults think the Government should be doing more to help prevent sudden cardiac death in young people. Similarly, 83% of adults questioned think all young people (aged 14 – 35) should be offered cardiac testing via a free, national screening programme.
Of the 18-34 age group questioned as part of the UK-wide survey, over two thirds (67%) of men and 71% of women said they would like "the opportunity to book in for cardiac screening (with an ECG) before reaching the age of 35".
CRY's Chief Executive, Dr Steven Cox explained: "As ever, our annual Parliamentary Reception provided us with an opportunity to look back our major milestones in the past 12 months, as well looking to the future and how we will realise our enduring mission of preventing young sudden cardiac death.
"A huge landmark for both CRY and our families was the news back in June that the WHO would now acknowledge that, when a young person dies of SADS, this should be recognised by official government statistics and therefore ensure that future policy is based on accurate information and data."
The current codes for recording sudden deaths has resulted in a "massive underestimation" of the number of young people who are believed to die of these conditions, according to Cox.
He stated that this will change over the next 2-3 years when the new WHO codes are introduced and the significant impact that undiagnosed cardiac conditions has on our society, is better realised.
Prior to the reception there were 121 MPs who had pledged to support CRY's campaign for a national strategy to prevent young sudden cardiac deaths. During the evening many more MPs signed up, acknowledging that more needs to be done to prevent the deaths of the twelve apparently fit and healthy young people every week in the UK from a previously undiagnosed cardiac condition.
"It is my belief that some MPs have been misinformed about the incidence of young sudden cardiac death, being told it is 10-fold less than the reality and, consequently may feel it has a much smaller impact than is actually the case," said Cox.
"If more MPs were aware of the true impact, then surely there would be unanimous agreement that more should be done. A National Strategy would provide the opportunity to view all health care policies together, identify what needs to change and to co-ordinate everything that is currently being done to save young lives," he continued.
Whilst the NHS is currently not providing a national screening service to prevent young sudden cardiac deaths, Cox said he was "proud that CRY is now testing almost 30,000 people each year."
CRY's Chief Executive said "any person who contacts CRY who would like to have their heart checked will be signposted to a local, free session – and that's thanks to families who are raising funds to support this nationwide, screening service."
Also speaking at the Parliamentary Reception was inspiring teen campaigner, Abby Lang (18) who has singlehandedly encouraged a large number of MPs from all parties to pledge support to #MPsupport4CRY, including all 59 of Scotland's MPs.
As part of CRY's Raising Awareness Week, an EDM was tabled to congratulate Abby on her successful campaign to raise public awareness on life-threatening cardiac conditions affecting young people
CRY's continuing campaign, #MPSupport4CRY has already generated support from 130 MPs.
---
Story Credit: https://www.politicshome.com/news/uk/health-and-care/illnesstreatments/opinion/cardiac-risk-young/100090/new-minister-sport
---
Since you're here, we have a small favor to ask. Requests from schools and districts for our screening services are growing, which means that the need for funds to cover the cost of those services is also growing. We want to make our services available to those who request it and beyond, so you can see why we need your help. Safebeat heart screenings take a lot of time, money, and hard work to produce but we do it because we understand the value of a child's life, PRICELESS!
If everyone who reads this likes it and helps fund it, our future would be more secure. For as little as $1, you can support Safebeat and it only takes a minute. Make a contribution. -The SafeBeat Team