Kiwi Teen Kayaker Alicia Hoskin Cleared to Compete after Discovering Heart Scare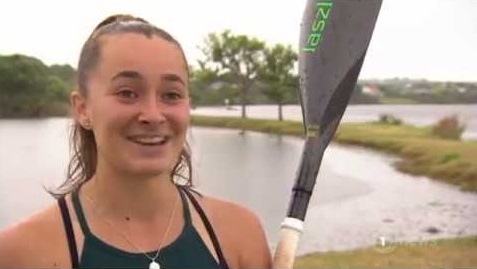 Kiwi teen kayaker Alicia Hoskin has credited an athlete screening programme for saving her life after she discovered she had a heart problem two weeks out from a junior championship event.
The 18-year-old was in the middle of a hard training session 18 months ago, when her life changed.
"My coach just looked at me and goes, 'um so I've had a call from your dad, I think you need to get off the water now and go and talk to him, something's up,'" said Hoskin.
Two weeks earlier the Poverty Bay paddler had gone for an ECG, a heart test recommended as part of an emerging athlete development programme.
Hoskin had forgotten all about it until the doctor called her dad.
"He said 'we've had the results come back from your cardiac testing and there's what we call Wolf Parkinson White syndrome so there's an extra electrical pathway in your heart.'"
The condition can cause rapid heartbeats and even heart failure. Alicia was about to leave for the Junior World Championships, instead she went into hospital for treatment.
"If it hadn't been picked up I mean worst case scenario it could have been fatal, so that was the main reason why I was held back."
A year on Alicia made it to the Junior World Championships and won two B-finals. She is now part of the elite programme in Auckland.
"Just before I went home for Christmas I got the all clear from the cardiologist which was very good news for my family and I, so my mum especially you know and dad was crying."
---
Story Credit: https://www.tvnz.co.nz/one-news/sport/other/kiwi-teen-kayaker-alicia-hoskin-cleared-compete-after-discovering-heart-scare?variant=tb_v_2
---
Since you're here, we have a small favor to ask. Requests from schools and districts for our screening services are growing, which means that the need for funds to cover the cost of those services is also growing. We want to make our services available to those who request it and beyond, so you can see why we need your help. Safebeat heart screenings take a lot of time, money, and hard work to produce but we do it because we understand the value of a child's life, PRICELESS!
If everyone who reads this likes it and helps fund it, our future would be more secure. For as little as $1, you can support Safebeat and it only takes a minute. Make a contribution. -The SafeBeat Team