Defibrillator Donation Protects Hearts — and Warms Them, Too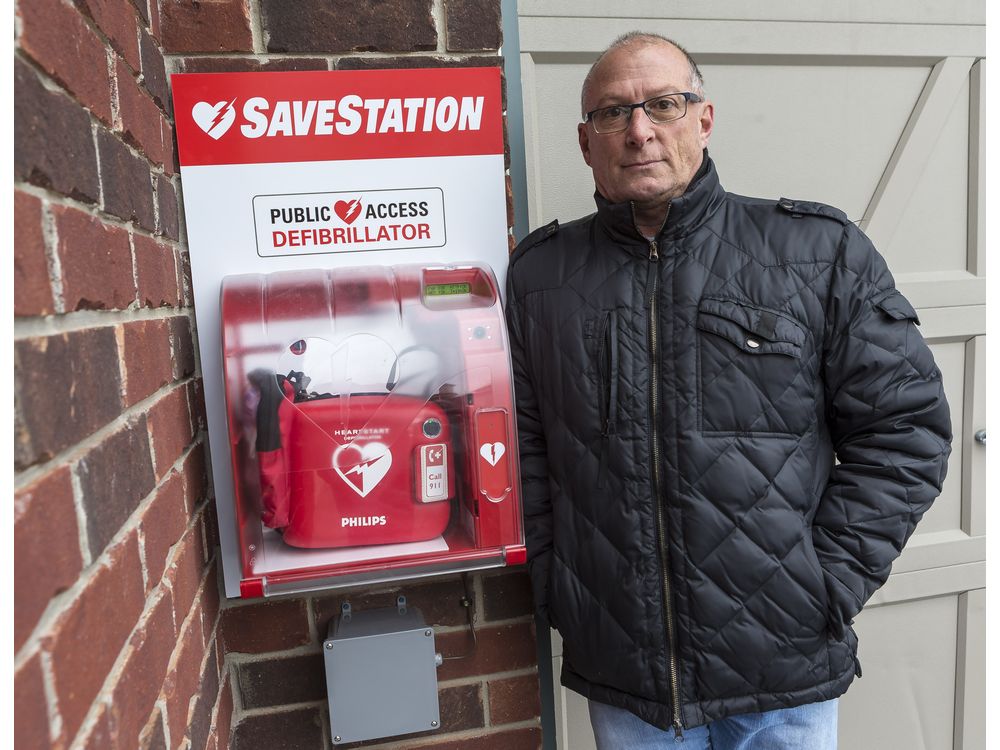 It's a nightmare scenario.
When someone suffers cardiac arrest — and who among us doesn't know someone who has — a day out with family or friends can turn into a race against time to save a life.
Chris Troughton has lived the experience. As he told the Sun's Joanne Laucius this week, he was driving home in 2010, when he felt a burning sensation in is chest. He would end up in a coma in hospital for 10 days. Later in life, he had a triple bypass.
Troughton has now parlayed his brushes with death into something simple that may some day save someone else's life.
This week he introduced his Kanata neighbours to the AED — automated external defibrillator — outside his home.
It's as ingenious as it is simple. The machine can diagnose whether someone is actually experiencing heart arrhythmia and then deliver an electrical shock to restore heart rhythm if needed.
The weather-proof cabinet in which the device is stored — known as a SaveStation — alerts nearby neighbors via their cellphones when it is opened, increasing the chances of others rushing to the scene of a person in distress. (As well, a camera takes a photo of the person who opens the door.)
As Laucious reported, more than 75 per cent of people will survive a cardiac event when an AED is employed within the first 10 minutes.
We've increasingly seen defibrillators in public places such as rinks and pools, but installing one outside a home in an accessible place for the neighborhood takes the premise a step further and could empower someone to save the life of a neighbor.
It's a common-sense approach and reinforces the idea that we all have roles to play in looking out for one another — a good message during these cold, grey fall days.
It's also a reminder to take the steps you can to avoid experiencing sudden cardiac arrest in the first place. Those steps include doing your best to have a healthy lifestyle and consulting with a doctor if you have risk factors such as diabetes, heart disease, a previous stroke or high LDL cholesterol levels.
Preventative care is good advice for all of us, but, for the many people who will suffer unforeseen cardiac events in their lifetimes, having neighbors such as Troughton sounds like a godsend.
We hope more people and community groups will follow his lead, look into their own fundraising efforts and show some heart of their own.
---
Story Credit: https://ottawasun.com/opinion/editorials/editorial-defibrillator-donation-protects-hearts-and-warms-them-too
---
Since you're here, we have a small favor to ask. Requests from schools and districts for our screening services are growing, which means that the need for funds to cover the cost of those services is also growing. We want to make our services available to those who request it and beyond, so you can see why we need your help. Safebeat heart screenings take a lot of time, money, and hard work to produce but we do it because we understand the value of a child's life, PRICELESS!
If everyone who reads this likes it and helps fund it, our future would be more secure. For as little as $1, you can support Safebeat and it only takes a minute. Make a contribution. -The SafeBeat Team