AEDs Save Lives In Sports Clubs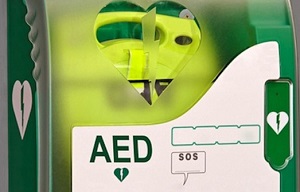 A new study has shown that automated external defibrillators (AEDs) do save lives in amateur sports and fitness centres.
An AED is a device that administers an electric shock to a person who has suffered a cardiac arrest.
Cardiac arrest refers to the sudden loss of function of the heart. It occurs when there is an abrupt disturbance in the heart's rhythm. This can cause the heart to stop beating.
A person whose heart has stopped beating will fall unconscious and stop breathing normally. If the person does not get immediate medical assistance, sudden cardiac death will follow. Some 5,000 people die as a result of this every year in Ireland and 70% of these deaths occur outside of hospital.
In recent years, AEDs have been installed in many places where large groups of people tend to gather, such as sports clubs, shopping centres and schools. Recent research by Clubify, found that 86% of local sports clubs in Ireland have access to an AED.
Italian researchers decided to look into the use of AEDs in amateur sports centres to see if they actually make a difference. They noted that cardiac arrests occur more often in recreational sports centres than in general settings because of the increased stress placed on the heart during sport.
They looked at 252 sports centres in one region of Italy over an 18-year period. The use of resuscitation, survival rates and response times were compared between centres that had AEDs and those that did not.
During the study period, 26 sudden cardiac arrests occurred in the sports centres, 15 (58%) of which were in centres with an AED.
"Our results clearly show that the presence of an AED saves lives. Out of 15 patients who suffered a cardiac arrest in centres with an AED, 14 survived and had no neurological damage (93%). That compares to just one survivor without neurological damage out of 11 cardiac arrests in centres without an AED (9%)," explained the study's first author, Dr Diego Penela, a cardiologist at Guglielmo da Saliceto Hospital in Piacenza, Italy.
Not surprisingly, the study also found that the quicker the AED was used, the better the chance of survival, and the probability of survival was higher 'when a member of the public used the AED rather than waiting for medical assistance'.
"Onsite AEDs provide an excellent neurologically intact survival rate for exercise-related cardiac arrest. An AED is a safe tool, even when used by an untrained citizen.
"In light of our results we recommend that AEDs be acquired by all amateur sports and fitness centres. Educational programmes should be conducted to increase awareness about the issue of sudden death and provide basic knowledge about AED use," the researchers said.
Details of these findings were presented at the recent European Society of Cardiology (ESC) Congress 2017 in Barcelona.
---
Story Credit: http://www.irishhealth.com/article.html?id=25900