8 Places Where You Can Save Someone from a Cardiac Arrest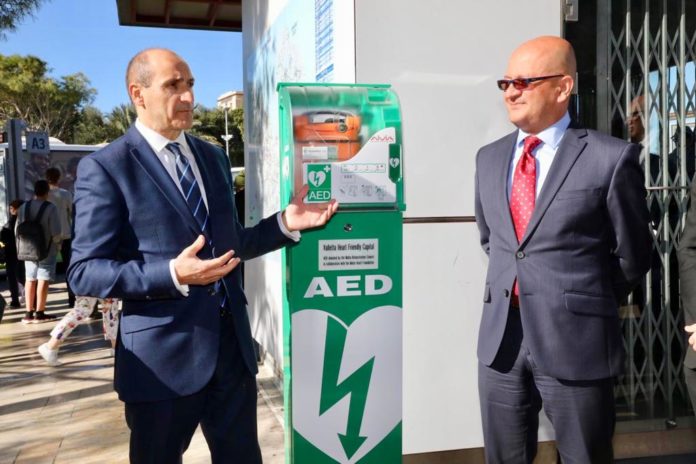 Machines used to help people having a sudden cardiac arrest were placed around Valletta on Thursday. Eight automated external defibrillators (AEDs) were placed around the capital which can be used to prevent or correct an arrhythmia as well as restoring the heart's beating if the heart suddenly stops.
In a statement the Government said that Valletta is the first locality to offer a 'public medical service' which could be used by the public to save others in life-threatening situations. The Government also announced its plan to install AEDs around the country.
Six of the eight AEDs have been installed at:
Malta Public Transport Kiosk close to the bus terminus
Close to Cockney's Restaurant, Marsamxett
Castille Hotel
In front of the House of Representatives near Chemimart Pharmacy
Near St Francis Church in Republic Street
Old Theatre's Street
The remaining AEDs will be installed in the coming days in front of M&S in Strait Street and in front of Suq tal-Belt in Merchant's Street.
Health Minister Chris Fearne said that a third of the deaths in Malta were related to heart conditions.
The service was launched in a press conference for which Health Minister Chris Fearne and Valletta 2018 Parliamentary Secretary Deo Debattista were present. Malta Health Foundation and Malta Resuscitation Council were also present for the launch.
---
Story Credit: https://www.newsbook.com.mt/artikli/2018/12/27/8-places-where-you-can-save-someone-from-a-cardiac-arrest/?lang=en
---
Since you're here, we have a small favor to ask. Requests from schools and districts for our screening services are growing, which means that the need for funds to cover the cost of those services is also growing. We want to make our services available to those who request it and beyond, so you can see why we need your help. Safebeat heart screenings take a lot of time, money, and hard work to produce but we do it because we understand the value of a child's life, PRICELESS!
If everyone who reads this likes it and helps fund it, our future would be more secure. For as little as $1, you can support Safebeat and it only takes a minute. Make a contribution. -The SafeBeat Team