Young Jacksonville Stroke Survivor Had Lots Of Luck On Friday The 13th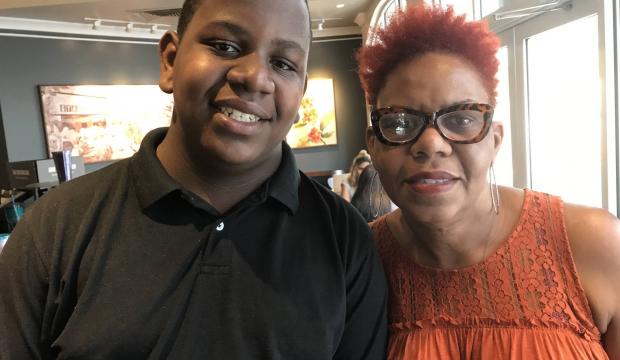 If Donna Chambliss had any concerns about Friday the 13th being unlucky, Jan. 13 of this year should have dispelled that.
On Friday, Jan. 13, her 14-year-old son Jordan Mason, a 7th grader, suffered a stroke. That wasn't the lucky part.
The lucky part was alert action by a teacher at his school, by a doctor in the Wolfson Children's Emergency Center and by a cardiologist who spotted him as he was being taken to the Stys Neuroscience Institute at Wolfson Children's Hospital.
He was going there for treatment of a blood clot that broke away from his heart and was blocking his right internal carotid artery. The blockage had cut the flow of blood to his brain and by the time he got to surgery, the left side of his body was temporarily paralyzed.
Strokes are very rare in people as young as Jordan. In the U.S. each year, they occur in only six out of 100,000 children who are 15 or younger. Jordan was at a higher risk than others his age because he had been born with a heart condition that required surgery and was supposed to be taking baby aspirin to thin his blood.
"I didn't realize how important that was," said Jordan, explaining in a recent interview why he had stopped taking the baby aspirin.
On the night of Jan. 12, Jordan began experiencing what he believed was heartburn. In fact, doctors have since told him the discomfort probably was caused by the blood clot breaking free and entering his blood stream. The next day he didn't feel any better.
"Jordan had been complaining of heartburn and a headache, and wanted to stay home from school, but I told him to go and I'd come pick him up if he didn't feel better," Chambliss said. "At 10 a.m., I got a call that he had fallen down and was complaining that his head was killing him. His teacher had noticed that he was not himself and was slurring his words, so they called an ambulance."
Chambliss rushed from her work at a corporate office of U.S. Bank to the school, Jacksonville Adventist Academy, arriving shortly before the ambulance. Transported to the emergency center, Jordan got an accurate assessment by the pediatric emergency physician who realized that despite Jordan's youth, his symptoms were consistent with the symptoms of an ischemic stroke, caused by a blood clot.
"Stroke is really one of the more difficult diagnoses to make in young patients because it's so low on the list," said Eric Sauvageau, director of the Baptist Stroke &Cerebrovascular Center and Mason's neurovascular surgeon. "It would have been easy for the pediatric emergency room doctor to brush it off, but he was at the top of his game and recognized that it could be a stroke."
CT and MRI scans confirmed that a clot was blocking the flow of blood to Jordan's brain. Then, as Jordan was being transported to an operating room, one of the cardiologists who had been involved in treating his heart condition recognized him.
The procedure Sauvageau planned to perform, called mechanical thrombectomy, involves threading a device called a stent retriever through the groin and up the main artery to the brain. The cardiologist was able to describe the surgery Jordan had received as a young child so that Sauvageau knew how the blood vessels were positioned. He was able to successfully extract what he called "a big clot."
"Half of his brain was not getting blood," Sauvageau said. "Because we pulled it out in time, he regained the ability to move everything. There's no doubt he would have been fully paralyzed on his left side and severely disabled had he gone much longer without treatment."
After two days in the pediatric intensive care unit, Jordan went home. He's getting twice daily injections of blood thinners aimed at dissolving the clot in his heart. As a result, he's had to temporarily discontinue athletics.
Jordan, who is 6 feet 2 inches tall and 240 pounds, loves playing both football and basketball. He'd like to follow his favorite basketball players, LeBron James and Kyrie Irving of the Cleveland Cavaliers, into professional basketball someday.
He's also a big fan of the Jacksonville Jaguars and loves playing video games, listening to music and watching TV.
Both he and his mother know there was a lot of luck that took place Jan. 13.
"There were so many miracles on Friday the 13th," Chambliss said.
"I know that God was on my side that day," Jordan said.
---
Story Credit: http://jacksonville.com/news/health-and-fitness/2017-06-06/young-jacksonville-stroke-survivor-had-lots-luck-friday-13th