WYATT STRONG: Vallivue Football Player Miraculously Recovers From Cardiac Arrest After Mom Administers CPR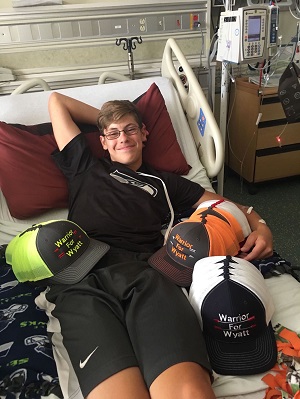 CALDWELL — Paramedics say Wyatt Schmidt was lifeless for at least 10 minutes.
After being dragged from his family's swimming pool and complaining of chest pains, he stopped responding to the people around him. He stopped breathing. His heart stopped beating.
But today the 16-year-old Vallivue High School student athlete is able to joke around with his family and friends, thanks to his mother and a string of first responders that kept him alive after he went into cardiac arrest.
July 7 began as a typical day for Wyatt, who declined to be interviewed for this story. He had been working out every day, conditioning and lifting weights in preparation for the upcoming football season. That Friday was no exception.
Wyatt's sister, Cheyanne Welton, said Wyatt mentioned he was tired that day and he seemed lethargic. That night Wyatt's family had a pool party at their home.
Since Wyatt and his best friend, 15-year-old Lan Larison, were little, they played a game in their swimming pool where they would try to hold their breath under the water and swim the entire 37-foot-length of the pool and back. They played the game again on July 7.
Nothing was alarming until after they played the game when, according to Welton, Wyatt said, "My chest hurts."
Then sank toward the bottom of the pool.
Larison was under the water when Wyatt complained of chest pains, so when Larison was above the water and Wyatt was below, he thought nothing of it.
He assumed Wyatt was joking.
Larison said Wyatt would sometimes float on his stomach and hold his breath. But this time, Larison said, he was floating on his back. Then he heard what sounded like Wyatt trying to breathe under water.
Larison reacted quickly enough that Wyatt never touched the bottom of the 9-foot deep pool. He hooked his right arm under Wyatt's left armpit and pulled him toward the side of the pool. Wyatt slipped from his grip at one point, so Larison pulled Wyatt up by both armpits, got him to the ledge and rolled him over Larison's back on the side of pool.
"I just did it," Larison said. "He's my friend. Something was wrong and I had to help him."
Before Canyon County Paramedics arrived, Brandy Schmidt, Wyatt's mother, performed CPR on her son, but it had been 25 years since she was last certified.
"Thank God for 9-1-1," Brandy said. "I was hysterical. (The dispatcher) taught me what to do while I was doing it."
The Canyon County Sheriff's Office dispatcher's ability to explain CPR to Brandy "practically saved his life," said Canyon County Paramedics Chief Deputy Steve Blados.
It bought time for Wyatt, Blados said, because CPR allows the brain to continue receiving blood.
When paramedics arrived on scene, Blados said Wyatt was in cardiac arrest. It took them nine minutes to respond to the 9-1-1 call. Blados estimated he was dead for a minimum of 10 minutes.
Paramedics used a defibrillator to send shocks to his heart twice before Wyatt's heart started beating again, Blados said. The CPR combined with the shocks helped bring back Wyatt's heartbeat.
"If she wouldn't have done CPR, there is little chance of his survival," Blados said.
WYATT'S RECOVERY
Wyatt was breathing but unresponsive while staying at St. Luke's Regional Medical Center in Boise. Welton said the doctor told the family it could be four to six months before they really got Wyatt back again.
But by 9 a.m. July 11, only four days after the incident, Wyatt was trying to speak — even with a breathing tube in his mouth. The entire family was in the hospital room cheering him on, and he instantly recognized everyone, Welton said.
"Everyone is in awe," Welton said. "It's a miracle there was no brain injury."
GETTING ANSWERS
It was not until two days after the incident that Wyatt's family learned his condition wasn't related to drowning, but a heart condition instead. On July 9, Brandy said the family learned Wyatt had experienced cardiac arrest.
"He pushed himself to his limit in the pool," Brandy said.
But unlike a typical heart attack, Wyatt's heart had an electrical malfunction, which made his heart stop.
What Wyatt experienced, Blados said, was ventricular fibrillation, a rhythm that makes the heart "quiver like a bowl of jelly" which stops blood from pumping to the body.
Prior to this incident, Wyatt never had any issues with his heart, Brandy said.
Wyatt has always been active, his mom said. He played football and baseball, went snowmobiling and enjoyed many physical activities.
Doctors do not know why Wyatt's heart malfunctioned, and they do not have a diagnosis, either, Brandy said.
Brandy said a test has been done on family members to see if the incident was caused by genetics, but that could take months to get results back. She said the doctor told them if it was not genetic, they will likely never know why it happened.
In case his heart has another malfunction, a defibrillator was put into the side of his chest near his heart during a surgery he had Friday. If his heart does malfunction again, the defibrillator will shock his heart back into a normal rhythm.
Welton said because Wyatt will be on his own in the future, the defibrillator is important. If the incident had occurred under different circumstances, Welton said she doesn't want to think about what the outcome could have been.
He was released from the hospital Saturday, and within a week he can start doing cardio as long as he feels up to it, Brandy said.
SECOND CHANCES
Welton said Wyatt is already looking to get back to training. Within a month, he can begin lifting weights again, Brandy said.
He has been cleared to play soccer, basketball and baseball, among other activities.
But Brandy said he will never be able to play football again, a sport that Wyatt adores and has played since he was 5, because it's a contact sport, which increases the risk of injury to Wyatt and his defibrillator.
He is devastated, Brandy said, but she "hopes he can wrap his head around this second chance."
"Maybe he can help another young boy get through something like this," she said.
Larison, the varsity quarterback for Vallivue, said Wyatt played center for the football team.
"It's tough losing him, but we hope we can see him back out there again," Larison said.
He plans to be on the sidelines attending every game, though, Welton said.
Welton said the Vallivue football coaches have become inspired to get a defibrillator on the field if a situation like this were to happen to another student athlete.
Boise State University football players visited Wyatt in the hospital after his surgery Friday and invited him to watch some football practices, she said.
WYATT STRONG
Throughout Wyatt's recovery, the family used the hashtag, #wyattstrong to document his recovery on social media and for others to reach out to wish Wyatt the best.
A group of Wyatt's family and friends are going to get tattoos of Wyatt's healthy heartbeat, Brandy said.
They were going to do one of the irregular heartbeats, but Brandy said, but "decided to focus on the good."
Welton said her mother, Brandy, wants others to know what to do if what happened to Wyatt were ever to happen to their loved one.
No one was certified in CPR at the time of Wyatt's incident, she said.
"So many people don't know CPR, and if they're around kids they should know," Brandy said.
That's why Dr. Samantha Portenier is going to organize a CPR training class in September for the neighborhood. Portenier is a family physician at Saint Alphonsus Medical Center in Nampa and neighbor of the Schmidts who responded to the scene at the same time as Canyon County paramedics arrived.
This is the second major incident which involved CPR that has occurred to children in their neighborhood in the last month, Portenier said.
The other occasion involved a girl who lives in Wyatt's neighborhood. The two events have shown Portenier, Brandy and others in the neighborhood about the importance CPR training.
"In Wyatt's case, CPR saved his life," Portenier said.
If someone finds their child in the same situation as Wyatt, "react rapidly, call 9-1-1 and start CPR," she said.
Welton said she cannot believe the community support the family has received. In the Midwest, a motorcycle group called "Bikers for Jesus," located in Kansas, did a prayer circle for Wyatt, Brandy said.
"We want to thank everyone for the prayers, stories of hope from strangers, prayer circles across the world, dinners and thoughtful deliveries," Welton said. "We are overwhelmed with support and gratitude. We got to witness a miracle this week, and it's a great reminder of the miracle that we all are."
---
Story Credit: http://www.idahopress.com/news/local/wyatt-strong-vallivue-football-player-miraculously-recovers-from-cardiac-arrest/article_0c22b81a-4701-53c1-b198-cab12b16ef9e.html