Woman Who Suffered Cardiac Arrest Says Big Thank You To Those Who Saved Her Life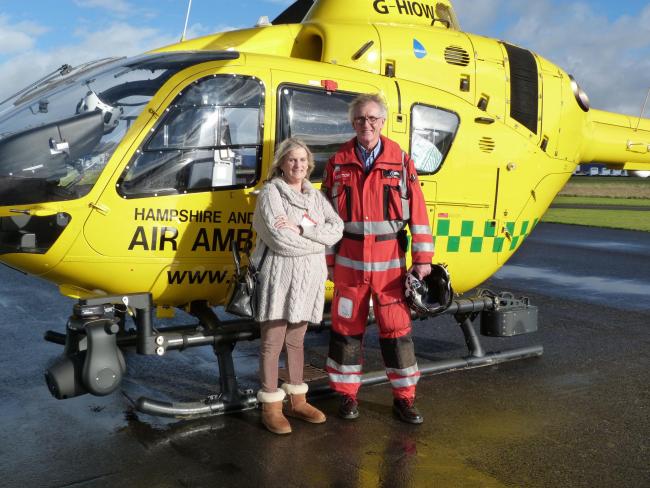 AN Amesbury woman who suffered a cardiac arrest while out shopping says she would not be here today if it was not for the efforts of everyone who came to her aid.
Gerry Hibberd suffered a pulmonary embolism and a cardiac arrest in Amesbury on October 12 last year.
She stopped her car at Spire Glass in Amesbury after suffering shortness of breath. Luckily for her trained first aider Ian Locke, the managing director of Spire Glass, who knew Gerry realised something was wrong and came to her aid and started CPR.
"I want to thank everybody that was involved and say how important it is for ordinary, everyday people to do CPR," said Gerry.
"There is no way [I would be here today] if I had not had initial assistance. I was so lucky."
The first ambulance arrived along with Community first responder Fred Fox. Community first responders are volunteers trained by South Western Ambulance Service.
Julian Barclay, the first paramedic on scene, along with Fred, started treating Gerry and once stable she was flown to Southampton General Hospital by air ambulance.
The Wiltshire Air Ambulance helicopter was already in use meaning the Hampshire and Isle of Wight Air Ambulance was deployed from its Thruxton-base.
"These people saved my life," said Gerry who about 30 years ago had been diagnosed with the inherited disease hypertrophic obstructive cardio myopathy.
Gerry spent five days on life support. She was later fitted with an implanted cardioverter defibrillator to prevent future episodes.
She hopes her story will encourage others to learn life-saving skills or consider becoming community first responders. She also praised the "marvellous" work of the air ambulance.
"I was saved because people volunteered and people had learnt CPR and that people care and that is the most important thing," she said.
"It is just to impress upon people you can save a life whether it be learning CPR or volunteering or giving money to the air ambulance."
Mr Locke added: "We have always done first aid training for all our staff as you never know when you may need it. We believe it is very important to have these basic skills which can be used anywhere at any time.
"We are just every pleased that the out come was good and Mrs Hibberd survived due to the early intervention of the CPR. We cannot stress how important it is to have these basic skills."
---
Story Credit: http://www.salisburyjournal.co.uk/news/15243990.Woman_who_suffered_cardiac_arrest_says_big_thank_you_to_those_who_saved_her_life/