Catholic Central Graduate, Wittenberg Football Player Dies at 20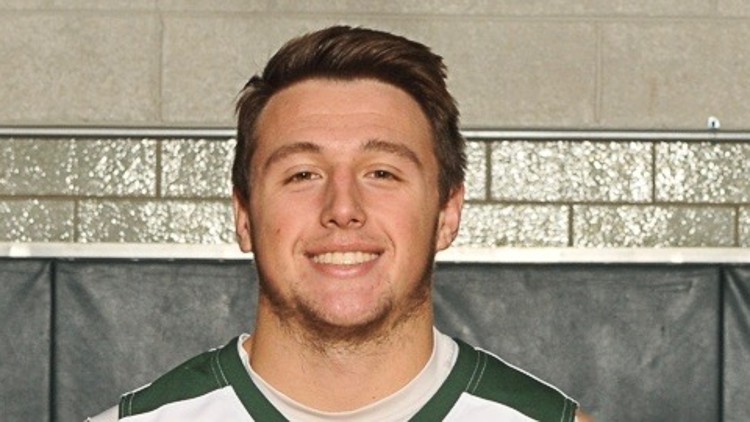 Cosmas Catanzaro was a tight end and longsnapper for Wittenberg
Cosmas Catanzaro, a Catholic Central High School graduate and sophomore tight end at Wittenberg University, died on Friday.
In an email to students, faculty and staff, Wittenberg President Mike Frandsen wrote, "Cosmas 'Cossy' Catanzaro (2021 class) passed away after collapsing while jogging earlier today. We extend our deepest sympathy and prayers to his family, friends, professors, football teammates, and our entire campus community."
A moment of silence for Catanzaro, 20, was held at the Catholic Central boys basketball game against West Liberty-Salem at Jason Collier Gymnasium and the Wittenberg men's basketball game against Bryant-Stratton at Pam Evans Smith Arena on Friday night.
At Catholic Central, this was read by the public address announcer: "Cossy, a 2017 graduate of Catholic Central, excelled as a four-year member of the football, baseball and basketball teams. He was also a Kairos leader and recipient of the prestigious Gold Shoe Award. Through his attitude and passion, Cossy truly exemplified what it means to be a Catholic Central student-athlete. He will forever be remembered as a loving son, brother and friend to all."
Catanzaro lettered last fall in his second season with the Wittenberg football team. He was a third-string tight end and longsnapper. His brother Dominic, a linebacker also from Catholic Central, is a freshman on the team.
"Cossy was a great kid," Wittenberg coach Joe Fincham said. "He was really respected and liked equally by his teammates. He was that type of kid campus wide. The Catholic Central family is a very tight-knit group of people. There were a stream of people coming into the ER when we were there. It was heartbreaking, but it's such an impressive community. Cossy was a hard worker. He always came to practice, weightlifting, whatever it was. People just liked being around him. I did, too."
---
Story Credit: https://www.springfieldnewssun.com/sports/catholic-central-graduate-wittenberg-football-player-dies/Sba75S992OHcMDuC8SfrYL/
---
Since you're here, we have a small favor to ask. Requests from schools and districts for our screening services are growing, which means that the need for funds to cover the cost of those services is also growing. We want to make our services available to those who request it and beyond, so you can see why we need your help. Safebeat heart screenings take a lot of time, money, and hard work to produce but we do it because we understand the value of a child's life, PRICELESS!
If everyone who reads this likes it and helps fund it, our future would be more secure. For as little as $1, you can support Safebeat and it only takes a minute. Make a contribution. -The SafeBeat Team