Why Did Fit Former Ironman Dean Mercer's Heart Fail?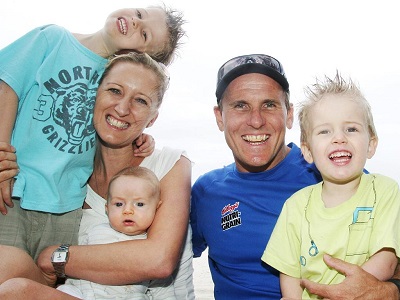 THIS week's tragic death of ironman great Dean Mercer prompted an outpouring of emotion fitting of a man admired from afar and adored by those closest to him.
Amid the grief, however, there was also the shock that a 47-year-old, seemingly fit man who had dedicated his life to physical activity had been cut short by a cardiac arrest.
Respected former Gold Coast Bulletin sports writer Pat McLeod summed up the thoughts of thousands when he said: "His heart was huge and that's what makes it so hard to believe that's what eventually gave in."
Dr Ross Sharpe has a different take.
"It's less of a surprise for me," the Gold Coast cardiologist said in the wake of Mercer suffering a cardiac arrest while driving home after an early morning training session at Kurrawa Surf Club.
"We know high-end, long-term endurance is absolutely a risk factor to death … anyone in that 40-plus age bracket is a (cardiac) risk but being an endurance athlete for many years does expose you to a number of cardiac conditions that can increase your chances of death.
"As a profession, we see and hear of it not infrequently."
Countless tributes this week have highlighted Mercer's incredible ability during his ironman career to push his body to limits few could match. Small in stature, he became a legend of the sport for taking on — and often taking down — bigger men such as Trevor Hendy, Zane Holmes and brother Darren.
And while Dr Sharpe is at pains to stress nobody yet knows what caused Mercer's heart to fail, he has a warning for people older than 40 who have chased their physical endurance goals — and those who continue to.
"In general terms, there are a number of cardiac conditions that could lead to a premature, sudden death in fit people," he says.
"There's a thing called athlete's heart where you get marked thickening of the muscle because the heart has been working harder so much and that can lead to rhythm disturbances.
"Heavy, high-end endurance activity can also lead to structural changes in the heart muscle or random (cholesterol) plaque ruptures that bleed and form a clot.
"I've had very fit guys as patients in that 40-plus age group who I've advised not to continue pushing themselves and they've suddenly died. They were some of the fittest guys in the world."
Dr Sharpe mentions the case of 1980s swim star Lisa Curry-Kenny, who had a cardioverter-defibrillator implanted about a decade ago after encountering cardiac problems as an endurance kayaker.
"Your heart muscle accumulates scar tissue over the years and that can result in rhythm disturbances," he said.
Like his fellow ironmen, Wes Berg has spent the past week mourning the loss of his former training partner, rival and friend.
Having retired from elite surf sports a year ago and with a keen interest in physiology, the 37-year-old also took time to reflect on the possible impact of a life spent pushing his heart to the max.
"As ironmen we get a lot of overuse injuries like our shoulders and AC joints but as far as the heart and cardiovascular issues go, you just don't know," he says.
"Even this week (top ironman coach) Michael King told me that back in the day they were cutting the ice when it came to training. No one knew what was on the other side of wall and they just always pushed as hard as they could whereas we are more targeted in what we do now.
"Back in the day of the Mercers, Hendys and (Guy) Leeches, there were also a lot more endurance races. They would do the Coolangatta Gold, Manly Gold and the Uncles Tobys series would start with a three-hour race every year. It's very different racing to what we do now."
Dr Sharpe pulls no punches when asked what his physical training advice would be for people older than 40 — endurance sports legends or not.
"Be assessed by a cardiologist to see if you're in a higher risk category but even that doesn't guarantee you won't have an event," he says.
"I would say to most people in that age group why are doing it? I understand it's an addiction. I was a long-distance runner but when I got to 40 I switched to cycling and now I'm in my 50s I just don't do sustained, prolonged physical activity where I'm really pushing myself."
And how does that sit with a man who, like Mercer, has only ever known the thrill of doing just that?
"I don't think I'm ever going to stop," Berg says.
"I love the feeling of achieving and being strong and fit in the ocean. I'm 38 this year and it's hard because it's what we do. It's what we love. I don't mean this in a (bad) way but if I die doing what I love, I'm a lucky man.
"On the other hand, I've got (my wife) Jade and three kids, just like Deano had Reen and the four boys … it's not that we think we're invincible. You just never think it (will be you)."
---
Story Credit: http://www.goldcoastbulletin.com.au/lifestyle/why-did-fit-former-ironman-dean-mercers-heart-fail/news-story/d8b3debc78b34de1d3cbc5264a987f10