Watchung Hills High School Students Honored For Saving Classmate's Life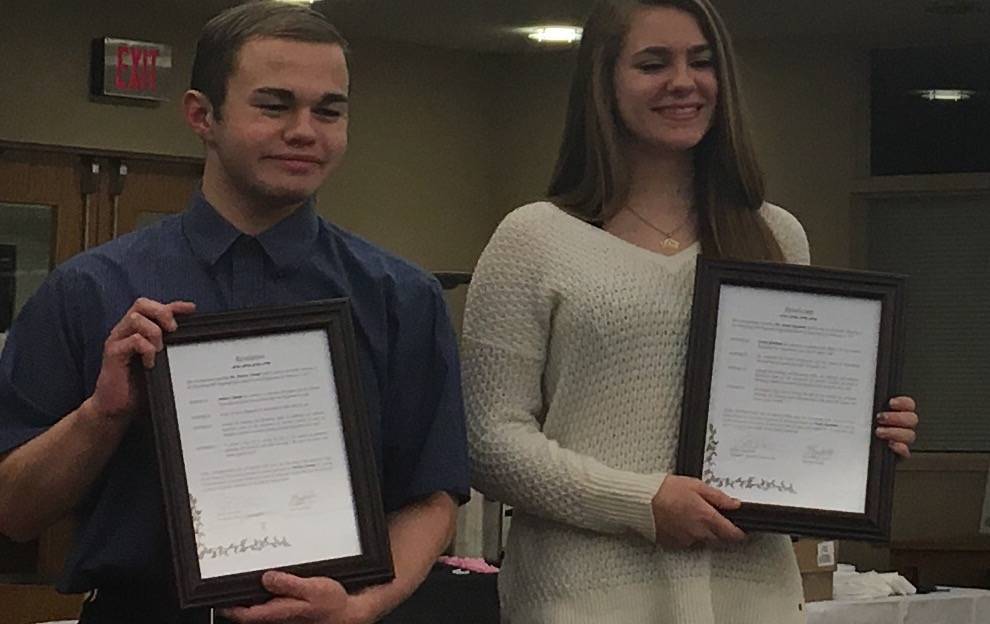 WARREN, NJ –  Two Watchung Hills students who helped to save a classmate's life were recognized at the meeting of the Watchung Hills Board of Education on Tuesday.
WHRHS student Sarah Magaldo went into sudden cardiac arrest while on one of the events on the Project Adventure course on the morning of Jan. 19. Two students who had just completed EMT training, Andrew Zimmer and Emma Reedman, and Project Adventure teacher Thomas Loeffler started CPR until the AED arrived and could be administered.
"The school resource officer Joe Casorio along with Mrs. Valerio and Mrs. Clark, the school nurses, were on the scene to assist until the ambulance arrived to take Sarah to Overlook Hospital. It was made clear by the doctors at Overlook that the actions of Andrew, Emma and Mr. Loeffler, Officer Casorio, Nurses Valerio and Clark had saved Sarah's life. She is here," said WHRHS Board of Education president Bob Morrison.
Reedman has been a volunteer firefighter in Warren since ninth grade and also works with the Warren Township EMT.
Zimmer was a junior member of Green Brook Fire EMS last year and in December, he joined the Bethel Fire Department as a probationary member.
Sudden Cardiac Arrest (SCA) occurs when the heart's electrical system malfunctions and the heart stops beating. It is fatal if not treated within a few minutes. Victims of SCA often appear healthy, and the situation usually happens with little or no warning, according to information from The Janet Fund.
If a SCA victim is defibrillated within the first minute of sudden cardiac arrest, chances of survival are close to 90 percent.  Every minute of delay in defibrillation reduces chances of survival.
WHRHS Vice Principal Terry MacConnell was "eight feet away."
Superintendent Elizabeth Jewett said, "It is difficult to find the words to express my and the board's gratitude to all of you who assisted in responding to this emergency incident.  I would like to acknowledge that student - Sarah Magaldo - and her family who are here with us tonight and we could not be happier that you have your health and a long life to look forward to."
The Magaldos expressed their thanks.
While this story had a happy ending, it brought to mind an earlier incident in the township that did not. On Aug. 10, 2006 11-year-old Janet Zilinski, a Warren resident, died due to sudden cardiac arrest following cheerleading practice.
"Out of their unimaginable grief, Janet's parent Karen and Jim, who are with us this evening, were committed to seeing that all schools and youth facilities were outfitted with the proper equipment and training that would keep another family from having to suffer this type of incredible loss," Morrison said.
Jim Zilinski addressed the board.
Assemblyman Jon Bramnick led the charge by introducing and ushering a bill through the state legislature that took more than six years, which was signed by Governor Christie on Sept 21, 2012 creating Janet's Law. Janet's law requires all public and non-public schools to have automated external defibrillators and calls for schools to establish emergency action plans to respond to sudden cardiac events, in order to be as prepared as possible to deal with life-threatening emergencies.
The law went into effect for the 2014-2015 school year.
"We were successful and 16 lives have been saved since the law was passed," said Bramnick (R-Union) whose 21st Legislative District includes Warren Township. "The quick thinking of those students saved yet another life. I want to thank the Zilinski family for their tireless efforts in passing a law that has saved lives. I'm proud to have worked with them."
Two years ago the Mahal family donated several AEDs to Watchung Hills in Janet's memory on the same evening as Watchung Hills adopted the school policy to implement Janet's law.
"Now the unfortunate passing of Janet, who many of us consider very much a part of our class of 2013 and who would have been a college senior this year, has demonstrated how one families tragedy can lead to another families triumph," said Morrison. "Who could have ever imagined the implementation of the law in Janet's name would play an important role in saving the life of one of our own students, Sarah Magaldo."
---
Story Credit: https://www.tapinto.net/towns/westfield/articles/watchung-hills-high-school-students-honored-for-s