Wanna Improve Your Heart Health? Go A Little Nuts!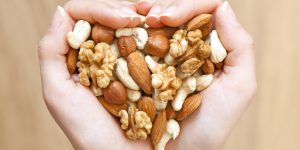 No, really, researchers have compiled data from nearly 30 studies, observing approximately 819,000 participants to determine that people who consume about 20 grams of nuts every day have a lower risk for developing diabetes, respiratory issues, cancer, and heart disease.
While there is certainly evidence that eating more nuts can be food for you (in general, as part of a more organic, whole foods, natural diet as a whole), study co-author Dagfinn Aune said that it is surprising just how little you have to actually eat to get these benefits.
Rich in protein, fiber, magnesium, and polyunsaturated fats, the Imperial College London research fellow notes that walnuts and pecans have more antioxidants, too, which help reduce cancer risk. He also warrants that everyone can benefit from eating a moderate amount of nuts each day. After all, the study showed that those who ate the most nuts were able to reduce their risk for coronary heart disease by 29 percent, cardiovascular disease by 21 percent, and cancer by 15 percent.
In addition, the study also found an impressive risk reduction of 52 percent in terms of respiratory disease, 39 percent in terms of diabetes and a whopping 75 percent risk reduction for infectious disease, overall.
They were also able to quantify how much you should eat: about one ounce of nuts per day. That's about two dozen almonds or about 8 pecans.
Aune goes on to say, "It has been shown in randomized trials that higher nut intake can reduce triglycerides and cholesterol in the blood." Unless you are allergic to them, of course, eating nuts has very little risk when you compare these considerable benefits.
After all, he says, "It's not large amounts that are needed; so it's a small dietary change that should be feasible for most people."
If you do like nuts, this is very good news, especially when you consider that the study also showed there is not reduction in benefit if you consume more than this recommended one ounce per day.
So, basically, don't be afraid to go nuts to improve your heart health!
---
Story Credit: https://www.thelincolnianonline.com/wanna-improve-your-heart-health-go-a-little-nuts/
By Anthony Miller ~ After earning an MBA from the University of Michigan, Anthony Miller spent a decade working for some of the biggest names in the automotive industry. After the financial crisis devastated the industry, he turned his attention to writing business news, drawing on his experiences in the corporate world to analyze the activities of some of the biggest businesses operating today. He recently moved to New York with his wife, daughter, and two sons.