Volleyball Player Who 'Died' Re-enacts it on Video for A Reason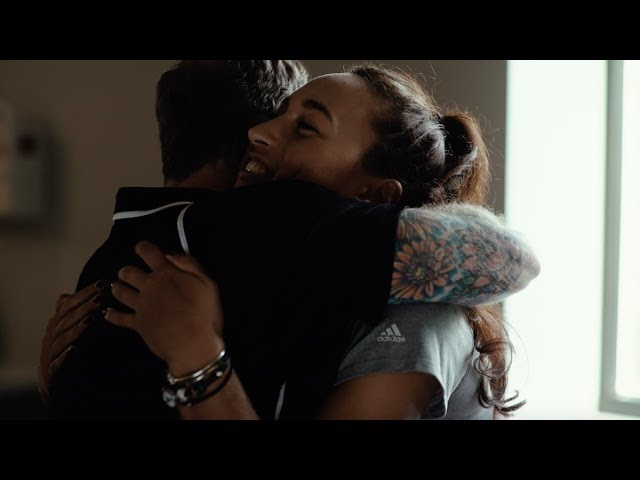 Every year since 2013, Dayle Wood sends a card to Aquinas College athletic trainer Kevin Parker. The message varies, but it always includes a thank you and it's always delivered on Sept. 9.
That was the day Parker saved her life.
Parker was called into action when Wood, then a freshman volleyball player at Aquinas, went into cardiac arrest on the court during practice. An automated external defibrillator (AED) machine revived her after three minutes.
Parker's response was credited with saving her life.
"Kevin and I have a relationship like nobody else has. It's an awesome bond and a bond that will never be broken," said Wood, who underwent surgery to repair an irregular heartbeat and played another three seasons at Aquinas.
She graduated last May.
Gatorade chose to highlight the incident in a video short titled "Three Minutes in September" that dropped Thursday. It was created, according to Gatorade, to emphasize the importance of what Parker did that day and stress the value of having athletic trainers in schools.
March is National Athletic Trainer month. In light of the Larry Nassar case at Michigan State and the negative publicity associated with those in related athletic training fields, Wood was happy to show the other side.
"I just felt it was so important," she said. "There was a bad nut out there, obviously, but there are so many out there for the greater good and, clearly, Kevin has portrayed that. I just think this is the perfect time for this to come out and show the other side."
In the video, filmed over two days in early summer, Parker, Wood, former teammates and family members re-enacted the incident.
"I was effectively dead for three minutes and my athletic trainer saved my life," Wood said in the video.
The upbeat Wood said reliving the incident was not difficult, aside from when she stood at the location where she collapsed.
"It was an awesome experience and I was super game for it, but that one moment there I was like, 'This is so real,'" she said.
The 45-year-old Parker, who has been the athletic trainer at Aquinas for 12 years, said the moment changed his life, too.
"You meet a lot of people over the years and joke and tell a lot of stories with athletes about particular moments or events," Parker said. "But as far as this, this is my standard answer now when asked from a student or someone about the worst injury I've dealt with: 'You mean, besides Dayle? You mean, the sudden cardiac arrest where we used the AED?'
"There has been nothing like it and I hope it never happens again. But you still have to prepare for it."
Wood's mother, Cheri, lauded the work of trainers.
"They can save lives," she said. "They don't just wrap ankles and put broken fingers in splints. Those are the little things that they do. They're ready for the big stuff."
---
Story Credit: http://www.mlive.com/sports/2018/03/volleyball_player_who_died_rel.html