Vice-Principal, Teacher Team Up To Help Cardiac Arrest Victim At Brampton High School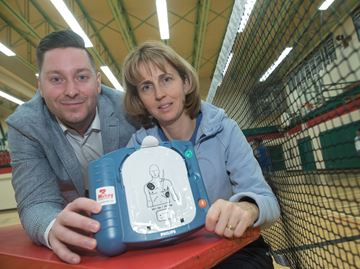 In what was a remarkable seven-day stretch in Peel recently, 14 bystanders leapt into action to try to save lives using CPR and publicly available AEDs.
"In the span of seven days, there were six instances when someone in cardiac arrest was assisted by a bystander," said Paul Snobelen, community safety program specialist for Peel Regional Paramedic Services (PRPS).
It happened at workplaces, in a community centre, at a Brampton high school, and at Pearson International Airport between March 2 and 9. And in half the cases, the cardiac arrest victim had a pulse before Peel paramedics arrived to take over.
"Their actions and willingness to help save a life is amazing," said PRPS community relations officer Brad Bowie of the bystanders who paramedics call "true first responders."
"Bystanders like them, who are willing to perform CPR or use an AED (automated external defibrillator), are invaluable to the patient and to paramedics once they arrive on scene," Snobelen said.
In one of those life-or-death emergencies, high school gym teacher Darlene Fournier and elementary school vice-principal Tom Condotta teamed up to help a man who collapsed during an after-hours volleyball game in the Chinguacousy Secondary School (CSS) gymnasium.
Condotta, vice-principal at St. Monica and Our Lady of Peace, plays in the Thursday night Brampton Volleyball League that uses the high school gym, but work had kept him away for more than a month.
That night, he decided he needed more balance, and headed to the high school.
As head of the CSS physical education department, Fournier stays late Thursdays to help with equipment set-up and take-down. She was on the treadmill overlooking the gym when she saw something was wrong.
A man had collapsed, a referee was calling 911, and Fournier went to get the school's AED.
When she got back, everyone was told to clear the area. She heard the man emitting a "big exhale" that sounded like snoring. Some thought it was a sign he was still breathing, she said, but Fournier recognized it as agonal gasping, the sound she had heard from a student who had suffered cardiac arrest in her classroom 18 years earlier.
She had performed CPR back then, but there were no AEDs. Her student didn't survive.
By then, Condotta had started compressions and another player was performing artificial respiration, while Fournier readied the AED.
"We followed the protocol," Fournier said, and she administered the first of two shocks. In between, Condotta and Fournier worked together performing CPR while the other player tried to comfort the man.
They found out later that the second shock had restored the man's heartbeat. It is not known what the victim's condition is. Bowie said Peel paramedics can't release patient condition updates due to privacy issues.
Condotta, 33, and Fournier, 42, had never met, but they said they were both appreciative of the other's support.
"I thought it was serendipitous that the two of us were there at the same time," Condotta said. "I felt a lot of support having her there."
"Tom was phenomenal," Fournier said.
Condotta had just taken his CPR/AED recertification in November. Fournier is an instructor and teaches her students. The Peel school board is partnered with the ACT Foundation (Advanced Coronary Treatment) and physical education teachers are trained so they can teach their Grade 9 students.
Fournier feels the AED makes the difference, and Condotta said more public education is needed so everyone knows how to use them and what to do in an emergency.
All 14 citizens were commended by PRPS, and received support from paramedics even days after the incidents.
PRPS Chief Peter Dundas said everyone needs to act to save a life when they see someone in need, and anyone can do it.
"You don't need any medical experience to use an AED," he said. "All you do is push the power button, and the machine will guide you through the process. It will even coach you through basic CPR."
Automated external defibrillators are located in schools, community centres and public buildings and workplaces across Brampton and Mississauga.
Using the device in the first few minutes of someone going into cardiac arrest is "critically important," according to paramedics.
Survival rates are highest when a defibrillator shock is given within the first three minutes of someone collapsing.
---
Story Credit: http://www.bramptonguardian.com/news-story/7196407-vice-principal-teacher-team-up-to-help-cardiac-arrest-victim-at-brampton-high-school/