Bystander Use of Defibrillator Doubles Chance of Cardiac Arrest Survival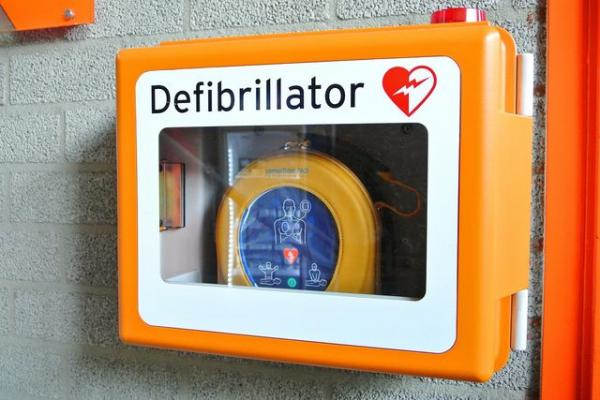 MONDAY, Feb. 26, 2018 -- New research shows that surviving cardiac arrest may depend on a bystander quickly shocking your heart back into its normal rhythm, and that is more likely to happen if an automated external defibrillator is handy.
In the study, those who got a shock from a bystander using a publicly available automated external defibrillator, or AED, were more than twice as likely to survive and leave the hospital as those who didn't. Moreover, they were more than twice as likely to leave the hospital with their mental abilities intact.
"It's important to have an AED and to learn how to use it, because you can really improve the chances of a person surviving with excellent neurological ability," said lead researcher Dr. Myron Weisfeldt. He is director of cardiology at Johns Hopkins University in Baltimore.
The longer it takes for a patient to get a lifesaving shock, the worse the outcome, Weisfeldt said. "Every minute that goes by without treatment, you lose about 10 percent of the survival," he said.
The American Heart Association says that of the more than 350,000 cardiac arrests that occur outside of U.S. hospitals each year, more than 100,000 occur outside the home. Less than half of the victims get help in the four to 10 minutes before first responders arrive.
Cardiac arrest is not the same as a heart attack. With cardiac arrest, the heart suddenly stops beating. During a heart attack, blood flow is blocked to some part of the heart, damaging that area of the organ but not stopping it altogether.
An AED automatically assesses the heart's rhythm and decides if it should be shocked or not. If a shock is going to be delivered, the machine warns the operator to stand clear and then gives the shock. The device reassesses the heart rhythm, and if necessary, delivers further shocks.
AEDs are found in many airports and other public places, Weisfeldt noted. "The question is, shouldn't we have them placed in all public buildings?" he said.
A bystander using an AED is doing exactly what a paramedic or doctor would do, said Peter Fromm, immediate past chair of the systems of care subcommittee of the American Heart Association's Emergency Cardiovascular Care.
"You can do everything right there on the sidewalk or in the workplace that a physician would do in the emergency room," Fromm said.
For this study, Weisfeldt and his colleagues collected data on nearly 50,000 out-of-hospital cardiac arrests that happened in major U.S. and Canadian cities. As part of their analysis, the investigators looked at cases of cardiac arrest that happened in public, were seen and were shockable.
AEDs were used in nearly 19 percent of these cases, the findings showed.
After a shock given by a bystander, nearly 66 percent of the patients survived to hospital discharge.
Fifty-seven percent of those given an AED shock by a bystander had near normal brain function and better outcomes, compared with 33 percent of those who had to wait for a shock by a first responder, such as emergency medical services.
In addition, 70 percent of victims not given a shock by a bystander either died or survived with brain damage, the researchers found.
"AEDs should be accessible in all public buildings and all public places," Fromm said.
In a recent survey, the American Heart Association found that most U.S. employees are not prepared to handle cardiac emergencies because they lack training in CPR and first aid.
Half of all U.S. workers cannot locate the AED at work. In the hospitality industry, that number rises to 66 percent, according to the survey.
To be effective, an AED needs to be as accessible as a fire extinguisher, Fromm said.
"Cardiac arrest isn't only something that happens to some 99-year-old person in a nursing home," he said. "Cardiac arrest can happen to anyone, and people between the ages of 50 and 70 are particularly at risk. So this is something that kills people while they are still of working age."
The report was published Feb. 26 in the journal Circulation.
---
Story Credit: https://www.upi.com/Health_News/2018/02/26/Bystander-use-of-defibrillator-doubles-chance-of-cardiac-arrest-survival/5941519658089/