UCLA's Stevie Wisz isn't letting a heart condition stop her from enjoying life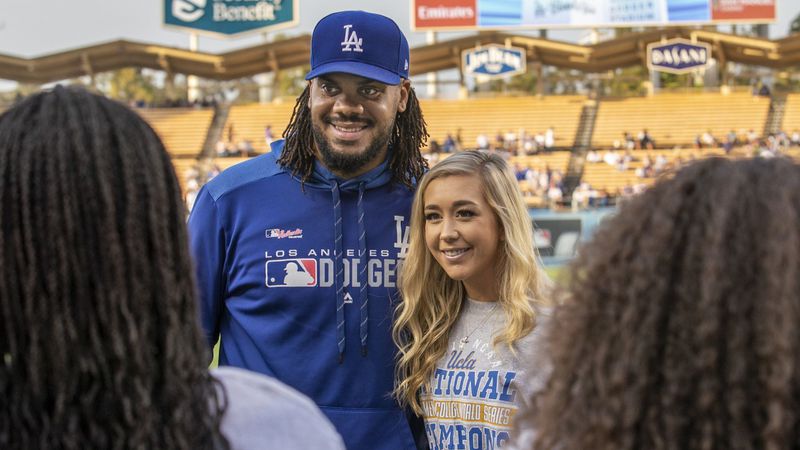 It was a night to remember for UCLA softball outfielder Stevie Wisz.
On Monday, before the first game of a series against San Francisco, the Dodgers honored the 2019 Women's College World Champion Bruins.
Wisz, with her flowing blond hair and signature smile, walked to the mound. She paused, remembering the several practice pitches she took with fellow senior Danae Blodgett on the sideline to ease her anxiety. Wisz threw a strike to Dodgers closer Kenley Jansen.
Afterward, Wisz's dream came true, when she had a conversation with Jansen, a player she's followed closely throughout her career. The conversation with Jansen was reassurance that she made the right choice several months ago to delay her heart surgery to enjoy moments like this one.
"I'm still in shock. It was so humbling and honoring to be able to throw the first pitch to Kenley," Wisz said. "He said to go into surgery this week with a strong mind-set and that he's praying for me."
Jansen's heart issues have been well documented. Atrial fibrillation landed him on the injured list last season, and he underwent corrective surgery in November.
"We're both heart patients," Jansen said. "Just to hear what she went through is tough. It's not a good feeling. It inspired me seeing how tough she is.
"To me it's just supporting one another. It's dealing with life's issues. It's hard, [but] at the same time you just have to enjoy every day that God gives us … don't take it for granted. We have no control over our heart [but] we can take control of what we can control and be positive."
On the eve of the College World Series regionals, Wisz shared her heart journey with the world.
"When I found out that my story had impacted the lives of so many it inspired so many people it was surreal, and I wasn't expecting it," she said.
Wisz's story caught the attention of Jansen.
"The only thing I could say was that I didn't have any words. I was just super emotional and blessed and that he would take the time out of his busy schedule … to reach out and share with me that my story impacted him in a good way," Wisz said.
Wisz was 1 when she was diagnosed with aortic stenosis — narrowing of the aortic valve.
She had her first open-heart surgery when she was 9 to widen her aortic valve. A year later, she underwent her second surgery to install a pacemaker after doctors discovered that her heart was stopping multiple times throughout the night.
At 15, Stevie underwent a 13-hour open-heart surgery to insert a new valve into her heart. Fast forward to January 2019, when doctors informed Wisz there was another leak in her aorta and she would need another open-heart surgery.
"Putting off the surgery was a big decision, but I knew deep down it was meant to be and I wasn't supposed to miss the season for anything. Obviously, it paid off. I'm super blessed I was able to be here and fight with this team throughout the season."
Sign up for our daily sports newsletter » After the chaos of winning the Women's College World Series, graduating college and visiting the Dodgers has subsided, Wisz is scheduled to undergo her fourth heart surgery Friday.
"I sit down and [write in a] journal to try to calm myself down and reassure myself that the surgery is going to be good for me," Wisz said. "I know it's going to be hard, but once I look back on it, it's going to be life-changing because I'm finally going to be healthy again."
After surgery and a few months of recovery, she plans to begin working at a hospital for clinical hours. Wisz, who received a bachelor's degree in biology from UCLA, ultimately plans to apply to physician assistant school the following year to study cardiology.
"I want to give back to not only those who have helped me through my journey, but just other people who are experiencing and suffering from the same ailments and disease that I am," Wisz said.
---
Story Credit: https://www.latimes.com/sports/la-sp-kenley-jansen-stevie-wisz-ucla-softball-20190617-story.html
---
Since you're here, we have a small favor to ask. Requests from schools and districts for our screening services are growing, which means that the need for funds to cover the cost of those services is also growing. We want to make our services available to those who request it and beyond, so you can see why we need your help. SafeBeat heart screenings take a lot of time, money, and hard work to produce but we do it because we understand the value of a child's life, PRICELESS!
If everyone who reads this likes it and helps fund it, our future would be more secure. For as little as $1, you can support SafeBeat and it only takes a minute. Make a contribution. -The SafeBeat Team