Two Harbors Celebrates Heart Safe Designation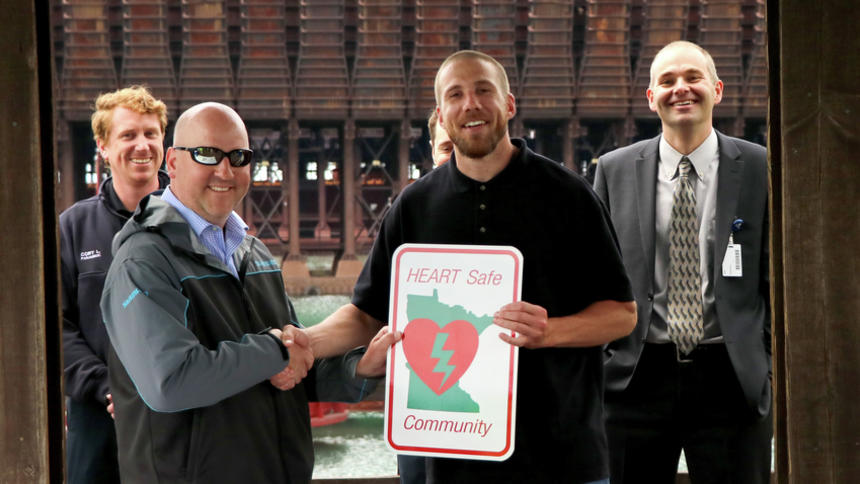 Members of the Two Harbors City Council, Lake County Board of Commissioners and representatives of several partner groups gathered June 8 at the gazebo in Paul Van Hoven Park in Two Harbors to celebrate the city's certification as a "Heart Safe Community" by the Minnesota Department of Health.
Cardiovascular disease, including cardiac arrest, accounts for 20 percent of all deaths in Minnesota and is the second leading cause of death in the state, according to Lake View president and CEO Greg Ruberg. The hope is that becoming a Heart Safe Community will promote community awareness and the potential for saving lives from sudden cardiac arrest. Once Two Harbors is certified, it will be the only Heart Safe Community city north of Hinckley in Minnesota. The majority of Heart Safe communities in the state are clustered around the Twin Cities and the closest community certified is Fayal Township in St. Louis County.
Becoming certified requires cities the size of Two Harbors to have at least six automated external defibrillators, or AEDs, in public areas around town and to have at least four CPR/AED training courses throughout the year to help increase the members of the general public who are certified. Instead of six AEDs, however, there are now more than 30 AED devices in public areas around town.
"The success rate of sudden cardiac arrest is about 10 percent and the goal behind this entire thing is to bump up that number to about 40 percent," Lake County Ambulance Service operations manager Corey Larson said. "By doing so, we had four different events that were trying to train people in CPR and we are very fortunate that we had multiple instructors on LCAS and with our core instructors over the last year we had almost 500 different students get their CPR certification or first aid certification."
According to the American Heart Association (AHA) website, the chance of survival for someone suffering a cardiac arrest outside of a hospital will double or triple if they receive CPR immediately. Larson said LCAS even worked with the Two Harbors Youth Hockey Association to run a class at one of the holiday hockey tournaments hosted in Two Harbors last winter in "hands only" CPR. Hands only CPR doesn't include mount-to-mouth resuscitation but has been shown to be as effective as conventional CPR for out of hospital cardiac arrests. The AHA instructions are simple, call 911 and push hard and fast in the center of the chest to the beat of a familiar song that has about 100 to 120 beats per minute, like "Staying Alive" by the Bee Gees or "Crazy in Love" by Beyonce.
Two Harbors city administrator Dan Walker said the statistics regarding sudden cardiac arrest were one of the driving factors in making Two Harbors certified Heart Safe and making sure the city has "that first link" in the chain of response with a well trained community. Walker said the CPR training event for city employees last year ended with 42 of 52 full time city employees certified in CPR.
Ruberg and Larson are now planning to bring the idea of becoming Heart Safe certified to Silver Bay in the coming months. The hope is the city of Silver Bay can form a similar partnership with Lake View and LCAS to protect Silver Bay residents from the dangers of sudden cardiac arrest.
Two Harbors City Councilor Miles Woodruff told the gathered crowd that he was thankful for the successful partnership and for the work done by everyone involved.
"I just want to say thank you to everybody that put all of the hard work in, it makes me proud to be a councilman," he said. "When we have community members that work so hard to achieve a status like this, it means a lot to the city and we appreciate everyone's hard work. Thank you for all your time and work and it's pretty great to be a Heart Safe Community."
---
Story Credit: http://www.lcnewschronicle.com/news/two-harbors/4283986-two-harbors-celebrates-heart-safe-designation