Turning Tragedy into Action: Screening Chester County's Emergency Response Team for Cardiac Risk Factors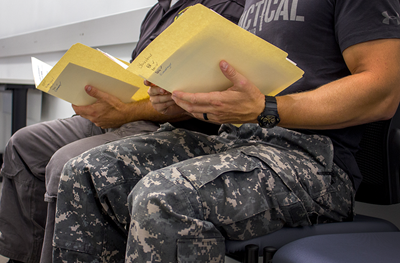 Some people are just larger than life: They connect easily with those around them and make an impact on everyone they meet. If they are in a public service profession, their influence can extend way beyond their family and friends to include the larger community. In April 2018, Chester County's Caln Township lost one of these exceptional influencers in life, but his impact of service would continue to be felt even after his passing.
Sergeant Christopher Sambuco was a member of the Caln Township Police Department and Chester County's Regional Emergency Response Team (ERT), commonly referred to as Special Weapons and Tactics (SWAT). He was also a beloved friend, neighbor, husband, and father of four. "He was very personable, happy, and in great shape. We'd always work out together and run 5Ks together, and he was always up front leading the pack," recalls Bo Story, longtime friend and West Goshen police officer.
The 42-year-old was incredibly active and the picture of health — to the naked eye at least. Despite his healthy lifestyle, "Buc," as he was lovingly called by those close to him, died suddenly on April 12, 2018, after suffering a major heart attack. There was no indication he was at risk for heart issues besides a strong family history of heart disease, which was unknown to him.
Buc's passing sent shockwaves through the community — especially through his close-knit ERT family. "You look at us and think that because we physically look healthy and in shape that we don't have anything hidden," says Detective Sergeant Jeff Heim of Willistown Township. "Buc's passing definitely shocked us and was a real eye-opener that anyone can be a candidate for a major heart episode."
ERT members develop strong bonds as they respond to calls that involve crisis situations such as rescuing people who are trapped or are being held hostage, and serving arrest warrants. It was that bond that inspired Shiloh Kramer, MSN, RN, NRP, a PennSTAR flight nurse and paramedic, to turn this tragedy into action.
Kramer first met Sgt. Sambuco in 2007 after joining the team as a medic and immediately felt a connection. "He was one of those people that, no matter who you are, made you feel welcome. Joining the ERT can be a bit intimidating at first, so I was grateful to him," she says.
Even as Kramer mourned, the clinician in her started thinking about how this tragic loss might help other first responders. "I did some research and found that police officers are at 30 percent higher risk of dying from sudden cardiac death due to the stressful situations they are often faced with handling," she said. At the time, Kramer was volunteering at an event for the Aidan's Heart Foundation in Downingtown to screen young people for the risk of sudden cardiac arrest.
"I thought that if we do this for children maybe we could do something for the first responders," she says. As a former Emergency Department nurse at Chester County Hospital, Kramer knew that the Community Health and Wellness department at the hospital offered a Heart Tracks Screening Program for the community. She floated the idea of screening ERT members to two Chester County Hospital cardiologists she knew well — Clay Warnick, MD, and Timothy Boyek, MD — and both jumped on the idea.
"First responders are the ones bringing patients to receive care but they are at similar cardiac risks because of the stress they face on the front line," Boyek says. "Stress is a risk factor for heart disease and this population has an incredibly high-risk job. We are a community-based hospital serving this population 24 hours a day, seven days a week. Doing this screening seemed like the right thing to do without reservations."
Boyek and Warnick signed on along with hospital-based cardiologist Neerav Sheth, MD, Valerie Penders, CRNP and cardiac thoracic surgeons Steven Weiss, MD, and Robert Wenger, MD. The plan was to offer heart health screenings to both the Central and Regional Emergency Response Teams in Chester County, including blood pressure and cholesterol checks, height and weight measurements, an electrocardiogram, and answering questions about diet, exercise, sleep patterns, and family history. Scheduling worked in the project's favor, as the ERTs had two mandatory trainings in late June 2018 at the Chester County Public Safety Training Campus in Coatesville — a perfect opportunity to capture members for screenings.
Over two days, 54 officers underwent screenings and met with one of the cardiologists. About 20 percent were advised to have additional testing. But the men were "mostly fit" and cardiovascular risk overall was low, notes Julie Funk, MS, RD, CDE, LDN, director of Community Health and Wellness Services, who was also part of the event. She adds that 42 percent had a family history of heart disease — a significant finding that highlighted the importance of making good lifestyle choices.
"The main concerns that surfaced were disrupted sleep patterns due to shift work and odd meal times," she says. "There was a lot of concern raised about how to eat more healthfully as they are 'on the run' and not always where they can get access to nutritional choices."
Although the screenings were a great opportunity for education, there was another important benefit: They gave Sgt. Sambuco's colleagues the chance to again honor his memory and share stories about how much he meant to them. Kramer and the team are planning to publish their findings and possibly expand the screenings to law enforcement, fire services, and emergency medical services throughout Chester County.
"Buc was a loss to everybody," she said. "Whatever we can do to honor his name and memory is what I want to do. And if we can help people in the process, that's even better."
---
Story Credit: https://www.pennmedicine.org/news/news-blog/2018/december/chester-countys-emergency-response-team-for-cardiac-risk-factors
---
Since you're here, we have a small favor to ask. Requests from schools and districts for our screening services are growing, which means that the need for funds to cover the cost of those services is also growing. We want to make our services available to those who request it and beyond, so you can see why we need your help. Safebeat heart screenings take a lot of time, money, and hard work to produce but we do it because we understand the value of a child's life, PRICELESS!
If everyone who reads this likes it and helps fund it, our future would be more secure. For as little as $1, you can support Safebeat and it only takes a minute. Make a contribution. -The SafeBeat Team