Torrey Pines Teens Fundraise to Bring Life-Saving AEDs to Campus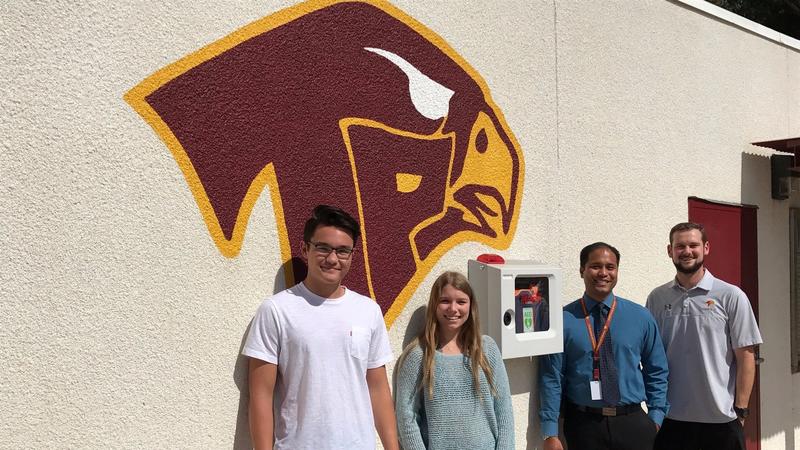 Two Torrey Pines High School students are working to help save lives and raise awareness about sudden cardiac arrest. Senior Ryan Poe and junior Jacob Li led a fundraising effort that resulted in the purchase of two new automated external defibrillators (AEDs) to be installed at easily accessible areas on the Torrey Pines campus.
Sudden cardiac arrest is the number one killer of student athletes and the number two killer for teens under age 25. One in 300 kids has a heart condition that puts them at risk.
Jacob, a basketball player, and Ryan, a field hockey and lacrosse athlete, were each identified with a heart abnormality as middle schoolers which could have led to sudden cardiac arrest. Each were diagnosed at a free teen heart screening provided by the Eric Paredes Save A Life Foundation in 2014.
With a cause so close to their hearts, the two led fundraisers in collaboration with the Torrey Pines High School Foundation, school athletic teams and the local Jersey Mike's.
"I think it shows a lot of leadership, that they took charge of this and brought awareness to an issue that was not at the forefront of our minds, to make AEDs more accessible," said Torrey Pines Assistant Principal Michael Santos.
Jacob said that an AED is the only way to restart a heart after sudden cardiac arrest. The AED is easy to operate with clear audio and visual instructions that walk the user through the steps — they can be used to save the lives of cardiac arrest victims almost as quickly and efficiently as an emergency medical professional.
When it comes to sudden cardiac arrest, time is of the essence —for each minute defibrillation is delayed, the chance of survival is reduced by approximately 10 percent.
While there were previously three AEDs on the Torrey Pines campus, most were in locked locations that weren't accessible to the field or other common campus areas during after-school hours. Head Athletic Trainer Richi Klapmeier has one in his office and is able to act as a "mobile AED" with the use of his golf cart.
"There is always someone on the fields, the usage is constant and we wanted to make sure that the AED was always accessible," Klapmeier said.
Ryan and Jacob worked with Santos and Klapmeier to identify the locations on campus where the AED would be the most beneficial. They picked places near a large painted Falcon head — an easily identifiable place to direct someone in an emergency.
The first AED was mounted on the restroom building inside the football stadium. The second AED will be mounted on the girls softball dugout, adjacent to the top fields that are used for a variety of sports, as well as the tennis courts.
Having the AEDs located in places that are so often in use by the public is useful for more than just TPHS students, it's a service for the whole community.
In April, an 81-year-old man suffered cardiac arrest while watching a basketball game at Rancho Bernado High School. Trainers from RB and Westview High were able to recognize the situation and utilized the school's AED to save the man's life.
In addition to their AED fundraising efforts, Ryan and Jacob have also made a video to help spread awareness about sudden cardiac arrest and the efforts of the Eric Paredes Save A Life Foundation. The video was directed and edited by Canyon Crest Academy student Gabriel Yung.
The Save A Life Foundation was established by Hector and Rhina Paredes in memory of their son Eric, a healthy Steele Canyon High School sophomore who died unexpectedly from sudden cardiac arrest at age 15 in 2009. The parents were committed to prevent this tragedy from happening to other families by offering free heart screenings and helping equip schools with AEDs.
Prior to the screening, Jacob had experienced symptoms such as extreme shortness of breath and a really fast heartbeat, especially when he played basketball.
"I had no idea it was because of a heart problem that could have stopped my heart from beating," said Jacob, who underwent surgery in 2014 — his mother, Diana, is now a board member of the Save a Life Foundation.
Unlike Jacob, Ryan had no symptoms.
"I really didn't want to go and, in fact, the screening was on my birthday," Ryan said. "But my mom insisted and I'm glad she did."
At that screening, Ryan's heart abnormality was found — she had cardiac ablation surgery a month later.
While the pair didn't know each other before, Ryan and Jacob are working together now, to help make a difference at their school and for all youth.
"I just think it's really important to pay it forward," Ryan said.
"The screening potentially saved my life," echoed Jacob. "My number one message is to raise awareness about the next Screen Your Teen free heart screenings."
Upcoming teen heart screenings for youth ages 12 to 26 will be held on Sunday, Nov. 12 at UC San Diego and at Torrey Pines High School on March 25, 2018. More information can be found at epsavealife.org.
Recognize the warning signs of sudden cardiac arrest:
Repeated shortness of breath
Repeated light-headedness
A racing heartbeat after exercise
Chest pain that makes it hard to breathe
Fainting — fainting is the number one sign of a heart condition.
---
Story Credit: http://www.delmartimes.net/news/sd-cm-nc-tp-aed-20171025-story.html