The Importance Of Screening Early For Heart Disease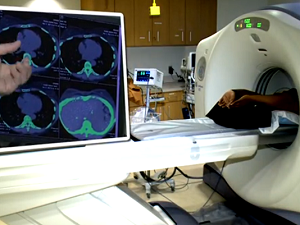 WASHINGTON (WUSA9) - In the US, cardiovascular disease kills more people than all cancers combined. While we routinely screen to detect cancer at the earliest, most treatable stage, we don't routinely screen early for heart disease.
Knowing your numbers when it comes to diabetes, cholesterol and hypertension are good indicators of your risk for cardiovascular disease. But of the one million people who turn up at the ER annually experiencing a heart attack, 55 percent of them have had no underlying symptoms until that first attack.
"There is this misunderstanding if you have coronary heart disease it must be apparent, you must be totally out of shape or you must be obese," said Dr. Merdod Ghafouri, a Medical Director at Inova Heart & Vascular Institute.
"We can not rely on general risk factors. I think those are important but for the general population," Dr. Ghafouri added.
"In order to be able to be confident that there is underlying heart disease, the best way is to image the coronary arteries," Dr. Ghafouri elaborated.
One imaging option is the Coronary Calcium Scan.  It's a specialized X-ray test that provides pictures of the coronary arteries. Doctors can see if they are blocked or narrowed by a plaque build up -- which would be an indicator for heart disease.
For which patients should doctors prescribe this test?
"My suggestion is a male by about age 45 who has at least 1 additional risk factor such as: High Blood Pressure, Diabetes, Elevated Cholesterol, and a Family History. Or a female above age 55," Dr. Ghafouri suggested.
WUSA9's Andrea Roane took the test. The Cardiac Heart Scan is an easy test and except for Roane's underwire bra, she didn't have to undress. Michael, the CT technician, attached  three electrodes to her chest in order to record her heart activity. Then it went to the scanner.
The low dose x-rays take pictures of your heart in between beats.
Not including the prep, the scan took less than five minutes. Roane's test was graded on a score from 0-400. Above 100, means coronary artery disease is highly likely in the next 10 years.
"Andrea, I have great news for you---there is no coronary calcifications," the doctor said.
Her calcium score was zero!
Going forward Dr. Ghafouri prescribed a healthy diet, watching her weight, regular exercise; and keeping her blood pressure in check.
---
Story Credit: http://www.wusa9.com/news/local/the-importance-of-screening-early-for-heart-disease/442143927