Thankful for A 'Rebirthday'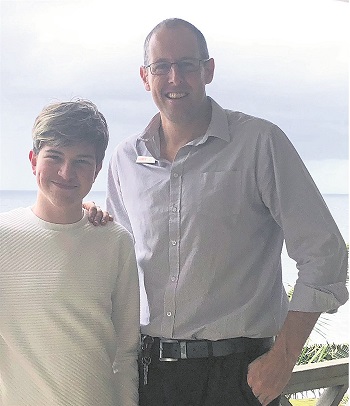 When 16-year-old Stuart Groves suddenly collapsed on an Umhlanga beach during a family holiday last year, his mother feared the worst.
With no previously diagnosed heart condition, the last thing the family could have foreseen was that their son would suffer cardiac arrest during a light-hearted game on the beach.
"We ran to him and as I turned Stuart over, I could see that his lips, his face and even his ears were rapidly turning blue. It was unimaginably frightening," says the teen's mother, Jacqui Groves.
Some 40 years previously, Groves had learned cardiopulmonary resuscitation (CPR) and this training was to make all the difference to her son's survival. She and her husband immediately started CPR while eThekwini lifeguards called for assistance from emergency medical services.
Off-duty Netcare 911 regional operations manager for KwaZulu-Natal, Gary Paul, and a colleague were heading to a nearby beach when Paul heard an urgent notification from Netcare's 911 centre, alerting paramedics to the medical emergency close by. They arrived within four minutes to find the lifeguards performing CPR.
"Stuart's heart had stopped beating and he had no vital signs.
"We immediately began performing advanced life support, and a doctor who happened to be on the beach at the time came over and also offered her assistance," said Paul. "At the time we didn't have the opportunity to reflect on the situation, but it was an unbelievably touching moment that has stayed with me ever since.
"It was a bright, sunny morning on this beautiful beach, yet here in this idyllic setting was a young man fighting for his life, his parents anxiously watching for any signs of Stuart reviving, and a crowd of bystanders fervently praying for him as we worked to save his life," Paul recalled.
Some 40 minutes later, after the Netcare 911 team had administered defibrillation, Stuart finally began breathing on his own.
Once Stuart was stable enough, paramedics took him to Netcare uMhlanga Hospital where a team of doctors and trauma nurses were waiting for him.
The very next morning Stuart was already able to open his eyes and within a few days he was fully conscious. The teenager spent 19 days in the intensive care unit, and Paul visited him and the Groves family a number of times at the hospital.
"Even though we had successfully resuscitated Stuart, given the fact that he had been unresponsive for more than half an hour there were naturally some concerns about whether the incident may have caused lasting effects."
Stuart was subsequently diagnosed with a genetic heart defect known as hypertrophic cardiomyopathy, whereby the wall of the left ventricle of the heart becomes thickened, and was fitted with an internal defibrillator to restart his heart in case he ever experiences a similar cardiac event in future.
Groves describes her son's recovery as "nothing short of a miracle", and said that today Stuart is healthy and performing well at school.
The Groves family were recently reunited with Paul as they hosted a lunch to celebrate what they refer to as Stuart's "rebirthday" — the anniversary of the day when his life was saved thanks to the efforts of each person who contributed to his survival.
---
Story Credit: https://www.news24.com/SouthAfrica/News/thankful-for-a-rebirthday-20181024
---
Since you're here, we have a small favor to ask. Requests from schools and districts for our screening services are growing, which means that the need for funds to cover the cost of those services is also growing. We want to make our services available to those who request it and beyond, so you can see why we need your help. Safebeat heart screenings take a lot of time, money, and hard work to produce but we do it because we understand the value of a child's life, PRICELESS!
If everyone who reads this likes it and helps fund it, our future would be more secure. For as little as $1, you can support Safebeat and it only takes a minute. Make a contribution. -The SafeBeat Team