Thankful Family Pushes AED Awareness
U-High's Bates-Diop family turns near-tragedy into life-saving triumph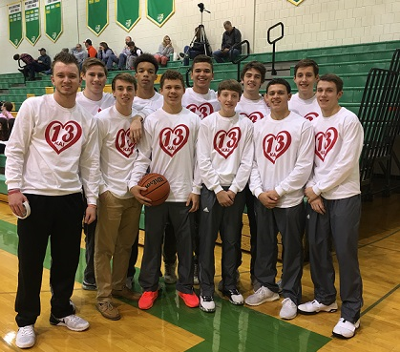 BLOOMINGTON, Ill. - U-High's Feb. 9 practice was running like any other, but everything changed during a fastbreak drill.
"All of a sudden, I'm dribbling up the court, and I see Kai just fall," senior Keondre Schumacher said. "I just freeze, and I see Trey run into the trainers' room."
"I pretty much knew from his face right away it was serious, because usually they don't come get me during practice," said Maddie Biehl, a U-High athletic trainer and Illinois State grad student.
Kai Bates-Diop, one of the top-rated sophomores in the state, felt a headrush and collapsed. His heart had stopped beating. His mother, Wilma Bates, was on her way back from visiting her older son, Keita Bates-Diop, at Ohio State.
"I was praying," she said. "Praying I didn't get into an accident getting back to Bloomington and that Kai was going to be okay."
But by the time she answered the phone, trainers Biehl and Emily Martz had performed CPR, applied an automated external defibrillator (AED) and helped Kai into an ambulance.
"I woke up, and Maddie was talking to me, explaining she had to do CPR and use the AED on me," Kai Bates-Diop said. "I was learning a lot in a really short span of time."
As Kai recovered in the hospital, his parents learned Illinois law requires high schools to have an AED in the building, but that requirement is part of an unfunded mandate - the state does not pay for them. So while a lab school like U-High can afford seven AEDs, many districts decide it is not worth $2,000 to stick this life-saving machine near their gym.
"Really, there's no reason to not have one, because they are such vital machines," Martz said. "They can make a difference in a life-and-death situation."
With the support of the Bates-Diop family, U-High got the ball rolling, using money from t-shirt sales to buy AEDs for schools that need them.
"Once we realized these things can obviously do wonderful things for people in tragic situations, I think it's good to try and help other people who may not have those same circumstances," Kai Bates-Diop said.
KBD's circumstances have changed drastically. Doctors tell him his heart cannot support him playing basketball at a competitive level right now. But his perspective has changed, too. U-High's No. 13 is lucky, he says, to be alive.
"My upbringing taught me to always stay positive," the sophomore said. "My parents and my people around me - always look forward and keep your head up."
"Like Keita said, at some point, the ball stops bouncing for everybody," Wilma Bates said. "It may be right now for Kai. But Kai is bigger than basketball. I think he's going to be okay. I know he's going to be okay."
And because of the Bates-Diops, a future high school athlete in cardiac arrest is going be okay, too.
Before Friday's Senior Night ceremony, U-High will recognize the Bates-Diop family as well as Biehl and Martz, who saved Kai's life thanks to quick action and the AED in the training room.
---
Story Credit: http://www.centralillinoisproud.com/sports/local-sports/family-shows-heart-strives-to-save-lives/662122820